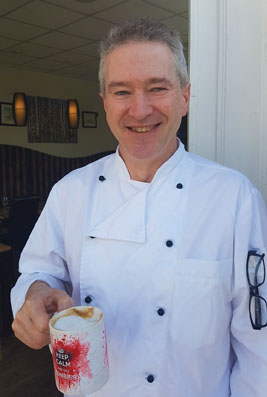 Unable to get out of bed in the morning until his lovely wife Sam has brought him a cup of coffee, Simon Mazzei blames his caffeine addiction on his Italian heritage. Chef and proprietor of the Olive Tree in Bridport, Simon's restaurant specialises in Mediterranean food and a big welcome to all who walk in. A bustling, bright restaurant with staff singing their way through the day, interspersed with deliveries from local suppliers, all on first name terms and clearly happy to be there. Simon has created one big Olive Tree family, sharing his love of food, drink and people.
Working most of the days of the week in the restaurant, Simon flits between front of house and chef whites. He trusts his team implicitly within their roles and so fills in wherever needed, including pulling up his sleeves at the dishwashing sink. Once a week, Simon will lock himself away in his office, obligatory coffee in hand and catch up on the accounts and paperwork. Finally, at the end of his long days, he cycles home to North Allington where downtime takes precedence. This is often in the form of a glass of wine, "I prefer to drink a glass of something good than a bottle of something rubbish", he declares. However, an essential part of the finale of Simon's day is music. With a sound system in every room in the house, Simon loves to sing and dance out the trials of the day to the extent the glasses on the shelves are shaking with him.
Enjoying family holidays, often to Italy, Simon relishes showing his two girls his heritage. Whether it is visiting the village his father grew up in Naples, or enjoying the embrace of the 'familia' with their food marathons and enduring noise and chatter, each trip is a chance to taste new flavours and recreate them back at the restaurant. At home, Simon's creative tastes often stray further afield. He's currently growing kaffir lime leaves in his conservatory in order to get an authentic taste to his Thai Green Curry. Whatever Simon is making though, whether at home or in his restaurant, it is likely to be served amongst a background of music and warm smiles with a large scoop of 'La Dolce Vita'.