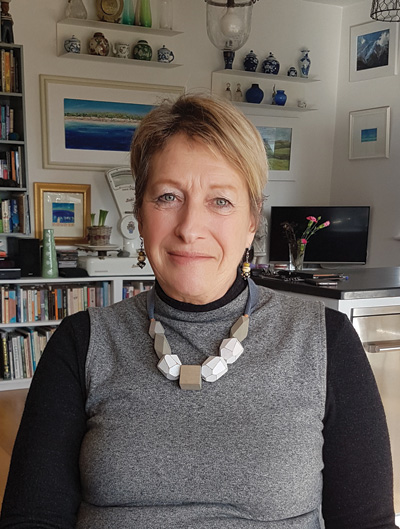 From her large beautifully designed open plan kitchen perched on top of Lyme Regis, Gill Coates provides workshops on how to make chocolates. Chocolate Amour has proved so popular, Gill is now teaching at Ashburton Cookery School. She learnt her skills at Valrhona's Ecole du Grand Chocolat, near Lyon, while living in France for 20 years, running a hotel with her husband Peter, offering chocolate making workshops to her guests.
Just out of school Gill studied Hotel Catering and French at Brighton Poly, where she befriended someone with a boat. Already bitten by the travelling bug, she boarded the vessel and never looked back. Once in the Med she jumped ship and got a job cooking on a yacht, which led to catering on luxury yachts to the Caribbean as Skipper's Mate. For 15 years Gill travelled the world, cooking her way from port to port.
Eventually she wanted to get back on dry land, so set up home in Antibes, France, where the boat docked. She renovated an old farmhouse for a friend near Cotignac, then bought her own and transformed it single-handed. Gill then met Peter, an artist, who was living in St. Tropez. They bought another part ruin together, which became their home and a hotel, with Gill cooking and teaching.
After 10 years, Peter wanted to exhibit his art more, so they returned to England. Gill continued offering chocolate workshops from her kitchen, whilst renovating their home in Dalwood and then again with the bungalow in Lyme Regis. Not ones to stay still, the couple rent their home out for the summer and go campervanning around Europe. Gill feeds her passion for art with her business in interior design; Roomshadows. Her years of travelling, refurbishment and teaching now combine, providing a lifestyle doing something she loves, pretty much all the time.