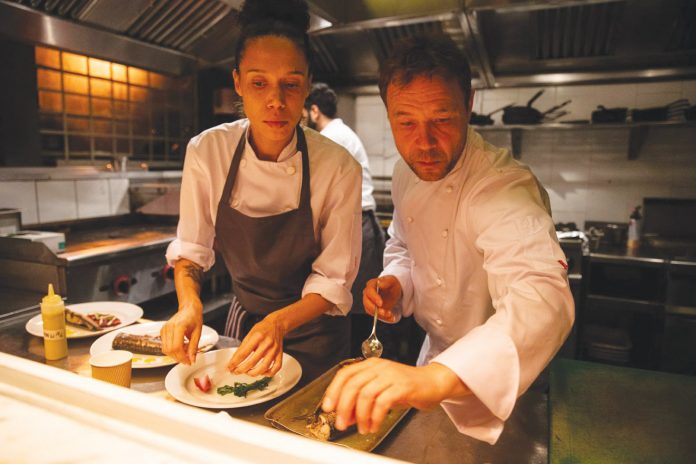 Edith Bowman talks to Fergus Byrne
The last time Edith Bowman was due to come to Bridport's Film Festival, From Page to Screen, Covid dampened all the excitement with a Festival cancellation. But now it's time for Take 2, and this year having curated the original Festival programme, she will be in conversation with local restaurateur Mark Hix to talk about the film Boiling Point which is showing at Bridport Arts Centre on April 30th.
Although it missed out on a BAFTA after four nominations, Boiling Point Director Philip Barantini was delighted just to be nominated. For him that was already a win. The film follows the events that take place in a busy restaurant one night in the week coming up to Christmas. And anyone who has worked in a restaurant kitchen will be aware of the tension that is so often hard to keep a lid on (honestly, no pun intended). In the case of Boiling Point that pressure is cleverly enhanced by the use of a single take—the whole film is shot without stopping and there are no edits. For fans of the film Victoria, this is another masterclass.
'Boiling Point is a film that will blow your mind' says Edith Bowman. She suggests, however, you watch it without knowing too much of the story. 'I'm slightly apprehensive about saying too much' she explains. 'I grew up in a hotel and I think the way they have captured the pressure of that environment is fantastic. The performances are knock-out with Stephen Graham once again showing how incredible he is. And Vinette Robinson is so captivating.'
When Barantini asked Stephen Graham to do the movie Stephen's response was 'I think you're mad doing it in one take but let's do it'. Friends for twenty years he describes Stephen as one of the most kind, generous and loving actors that you could ever work with.
Barantini has explained that the themes of the movie are addiction and mental health and people struggling. In his early days as an actor he worked as a chef for twelve years. One of his main reasons for making the film is his belief that people who are struggling should not be afraid to ask for help. The film was shot under what he described as the 'dark cloud of Covid'. They originally planned to shoot it twice a night for four nights and then use the best take. But in the end Covid closed the set and they only had two nights filming. Thankfully it all worked out but Barantini remembers it as 'a massive challenge.'
As always, From Page to Screen has many highlights including Flee, the Danish animated film directed by Jonas Poher Rasmussen. The film tells the story of the extraordinary journey of a child refugee from Afghanistan. It is 'a brilliant and creative way to broach the subject of refugees' says Edith Bowman. 'The animation is stunning and I think tells the story in a much more powerful way than live action ever could.' Flee has already won and been nominated for a slew of awards and the showing in Bridport will be followed by a fundraiser and discussion with Marshwood Vale pub landlord Tom Littledyke about his efforts to help get aid to refugees from Ukraine.
As a curator Edith's goal is to get people to come out and experience the full impact of cinema and the big screen. 'We all have such access to films' she says, referring to what we can now watch on television at home. 'But to see something on the big screen, especially an older film is such a great experience.'
This year's line-up is an eclectic selection of films by any stretch of the imagination but the theme that runs through a large part of the programme of course stems from Edith Bowman's knowledge and passion for music. In many cases the soundtrack stands tall amongst the film's highlights. She talks about the film Spencer, a historical fiction drama about Pincess Diana and her thoughts of divorce from Prince Charles. 'I'm so glad that Spencer is on the line up, a phenomenally powerful film by Pablo Lorraine' says Edith. 'It's a real character study of a woman, played so delicately and interestingly by Kristen Stewart. One of the many things I love about the film is the score by Jonny Greenwood, an effective journey between Baroque and Jazz that gives a real emotional connection with the character.'
A founder member of Radiohead, Jonny Greenwood is one of the many musicians and composers that Edith has interviewed on her podcast 'Soundtracking' which can be accessed through her website www.edithbowman.com. It is also an excellent place for film fans to hear interviews with directors, actors, producers and a range of other fascinating people involved in film and music.
But one soundtrack that she won't have heard before is Bridport Arts Centre Director Mick Smith's live accompaniment to Alfred Hitchcock's 1927 film The Lodger. A professional musician for fifteen years before family commitments made it difficult for him to take on the travel required in the music industry, Mick will be producing a live soundtrack to the film. It isn't his first time. 'I did it in the last Arts Centre that I ran which was on the Isle of Wight' he explained. 'I did two. One of which was the go to silent horror Nosferatu.' He recalled that as relatively short. 'Then I did Piccadilly, which was the first feature length silent movie which was something like two hours—which was exhausting!' The process means that neither he nor the audience will know exactly what the final soundtrack is until the film starts showing. 'What I tend to do is watch it lots of times and then pick out themes for different characters, and also scenes and action, and combine them—to a certain extent on the spot.' It's a form of improvisation that adds an extra dimension to an already exciting programme.
For more information about the films at this year's From Page to Screen visit www.frompagetoscreen.info and to book tickets for Bridport Arts Centre films and events visit www.bridport-arts.com.