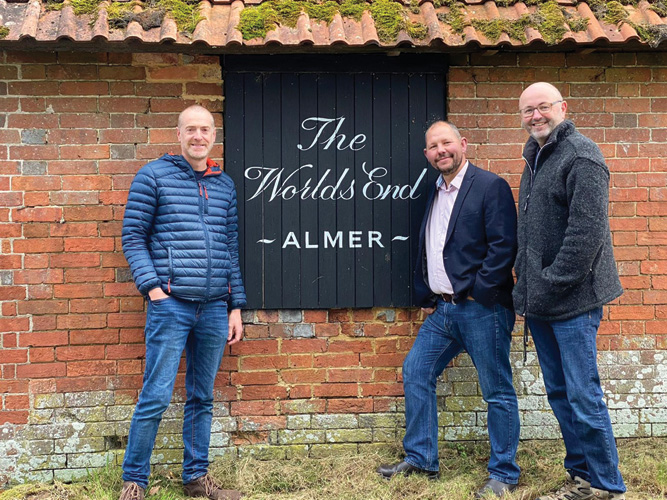 The most popular New Year's wish is that 2021 is nothing like 2020. Fergus Byrne has been hearing from some local businesses about how they see the next year unfolding
Looking into a crystal ball at the beginning of a new year we often hear talk of 'million-dollar questions' about the future. This year, it's more likely to be 'billion-dollar questions' and it's also more likely to be about years rather than the next twelve months. What lies ahead for the world economy, the national economy—and more important to most of us in this corner of the South West—what lies ahead for local business and the economy of our wider local community is a popular question.
Although for some, the impact of Brexit will be somewhat hidden by the impact of coronavirus, the double hit on the UK is enormous—especially when many businesses have never fully recovered from the 2008 economic crash. And while debate on the rights and wrongs of decisions made by government over the last few years and months will rage forever, this is where we are. So with hospitality and retail in the spotlight, we asked a few local businesses to tell us a bit about their hopes for the coming year.
Unsurprisingly, views are mixed. There's is no doubt that for many there is light at the end of the tunnel, it's more a question of how long that tunnel is—and for some businesses it is likely to be longer than for others.
Alastair Warren, chairman of The Electric Pub Company, a recently launched hospitality business in Dorset, sets a positive tone but echoes a point that many have voiced in recent years. He warns that if we don't support local businesses we will lose them. Talking about the upsurge in online purchasing and the long term effect that that may have on his local town of Bridport he said: 'It's perfectly fine to buy things online, we're all human beings and all looking for a bargain at the end of the day. But if you do that at the expense of going into RLK Tools or into Cilla & Camilla or the Morrish & Banham Wine Shop or any of the other independent retailers in town, eventually those retailers won't be there.'
As the owner of the Electric Palace Cinema and a growing stable of pubs as well as a wine business, Alastair is aware of just how difficult trading has been in the last year for customer-facing businesses. 'The last year has been about survival' he says. He believes that in the main, government support for the sector has been good. Grants and furloughing have helped offset some of his company's losses, and post lockdown trading in pubs like the Pymore Inn outside Bridport has also helped. But social distancing makes it very difficult for most pubs to trade. And with limited inside space, he sees a 'difficult winter' ahead.
However, looking further ahead he believes valuable and useful lessons have been learned on both sides of the counter from the way the industry has adapted. 'We got an enormous amount of support' he says of the way people came out to the pubs that were able to open. 'And I think we learnt a lot.' He cites 'table service' regulations and food deliveries as bonuses for customers that he describes as 'much better in terms of the customer experience.'
So, whilst he hopes that by next summer we have 'something that looks more like normal' and that people will be able to walk up to the bar to order drinks, he thinks that levels of customer service will have improved. 'We will continue doing food deliveries in a post-lockdown world because people like it' he says. 'We were forced to do exclusively table service; we will continue to do table service in those venues which can justify it, like the Pymore Inn and one of the others, in a post-lockdown world.' Alastair wants to retain 'the good bits' as well as allow customers to 'do all the things you used to be able to do—hopefully in a post-vaccine, normalised world.'
His business can be broken down into three categories: the cinema, the wine business and the pubs. All sides of the business were negatively impacted by the coronavirus lockdowns in different ways—the cinema perhaps worse than others. 'I would say that cinemas and theatres are almost the sworn enemy of social distancing' he says. He explained that when you go to a cinema or a theatre you typically are sitting very close to the person next to you and generally entering in through a crowded foyer, as well as mixing with people while getting drinks at the interval. And of course live music or theatre, involves interaction between lots of people, with the exception perhaps of solo comedy shows and cinema.
'So, by definition, it's very difficult to maintain social distancing' he says. 'That being said, we did reopen very briefly, to do the first part of BridLit prior to the current lockdown, and actually, it went incredibly well.' Although only able to facilitate about half the normal audience, he said the event was very well supported. 'People were incredibly understanding, in terms of how they entered and how they exited the building, how they pre-ordered their drinks, how they just operated responsibly. That has given us great encouragement.' Encouragement enough to consider running a limited programme of comedy which he says 'can be done because there's only one person on the stage and then a spread-out audience.' He hopes the same can happen with film, with the audience distanced.
'What remains difficult, until such time as social distancing is removed, is live theatre and live music because you just can't make the numbers work. You need too many people in the building to make a commercially realistic enterprise. But with the optimistic view that the government will have rolled out a vaccination programme to the most vulnerable by the Spring, and then with a view that the weather will be improving and there will be a more comprehensive roll-out of vaccinations through the summer, we are hopeful that we will be back to normal audience numbers by the summer period'.
Although that may feel like a long way from now, it shows a level of positivity that might give theatre goers hope.
Alastair is also investing in the Bridport Arts Centre building with plans for a restaurant, café and wine bar next year. However, although his wine retail business is doing well and he expects it to grow he says 'I'm actually pretty cautious on retail generally because there has been this marked shift towards online.' This is why he hopes people will make the effort to support their local independent shops and businesses. 'You've got to be balanced about it' he says. 'I'm not saying buy everything in Bridport but I'm saying, spend money in town because otherwise the town that you love won't be there and I think that's really my message and that's what I try to do. Of course, there are some things which I source from suppliers outside of town but the vast majority of things that we buy for our businesses, we buy from the local area and we recognise we have to sometimes pay a little bit more for that. But do you know what, customers, in turn, are also prepared to pay a little bit more for that. It's a little bit everywhere, and doing a little bit to help everybody sustains these communities.'
Richard Barker from Cilla and Camilla is also upbeat about the future of our local community. Although hit hard by the lockdown, he saw better trading than expected when the first closure ended. 'We had a wonderful summer' he said. 'We put that down to two things; people not going on summer holidays, so we saw an awful lot more visitors who were choosing to camp or come to nice hotels in Dorset rather than go to wherever they went otherwise. But we also saw a lot of people that might have gone and shopped in Exeter or Bournemouth or Bath or Bristol, who simply weren't going.'
Many retailers and hospitality industry businesses had looked forward to November as a bonus trading period after losing the first months of the summer. But the second lockdown ended that hope. Kathryn Haskins from the Alexandra Hotel in Lyme Regis had seen November as a month when a little of the revenue from lost bookings might be clawed back. But it wasn't to be. 'We were looking forward to a really busy November and that all went by the board' she said. The overheads of running a building like the Alexandra when there is no income is a massive challenge. No easing of business rates can cover those costs. Unlike the retail option of increasing stock and selling more products, the hotel industry sells time. 'In a hotel, the rooms you've lost are the rooms you've lost, you can't make up for it' she says.
Tier 2 rules have not helped the restaurant trade either. 'Not many people go out to eat with the people they live with' explained Kathryn. 'A lot of people go out to meet with friends and of course, you can't do that, so all our lunch booking trade is just gone. People come to eat with friends and catch up.' Alluding to the Government ruling she said, 'So they've killed the business without killing it.' However, no matter how hard it may be, she is fiercely determined to support her local community. As soon as lockdown lifted she and her daughter were out visiting the local shops. 'We've done a binge in Beaminster and a binge in Lyme' she says. 'We've been waiting until the shops open to actually spend our money locally and I think a lot of people are doing that.'
That is one of the many positives that we hear from both businesses and customers, and not just locally. When the first lockdown hit, a national spirit of sympathetic support lifted the country. 'I think it is great how positive people have been locally and how supportive people have been locally' said Kathryn. 'The messages we have had from guests and from all over the country and even from abroad have been so lovely. I'm hoping that that will continue into the time we reopen.'
That hope for a better year ahead, as 2021 moves into Spring, is echoed not only by those in business and their customers but also in the way some business owners are looking ahead. Mark Hix, whose restaurant chain went into administration in April 2020 as a result of the pandemic, has already reopened his original restaurant in Lyme Regis and has now taken on the lease at the Fox Inn in Corscombe. The pub had been bought by local residents Eva and the late Ray Harvey in 2012 to save it from being turned into housing and to preserve the hamlet's history. Family friends of Mark's for many years he explained, 'When they offered me the lease, I thought it could be a great opportunity, despite these uncertain times that we are in. It will be my first pub, so it's an exciting new project for me in the countryside where I'll be serving local meat and game along with some British pub classics, a contrast to the fish and seafood offering in Lyme.'
Mark has many plans to help build up local trade while at the same time promoting other local producers. In the New Year, he hopes to host a Farmer's market showcasing the best of the produce from the local area. 'With all the challenges that we are facing now, it's great to be able to focus on an exciting new project' he said. 'It's important to me that I keep The Fox as a traditional local pub with great food and drink. Since lockdown in Spring the pub has only been open three days a week, so I am looking forward to opening six days a week for the locals and visitors to the area to enjoy once more.'
Listening to the thoughts of some of those in business locally, it's no surprise that there are mixed feelings about the future of the local economy. Rebecca Hansford from the award-winning wine producer Furleigh Estate outside Salway Ash, saw an increase in trade as soon as the first lockdown ended. 'However, there is no escaping from the fact that we lost our Easter and early summer 2020 trading period—a quarter of the year' she explained. She also had to cut prices to keep cash coming in to pay vineyard staff.
Rebecca is also keenly aware of the impact that Brexit will have on her business. Most of her equipment comes from the EU which means servicing and parts will be a headache, as well as sourcing products such as corks and wirehoods which currently come from Portugal and France. Her company produces some of the best wine in England, but as she points out, cost increases are inevitable. 'The issue for us is whether the wine drinkers of the world will pay the increased price this will mean for our wine. Still, C'est la vie!'
Alastair Warren has said that he believes customers will be prepared to pay a little bit extra to support their local community, and with reports of a likely hike in the cost of imported foods after December 31st—and this could apply to many products—his ability to look at a national or global view may be helpful. As a former senior executive at Deutsche Bank as well as at Goldman Sachs, Alastair is in the unique position to be able to look at the bigger picture, as well as the area he grew up in. 'There will, I think inevitably be some economic cost to Brexit' he says. Although he hopes it will be mitigated to a large extent by whatever deal is agreed with Brussels. But he believes it will also be mitigated by an increase in taxes. Regardless of whatever government is in power, he says 'That's the only way you can pay for it.'
But he also believes that the government will need to make people feel better, so hopes to see them 'providing some kind of support or price guarantees for domestic producers which will be important around milk and other produce.' He also suggests that the housing market will need to be assisted with an extension of stamp duty relief and other measures 'because the housing market, in the south-east of England is still totally dead, pretty much, and that has a knock-on effect through the whole thing.' He expects interest rates to remain low for a very long time and hopes also to see increased levels of support for 'small and medium-sized businesses and the rural community.'
Unlike many who share dire predictions of a post COVID world, Alastair doesn't expect a global meltdown. 'I'm actually pretty optimistic about the global outlook' he says. 'I don't see global recession, I actually see continued stimulus coming from a wide variety of governments.' However, he believes much depends on the success of a vaccine. Speaking about the other businesses he runs he says 'we are seeing pretty encouraging signs, albeit critically dependent on the vaccine becoming a reality.'
With his "investor confidence" hat on, Alastair offers fascinating insights into what we may expect from the impact of Brexit and the effect of the coronavirus pandemic on our future, but his keen business eye is also heavily focused on his local town and the wider community around it. 'One of the great strengths of Bridport is the fact that there are very few chain stores in the town' he says. 'And we've got a small number of quite large private landlords who have actively encouraged independent retail for many years, and my understanding is that through this difficult trading period, they've actually been pretty flexible on rents and the like. So, I'm actually quite optimistic for Bridport because I think the landlords have acted responsibly. But I'm quite cautious about the market towns and larger retail centres where they don't have that same feel and understanding. Bridport is quite unique in that sense.'
The retail market may look worrying after the collapse of efforts to keep Arcadia and consequently Debenhams alive, but both Alastair Warren and Richard Barker see that as something that was going to happen despite the impact of COVID-19. Arcadia 'was over-levered and they hadn't moved with the times' says Alastair and 'It's not the pandemic that's caused the problem. There was a problem already and this has just exacerbated it and brought the issue forward' says Richard.
On balance, we may be fortunate within the Marshwood Vale Magazine's wider local community to be somewhat shielded and less prone to the devastation that this last year has wrought on some parts of the country. But there is little doubt that challenges remain. And the one thing that can help to temper these potential difficulties is ensuring that we spend as much of our money in nearby towns and villages as we can, and support locally-owned businesses as a priority.