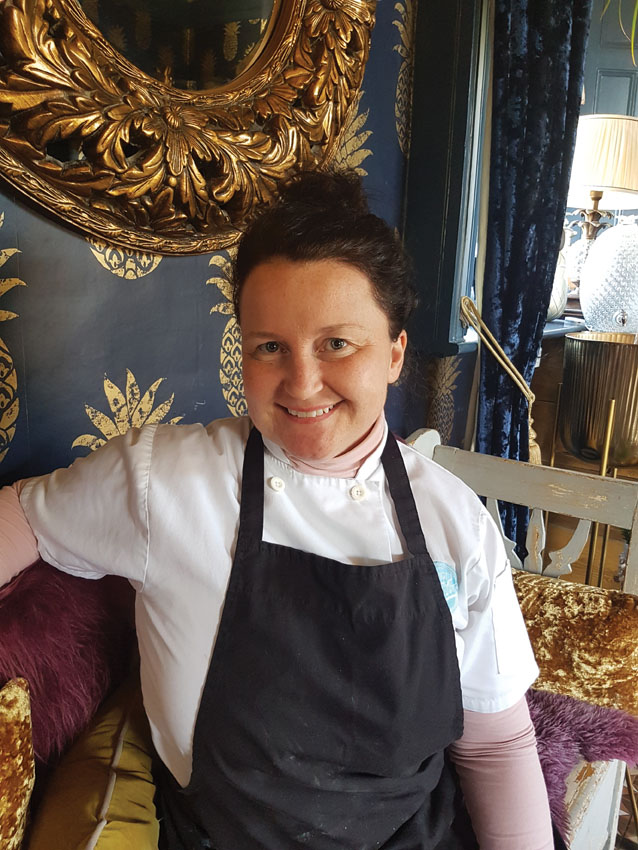 Emerging from the kitchen next to the waiting room of The Station Kitchen, West Bay, Claire Moore is dressed in her chef whites with a black apron over the top, topped with a sprinkling of flour. Executive chef and co-owner with her husband, Ross Moore, Claire and her team do all the cooking for the eclectic restaurant on wheels that is a train carriage in the old station of West Bay.
Likening her food to traditional British fare with a modern twist, Claire and her husband have worked tirelessly over the last five years to create an eating experience like no other, converting the derelict railway track into one of the most sought after dining experiences in Dorset. Great gold pineapples accost the eyes as soon as you enter the 'waiting room', a pre-dinner space perfect for cocktails and aperitifs. All designed by Claire, this is where the experience starts, however, the journey continues in the carriage, fully refurbished, with cheerful coloured glass and vintage finds, making it a feast for the eyes. And that's all before the food arrives.
Trained as a pastry chef, Claire moved down with Ross to Bridport, pregnant, not knowing the area and in need of an income. Their previous career paths didn't suit the area and so Claire, once her son was born, started to think of things she could do from home. So, she made cupcakes and sold them in Bridport Market. Then, she made them commercially for businesses, as they were in such demand. Moving through then into catering, the couple started taking bookings for weddings. Their catering business, Sausage and Pear, kept growing and is still a great success.
The Station Kitchen is Claire's brainchild, emerging from a need to have a presence in the local community. And she hasn't looked back since first stepping onto the railway platform. Downplaying the transformation from ramshackle shell to the show-stopper it is now, Claire jokes that her pipe dream has turned into "one big train set". Clearly, it is so much more.