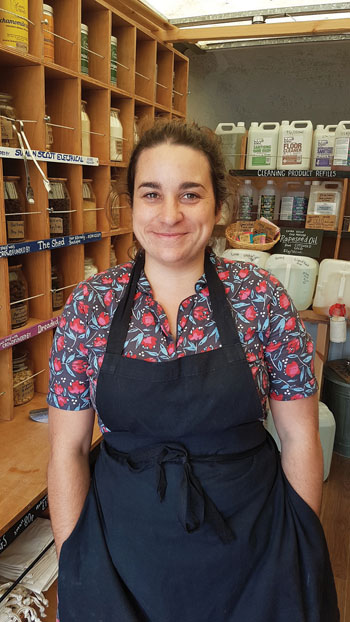 From gluten-free organic flour to beetroot and parsnip crisps, ginger biological washing up liquid to organic olive oil, chocolate and salted vanoffee cashews to recycled loo roll, bamboo toothbrushes to chia seeds, Kate Robertson of The Green Weigh sells it all. Neatly stowed away on shelves from floor to ceiling Gertie, The Green Weigh's van stocks an impressive array of organic, biological, sustainable and vegan products, which customers can come to purchase at the various locations she stops at during the week. Set up by Kate, alongside her fellow directors Alex Green and Libby Rogers, together they have created Dorset's first mobile zero waste shop.
They describe themselves as "a group of mums on a mission to help reduce plastic pollution". Kate and Ally were at Baby Yoga together in Bridport, where they discussed a zero waste shop Alex had seen on holiday in Totnes. Realising there was nothing like that locally, Kate encouraged Alex to start planning their own shop, with Libby also being brought on board. Every Wednesday after school the mums with their children would gather at Kate's house developing their business plan. And after an extremely successful crowdfunding campaign, backed by local businesses, they were able to launch in 2017.
The Green Weigh project takes up most of Kate's time. When she's not planning or working on the back end of things she is busy being a mum to three girls. Growing up in Redcar near Middlesbrough, Kate married her teenage sweetheart and juggled moving to the Isle of Wight whilst pregnant, giving birth early, just three days after arriving. Her now ex-husband is a musician and composer, which complemented Kate's artistic talents. She studied Photography and Video at Lincoln University, then later whilst the family were living in Buckfastleigh she snuck in an Integrated Crafts Degree with travelling around Europe, performing Neuro Operas. Still carrying out freelance video commissions, her CV boasts being shortlisted at the Saint-Petersburg International Film Festival and winning film for Best Artistic Merit at Plymouth Film Festival, amongst other awards.
Now living in Bridport, Kate enjoys working the odd shift at The Red Brick café. She squeezes every moment of time out of her day, spending evenings at her computer typing out neurospecialist transcripts. Trying to make a difference, she is certainly making a positive impact with The Green Weigh.