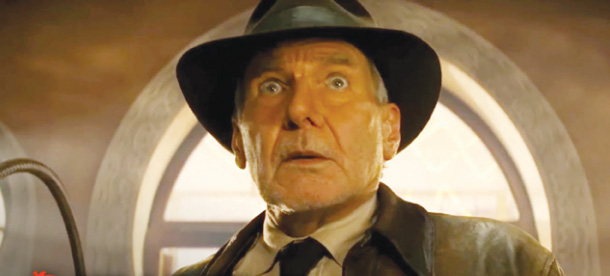 Bridport Electric Palace
Indian Jones and The Dial of Destiny (2023)
A terrific thrill ride. With Ford in fine form, Indy's last stand is a highly satisfying blend of action, humour and emotion.
Total Film. James Mottram.
Plaza Cinema. Dorchester
Teenage Mutant Ninja Turtles: Mutant Mayhem (2023)
Teenage Mutant Ninja Turtles: Mutant Mayhem was screened as a work in progress at the Annecy International Animation Film Festival on June 12, 2023. According to The Wrap, at the end of the screening the film received a six-minute standing ovation.
BBC iPlayer
Bringing up Baby (1938)
Bringing Up Baby is very funny. It leaves one in awe at the speed and timing of Grant and Hepburn, as well as their goofy, lopsided humanity. The Guardian. David Thomson.
An Irish Goodbye (2022)
Winner of 2023 Oscar for Best Live Action Short. Worth watching this charming 23 minute Irish tale of two estranged brothers coming together at the family farm after their mother's death.
Phantom Thread (2017)
Writer-director Paul Thomas Anderson has crafted a period drama of startling tonal fluidity, and Daniel Day-Lewis and Vicky Krieps deliver reserved performances that slowly reveal significant depth, transcending the material's potential plight-of-the-artist clichés to hit at something far richer and more mysterious about desire, ambition and control.
Screen Daily. Tim Grierson
Netflix
Heart of Stone (2023)
Constantly proving themselves to be a landing spot for A-list talent, Netflix snagged one of Hollywood's biggest action stars to lead the cast of the Heart of Stone movie. Wonder Woman star Gal Gadot was cast in Heart of Stone in 2020, and the rest of the star-studded ensemble has slowly been put in place around her.
Screen Rant. Dalton Norman.