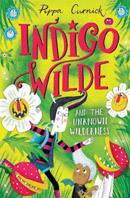 Indigo Wilde and the Unknown Wilderness
by Pippa Curnick
Published by Hodder Children's Books RRP £5.99
Reviewed by
Nicky Mathewson
Indigo Wilde and her younger brother Quigley live an extraordinary life at number 47, Jellybean Crescent. Their home is full of exotic and dangerous creatures which were rescued from The Unknown World by their parents Philomena and Bertram Wilde; world famous explorers.
Both children were also rescued from dangerous situations and adopted by Philomena and Bertram. Indigo was rescued from a man-eating tiger and Quigley was found in a dragon's nest on an erupting volcano! The dragon's roars left Quigley deaf but the whole family soon learned sign language and were communicating in no time.
Being explorers, both parents are often away from home and Indigo and Quigley are very self-sufficient. One morning during their parents' absence, a new creature arrives at their door with an urgent message: "Your parents are in GRAVE DANGER. Lost. Captured. Gone. They need help."
The distressed creature is a Moonbear and she was with the explorers in the Jungliest Jungle just before they disappeared. So the three of them make a plan to set off in search of Philomena and Bertram. In order to get to the Unknown Wilderness however they need to find a Glurk, which is an "inter-world doorway". Not so easy if you don't know where to look but luckily Indigo has a copy of The Abracadarium which is a sort of magical guidebook. A good thing too, because navigating the Unknown World is NOT going to be easy.
This is a fabulous follow up to Pippa Curnick's first Indigo Wilde adventure, (though you can read them in any order). It is full of fun, danger and the most spectacular colour illustrations. Indigo and Quigley are such special characters that they have really captured my heart.
This series is perfect for children who have already started to read and are gaining confidence. *First book in the series: Indigo Wilde and the Creatures at Jellybean Crescent, Pippa Curnick, Hodder Children's Books, £5.99.