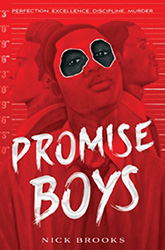 The Promise Boys
by Nick Brooks
Published by Pan Macmillan RRP £8.99
Recommended by Antonia Squire
for ages 14+
Trey, JB and Ramon all attend The Promise Academy for boys, and while they may chafe against the extreme discipline instilled by Principal Moore in The Moore Method, they all know this is their one chance for university and escaping the fate of the gang culture many of their friends and families are caught up in.
It's hard though: silence in the corridors, perfect uniforms, no talking back, no individuality at all. When things get hard at home, sometimes school is the only place to act out, which lands the three boys in detention. And that is when the three of them hear gunshots and discover Principal Moore has been murdered.
With no alibis, the boys become the prime suspects in the crime and are suspended from school. With gossip and innuendo rife, it is only by working together, with a couple of trusted friends, that they can even begin to prove their innocence. Because they are innocent, aren't they?
A fantastic thriller, full of intrigue, I cannot recommend The Promise Boys highly enough. Just brilliant.