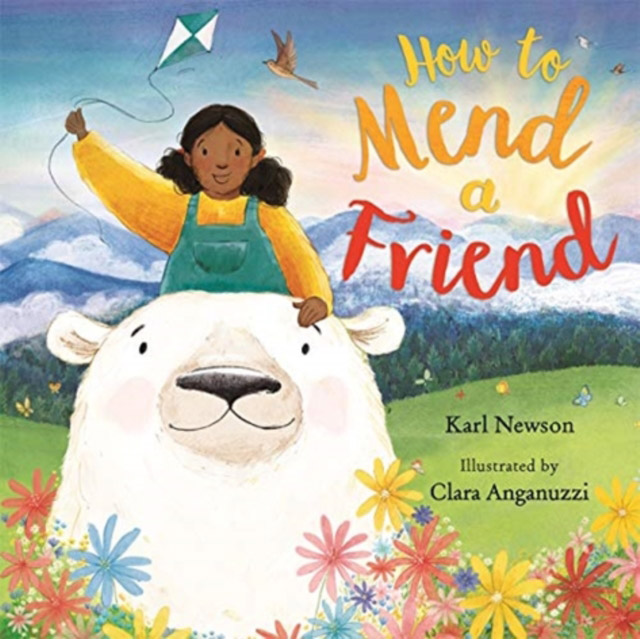 Picture Book
How to Mend a Friend
by Karl Newson
Illustrated by Clara Anganuzzi
Published by Studio Press
an imprint of Bonnier Books
RRP £6.99
Review By
Antonia Squire
We all like to be happy, and we hope to be happy most of the time but when we're not we often rely on our friends to see us through the tough times. We're all different though, and we all respond differently to various stresses and difficulties.
This lovely picture book shows a little girl offering lots of her animal friends different types of love as they struggle with feeling unwell, or just a bit blue. Sometimes that can be a hug, or a chat, or sometimes just being with them or leaving them be.
Supported by gorgeous illustrations, this book is a lovely balm for difficult times giving the youngest readers the tools to help, not only their friends but also their friends, during trying times. Just delightful.
Middle Grade
October, October
by Katya Balen
Illustrated by Angela Harding
Published by Bloomsbury
RRP £7.99
Review by
Antonia Squire
I was scanning our shelves to decide which book I wanted to review for this month, and just kept thinking that it seemed a bit weird to review a book called October, October in … January. I love this book so much but the timing wasn't right to do it last year, and we can still enjoy this glorious novel in deep winter.
Ten-year old October lives in the woods with her dad and she's happy there. They don't use electricity and for the most part they live off the land (although her dad does go into town for supplies every now and then). As summer draws to a close, October finds a baby owl alone in the woods and decides to take care of him, naming him Stig. Then, on October's eleventh birthday, tragedy strikes.
October and her dad are visited by 'the woman who calls herself her mother'. October's mum couldn't handle living off the grid and left October with her dad when she was very young. October's mum and dad still talk regularly but October want's none of it. Once again, her mum tries to visit October on her birthday, but October runs away—forcing her dad to follow her. And that is when the accident happens. October's dad suffers a terrible fall and is taken into hospital, it's very serious and he will be there for months and October has to live with the woman she hates, in London' until he's better.
The clean, featureless flat in London, together with the strange noises and awful smells are terrifying for October. Add to that her first experiences in school, she is absolutely miserable. But October's mum isn't a terrible person, and she understands what October needs. She takes her to visit her dad in hospital regularly, as well as the bird sanctuary to visit Stig. But she can't take her back to the forest, and there isn't a tremendous amount of 'nature' to be found around London. But then they discover Mudlarking. It is this, as well as the kindness and patience shown her, that makes October realise that her mum isn't all that bad.
A stunningly beautiful story, told in the voice of a young girl who doesn't communicate much with words. A tale of strange new experiences and places, of uncertainty and of love. An absolute must read.
Teen
Squad by Maggie Tokuda-Hall and Lisa Sterle
Greenwillow Books an Imprint
of Harper Collins
RRP £14.99
Review by
Nicky Mathewson
High school drama just got real ferocious and Maggie and Lisa have really brought this sassy graphic novel for teens to life.
Meet Becca, new at school, moved from LA, super cute and ready to make friends.
Meet Marley, Amanda and Arianna, the popular girls, super sporty, super sexy and dangerous as hell: The Squad.
Becca is invited to be the fourth member and her new friends do not play nice.
With an initiation ceremony like no other, Becca becomes embroiled in some deadly payback for all the jerks out there. Are The Squad dealing out just deserts, or taking things too far? Feminist horror that leaps out and grabs you. These girls are always hungry, so all you cheating dudes out there better watch your step!
I completely love this and would recommend it to readers age 13+ It contains strong language.