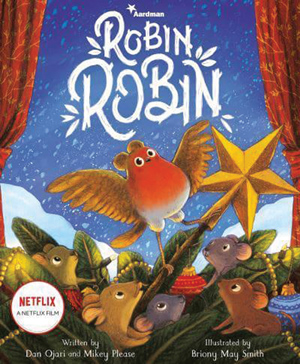 Picture Book Review
Robin Robin
By Dan Ojari and Mikey Please, Illustrated by Briony May Smith
Published by Two Hoots Books RRP £12.99 Ages 3+
Reviewed by Nicky Mathewson
Meet Robin Robin, a very cute, feathery, fluffy, clumsy, mouse-bird! She's actually a robin, but is brought up by a family of mice and very much wants to fit in and be part of the family.
The mice love Robin Robin and treat her as one of their own.
Christmas is approaching and snow lay all around, so they are on a mission to gather crumbs to eat from the nearby house. The Who-man house, where there are plenty of crumbs to feed a family of field mice (and a robin), but there is one obstacle, the fearsome cat.
Try as they might, Robin Robin is just too fluttery and clumsy for them to sneak in unnoticed. While the others are asleep she decides to go it alone in the who-man house and really be sneaky this time. But, oh dear, she is just too noisy and instantly attracts the cat's attention. Luckily a magpie comes to her rescue, and helps her to escape.
Robin Robin wishes more than anything that she could be a real mouse, but will her Christmas wish come true? Will she be able to help feed her special family?
This really is a gorgeous festive story, illustrated by the exceptionally talented Briony May Smith. It has all of her hallmark warmth and delightful use of colour.
The story is adapted from the Dan Ojari and Mikey Please animation made for Aardman Animation Studios and is lovely to read aloud. It ticks all the boxes for what I want in a Christmas story and with Briony's illustration it jumps right off the page. Perfect for ages 3+ and a great addition to all your festive favourites.  Also, don't forget to pop by the shop to look at Briony's gorgeous window!
Middle Grade Review
Wishyouwas: The Tiny Guardian of Lost Letters
By Alexandra Page
Published by Bloomsbury Books, RRP £12.99 For Ages 8+
Reviewed by Antonia Squire
The year is 1952, the place – London. The fog as deep as dark December as young Penny Black awaits her mother's return for Christmas. Sitting in her uncle's post office after hours, Penny hears a scurrying and as a chill travels up her spine she sees a rat's tail disappear into the Lost Letter drawer. Slamming the drawer shut she hears a cry as she traps the tail. As she slowly opens the drawer to see what has happens she is astounded when the little creature demands to know why she would hurt him like that, and admonishers her: 'I is not a rat!' it burst out. 'I is wishyouwas.'
And so Penny, with Wishyouwas as her guide, discovers a hidden world beneath the streets of London where the tiny creatures guard the Lost Letters of the world. But there is danger in this work and the Royal Mail Rat Catcher also knows of the guardians and will stop at nothing to wipe them out. Can Penny and her new friend save the guardians and in turn, save Christmas?
A truly delightful tale, full of intrigue, danger and adventure – a perfect read for children and families for Christmas and all year round. 
Teem Review
We Were Wolves
By Jason Cockcroft
Published by Anderson Press RRP £12.99 For Ages 12+
Reviewed by Nicky Mathewson
A boy and his father are living in the woods and surviving on their instincts until the father, John, is sent to prison. How will the boy survive on his own and can he keep John's secrets until he gets out? Who can he trust? The atmosphere is electric and the story tastes archaic, it speaks of finding the truth about life in the shadows and vibrations of the earth. Animal instincts are sometimes all we can depend on.
It's such a joy to read a book that reaches deep into my soul and touches every nerve. We Were Wolves is devastating and yet beautiful, moving and profound. This beautifully produced book is illustrated by the author in powerful monochrome images which express so much of the beauty and pain within the story.
I loved this book immediately and it will resonate with me for a long time. Suitable for readers of 12 and up. Perfect for fans of A Monster Calls.