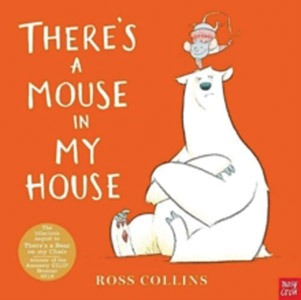 Picture Book
There's a Bear on My Chair and There's a Mouse in My House
By Ross Collins
Nosy Crow Publishing
RRP £6.99
Recommended for Ages 3+
Review by
Antonia Squire
Mayhem in rhyme abounds in these hilarious, rollicking stories of a mouse and a bear who simply don't understand boundaries!
In There's a Bear on My Chair, Mouse is driven to distraction as he finds Bear in his favourite chair. Trying everything to get him to shift, Bear simply will not move until finally Mouse storms out of his house in a bit of a huff.
There has to be somewhere else Mouse can find a comfy place to sit. Right???
Oh No!
Mouse has found Bear's house in the hilarious follow up There's a Mouse in My House! Fully rested in Mouse's favourite chair, Bear heads home to find his own house has been invaded by the pesky rodent. Causing chaos around the house, Mouse is getting his own back and Bear is desperately frustrated by the Mouse in his House. But what goes around does seem to come around.
Will Mouse and Bear ever be able to get back to normal and live in peace? There's only one way to find out…
Middle Grade
Nell and the Cave Bear
Written and illustrated by Martin Brown, Piccadilly Press RRP £6.99
Recommended for readers aged 7+
Review by
Nicky Mathewson
Nell is an orphan (her mum got sick and her dad got frozen!) so her only real friend is Cave Bear who is also an orphan. She found him when he was a tiny cub and nursed him back to health. The two of them live with the rest of the Cave Clan as part of one big family. They are preparing for the annual trip to the hunting grounds and a rare visit from their seaside cousins; the Sea Clan.
It's a big deal for everyone and the elders are worried that they won't have enough gifts to offer their cousins. The suggestion is made that the small pet bear that Nell plays with would make an excellent offering to the Sea Clan. On hearing this, Nell is horrified, Cave Bear isn't any old pet, he's her beloved friend and she would do anything to protect him.
She makes the decision to run away and follow the river flowing away from the cave, it too is running away. With Cave Bear by her side she encounters danger and many surprises on her journey further and further away from home.
Martin Brown is best known for illustrating the fabulous Horrible Histories series and I'm thrilled that he has now written and illustrated his own book for younger readers. Nell is bold, brave and caring and she makes a wonderful heroine in this delightful historical, and also humorous, adventure. Perfect for independent readers and also a lovely read aloud.
Teen
Hatchet
by Gary Paulsen
Macmillan Children's Books RRP £6.99
Review by
Nicky Mathewson
Brian has spent his whole life in Boston, Massachusetts, but when his parents divorce his dad moves to the wilds of Alaska to work for a logging company. Staying in Boston with his mum, Brian is eagerly looking forward to the summer holidays when he can visit his dad.
As the only passenger on the cargo plane heading out to the logging area from Boston, Brian has his backpack and the hatchet his dad gave him before he left. Everything is fine until the pilot has a heart attack mid-flight and the plane crash lands in a lake in the middle of the Canadian wilderness.
Completely alone, with just the clothes on his back and his trusty hatchet, Brian has to figure out how to build shelter, make fire and find food. Unsure whether he will be rescued Brian has no one to rely on except himself and city boy against the elements are not odds he relishes.
First published in 1986 Hatchet has remained a staple of young adult adventure fiction for 35 years. Especially loved by boys who are 'reluctant readers' (many of them reading it over and over again) it is a brilliant book about resilience and resourcefulness. I've been handselling this title for years, but decided to shout about it again with the news in October about the death of Gary Paulsen. What an extraordinary legacy to leave behind, I cannot recommend it highly enough!