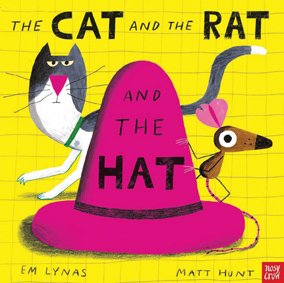 Picture Book
The Cat and The Rat and The Hat by Em Lynas. Illustrations by Matt Hunt
Nosy Crow Publishing RRP £6.99
A cat sitting on a mat with a hat.
A rat who wants the hat.
The cat and the rat fight over the hat, back and forth and back and forth until a Bat with a fancy cravat interrupts and the cat and the rat fight over the cravat. All the while the Bat enjoys the hat.
A brilliantly funny and silly read aloud picture book with racing, rhyming text and wildly vibrant pictures. This is one that kids will be begging for over and over again, but be careful, it's a wee bit of a tongue twister and the faster you go the funnier it gets. A new favourite here at The Bookshop, we love it!
Middle Grade
Adam-2 by Alastair Chisholm
Nosy Crow Publishing
RRP £7.99
I'm going to say, right off the bat, that this is probably the best book I've read all year.
Adam lives in a basement, alone, following his routines, as his father taught him, day after day after day. Until one day, everything changes.
When two kids break into his room and start looking around, searching for anything that might be of use Adam is nervous. But when Adam greets them, they are terrified, they call him a 'Funk', which technically, he is, because Adam isn't human, he's a robot, a 'functional consciousness' and the world he left behind bears no resemblance to the world as it is now. In the intervening years civil war has broken out between humans and robots and the two sides are in a stale mate—both looking for something that can shift the balance in their favour.
Both sides want Adam and both sides want victory, but what will that look like and can peace ever be possible?
This gripping sci-fi adventure is both thrilling and an extraordinary exercise of ethical dilemma. How far will humans, and the AIs they create go to save themselves, and can anyone see a bigger picture, a solution, peace? I read this in a single evening and I still think about it regularly. Extraordinary.
Teen
The Island
by C. L. Taylor
Harper Collins Publishers
RRP £7.99
Six random teenagers find themselves on a deserted island in Thailand where they are to learn how to survive with just their wits, a couple of tools and a mentor to guide them. But while it was totally random that they would meet, they have known each other their entire lives. Their parents were in the same pregnancy and birth class, and they remained friends (for the most part) and holiday together every year.
On the year of the kids' 16th birthdays they decide to take a special trip to Thailand, but a lot has happened over the past couple of years: family tragedies, break ups, people moving and the baggage the kids bring with them on this trip is mainly emotional.
A brilliant psychological thriller told from the alternating perspectives of Jessie and Danny: when their guide dies and they are trapped on the island, someone is targeting each member of the group in turn with their deepest fears. And as some of those fears are deadly, and they won't be noted as missing for seven days, anything could happen.
By golly this is a cracking good read!