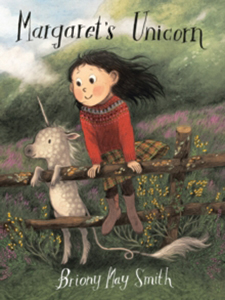 Picture Book Review
by Nicky Mathewson
Margaret's Unicorn
by Briony May Smith
Walker Books
RRP £12.99
Margaret and her parents are moving to be nearer to Grandma. A stone cottage high in the mountains which feels strange and empty at first. Mum and dad promise to make it feel like home but Margaret is unsure. She takes a walk to explore the mountainside and finds the most incredible thing, a baby unicorn which has been separated from its family. Whilst caring for the unicorn Margaret is able to settle into her new home and forget her worries, but what do unicorns eat? And what do they drink?
This is the most beautiful book from a wonderful author and illustrator.
Briony has a magic touch when it comes to the use of light in her illustrations. Each page is a stunning piece of art full of feeling and movement.
A perfect bedtime story for ages 3 and up.
Middle Grade Review
by Antonia Squire
When the Sky Falls
by Phil Earle
Andersen Press
RRP £7.99
At the height of The Blitz, in 1941, thousands of children were evacuated out of London to the safety of the countryside. But when Joseph's father went off to war, and his grandmother became unable to cope with his troubled behaviour, Joseph is sent to London, to the care of stern Mrs F.
Furious at his plight, unable to trust and convinced no one will ever want to be around him, Joseph does his best to push people away. At school he is bullied for his northern accent, punished for defending himself and still struggling to read. After school he has to go and help Mrs F at the old zoo, taking care of the old, scraggly animals that couldn't be relocated, including a magnificent silverback gorilla named Adonis.
When the bombs start falling at night Joseph follows Mrs F through the streets of London to the zoo. Terrified of what she'll do when he sees her holding a rifle outside Adonis' cage, Joseph challenges his guardian, accusing her of lies and betrayal. As the nights go by he begins to understand the depths of love Mrs F holds for the zoo and its animals and slowly, but surely, the two forge a bond of trust and understanding in the face of tragedy and destruction.
A beautiful tale of two damaged people coming together to give each other strength and learning to love again. Inspired by a true story of a city zoo, wild animals and constant bombing raids, this is a magnificent take on the World War Two genre. Highly, highly recommend—I loved it.
Teen Review
by Antonia Squire
Ace of Spades
by Faridah Àbíké-Íyímídé
Usborne Publishing
RRP £8.99
It's the beginning of senior year and Chiamaka is eagerly awaiting the culmination of years of hard work—both socially and academically. Finally making it to the top of the social pyramid, and her sights set on Harvard, she knows this is the year she finally comes into her own.
Devon isn't anywhere near the top of the social or academic pile, but as a talented musician he's just hoping to make it through senior year unscathed before making his way to Julliard and the bright lights of New York City.
Neither of them is prepared for Aces, an anonymous texter who has a frightening amount of dirt on both of them and hell bent on spreading this malicious gossip through the rest of the student population. And for some reason it's just them, the most popular girl in school, and a boy who's always managed to fly under the radar. They're not even friends so why them?
Londoner Faridah Àbíké-Íyímídé has done an extraordinary job in creating an elite American high school environment with believable characters reflecting the teen experience in this heart-poundingly good thriller. Willing myself to read faster to find out where she was taking me, Ace of Spades is the perfect post-exam summer reading.