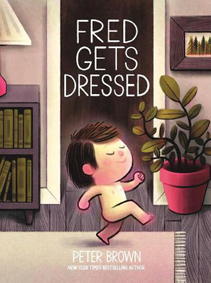 Picture Book Review
by Nicky Mathewson
Fred gets Dressed
by Peter Brown
Published by Templar Publishing,
RRP £6.99
Fred is a happy and contented child who loves to be free, free to run; jump; play and be naked. He is especially happy to be naked.
When he does decide to get dressed, he's unsure where to begin. He takes a look at Daddy's clothes but is uninspired by the shirts and ties. He then takes a look at Mummy's clothes and thinks they would be fun to wear. Rather than being shocked at Fred's attempt to get dressed, his parents embrace his alternative choice and the whole family have a makeover, including the dog!
Fabulously illustrated with bold black lines and coloured with subtle hues, Fred's naked dashes through the house charm me to my core. The only thing to rival this perfect representation of the desire of a young child to be free, is the representation of acceptance; choice and individuality.
Any book that offers to break down stereotypes for children is a book worth reading and Peter Brown has given us just that. It's funny and heart-warming, and it is perfect for reading to children aged 3 and up. I absolutely love it.
Middle Grade Review
by Antonia Squire
The Swallow's Flight
by Hilary McKay
Published by Macmillan Children's Books, RRP £12.99
As a companion novel to the Costa Award winning The Skylarks' War I thought that this one might be good, but I was totally blown away when it turned out to be even better!
Set 20 or so years after The Skylark's War, Clarry, Rupert and Peter are all grown up but 'the war to end all wars' wasn't and the greatest conflict of the 20th Century is brewing. Kate, in Oxford, and her friend Ruby, in Exeter, are watching with growing unease as the threat of war comes ever closer.
In Berlin too, Hans and Erik watch with growing alarm as their friends and neighbours begin to disappear. But the threat to them is from their own government. As they grow up and are called to serve their country they both join the Luftwaffe, the elite German air force, fulfilling their mutual love for flight.
All the while, Clarry and Rupert are working towards finding a lasting peace, but that may be beyond the reach of anyone.
Teen Review
by Antonia Squire
The Gilded Ones
by Namina Forna
Published by Usborne Books,
£8.99
As Deka prepares for the Ritual of Purity along with other girls her age she harbours the age-old fears that she will fail. It will not be for anything she has done, but rather what she cannot help. She will be cut by the elders of her village to see what colour she bleeds. If she bleeds red she will return to her father's house and to the submissive life of all women across the world of Otera. If her blood is gold, then she will be exposed as a demon and the village elders will take it upon themselves to execute her by any means necessary. Demons are notoriously hard to kill, and their gold blood is immensely valuable, the horrors awaiting Deka if she fails the Ritual of Purity are beyond comprehension.
There is hope though, Deka is offered the choice to be trained as a warrior and earn her freedom fighting Deathshrieks in defence of the empire, and so begins her training, along with many other girls: all demons, all traumatised and all hungry for vengeance.
A brilliant debut fantasy with rich world-building, great characters, love, loyalty and revenge. I loved it.