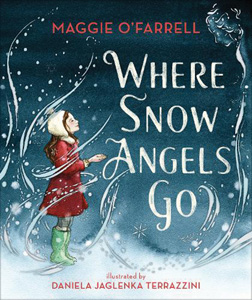 Picture Book Review
Where Snow Angel's Go
by Maggie O'Farrell,
Illustrated by Daniela Jaglenka Terrazzini
Walker Books, RRP £14.99
Ages 5+
Reviewed by Antonia Squire
"Have you ever woken suddenly, in the middle of the night, without knowing why?
Once, and not too long ago, this happened to a girl."
Sylvie awakens in the middle of the night to see a strange, icy but beautiful figure in her room muttering to himself. He's as surprised as she is by this turn of events, she's not supposed to be able to see him, he's supposed to be invisible.
He is her Snow Angel, there to protect her from harm, only present when he is truly needed. Sylvie is quite unwell for quite some time, and she certainly isn't supposed to remember his visit, but she doesn't forget. When she recovers, she tries everything she can to get him to return.
A gloriously illustrated, magical tale of love and kindness perfect for Christmas and other winter festivals. A perfect addition to any family library, and a new holiday tradition.
Middle Grade Review
A Girl Called Owl
by Amy Wilson
Pan Macmillan, RRP £6.99
Ages 9+
Reviewed by Nicky Mathewson
Being given the name Owl can be problematic for a child who wishes to blend in, but her mother saw magic in her and knew she was unique. Soon Owl would discover that she could never fit in, not completely. How could she, when she was the daughter of Jack Frost.
Desperate to know who her father is, Owl pesters her mother until she finally admits the truth. But how can such a thing be true? The stories her mother told her as a small child were fantasy, bedtime stories: Fairies, The Green Man, Mother Earth, Jack Frost, they're not real…are they?
As Autumn is coming to an end, Owl starts to change, frost starts to creep over her skin. She needs to understand what is happening to her, and soon, before others notice and it gets out of control. She needs to find her father, and really know who she is, but Jack Frost is an element of nature that cannot be tamed. He is dangerous, powerful and cruel.
This is the most magical winter's tale of self-discovery, friendship, family bonds and a fight for power. I adored Amy Wilson's world building which shifts between the human world and the land of The Fay. Owl, who is a wonderful strong female lead, comes to depend on her friends in matters of life and death and admit that she needs help.
This gorgeous middle grade book is full of danger, with twists and turns aplenty. Taking us with an icy grip through a wintery landscape, whilst warming our hearts completely. I loved it.
Teen Review
One of Us is Lying
by Karen M. McManus
Penguin Books, RRP £7.99
Ages 14+
Reviewed by Antonia Squire
When I was a teenager (and I'm showing my age here) The Breakfast Club was one of my favourite films, so when this book landed on my desk, saying "Five Students walk into detention. Only four leave." I was all – Dude, it's The Breakfast Club with Murder!
One of Us is Lying is an awesome murder mystery set around the brutal gossip culture of an American high school. Replete with anonymous social media postings, suspicion, intense local television coverage and a police force convinced that one of the four remaining kids is guilty and will stop at nothing to prove it. Four very different students, from four very different groups find themselves in a very grown up situation and only together can they figure out what actually happened. Because it becomes very clear that if they don't, no one else will.
A taut, smart, compelling thriller where nothing is clear, no one is telling the truth, and secrets abound. It's fantastic!
10% off RRP exclusively for Marshwood Vale Magazine Readers
at The Bookshop, Bridport