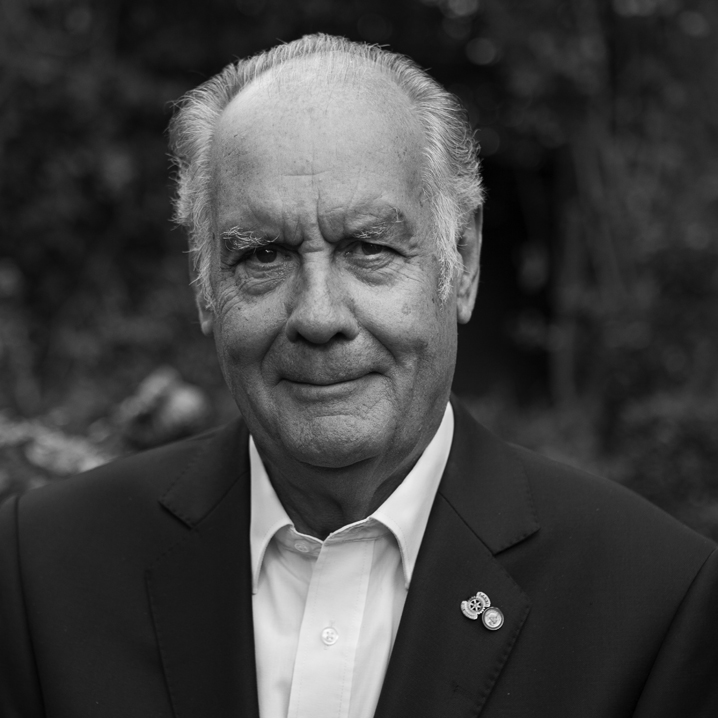 'My grandparents were White Russian and Irish Catholic on one side and mainly English on the other. And although I'll never really know the truth, that might account for why my parents decided to marry in secret. They married in March 1939, went home to their respective parents' homes afterwards and didn't tell anyone. They obviously managed to see each other at some point because in November the following year I appeared. My father, after working for the Hong Kong and Shanghai Banking Corporation joined the RAF and I never saw him until I was four years old. We lived in a flat in Reading but at some point moved to a prisoner of war camp in East Anglia where my father was commandant of the camp. I spent a lot of the time there being looked after by a German prisoner of war called Curly.
After that, we moved to a small hill farm in west Wales with my brother Jeremy (now Jerry) who had been born about six weeks before. For me, it was like arriving on another planet. The population seemed to be mainly sheep, and our home had no running water, electricity or drains. We later moved to a smaller farm before my father, deciding that he didn't like what I was being taught in Wales, had me shipped off to stay with my grandparents in Reading. Being taught in Welsh, I had become fluent but lost it fairly quickly.
Whilst in Reading I discovered I was a Catholic, which was news to me as I don't recall going to church much in Wales. Then I was taken ill. Seriously ill. I remember lying down and feeling that my pillow was made of wood. It turned out I had Pneumonia and Meningitis, and my parents were told I might not survive more than 10 hours. What made the whole episode very strange was that, after I recovered, my academic abilities seemed to have miraculously increased.
I joined the Air Training Corps (ATC) Squadron at 13, became a sergeant, then flight sergeant, and flew gliders from about the age of 16. At 17 I was promoted to the rank of cadet warrant officer and had my photograph published in The Aeroplane magazine.
Prior to this, not knowing what to do when I finished school, someone suggested I do an apprenticeship at Aldermaston Court, a research facility operated by Associated Electrical Industries (AEI). That got me through an Ordinary National Certificate then a Higher National Certificate and eventually degrees in Physics and Electronics aged 19, at what has now become City University. During this time, I also managed to spend two years teaching mathematics a couple of evenings a week at the local technical college.
It was during my time at AEI that I met my wife, Barbara. I took her out on my Lambretta for our first date. However on Valentine's Day 1963, a few months before we were to marry, the company suddenly announced that it was closing the operation and most people were made redundant. I was lucky enough to be transferred to another facility in Rugby, working with silicon-based semiconductor technology.
Now married, Barbara and I moved to AEI in Lincoln and bought our first house in 1963, a bungalow which cost us £2,450 and that was when my income was £14 per week. That was followed by a move to a job with Texas Instruments (TI) in Bedford. TI had a good social side, and at one point a few of us started a gliding club and convinced the company to buy us a glider. Both Barbara and I flew it, and we had our share of excitement. On one occasion, caught in front of a storm, I had the choice of landing in the sea or on the nearest land. I ended up landing amongst an airfield full of V Bombers!
In 1966, aged 25, I started a new job at Plessey where I led a team of scientists and technologists and had the use of various departments. The company had been trying to make a machine which could read the numbers on a bank cheque, so as to automate banking processes. This entailed finding a way of sensing images. I've written many papers and a book (published in 1974) which describe the science and technology of my career but, in short, at this time I found myself responsible for the invention of the world's first image sensor based on the 'active pixel'. It is now used in everything from movie cameras to mobile phones. One day I presented a paper at a conference in Eastbourne which was highlighted by an article in the Observer. The headline was "TV camera smaller than this headline". So I was suddenly famous—for a day or so.
Despite the exposure, what we had invented wasn't what the company was interested in, so a few of us left and started our own business to enter the world of semiconductor products. At this point, Barbara and I had a small baby, our son Mark, so it was quite a risk. But in time the first products came off the production line and were used for inspection and measurement in a wide range of industries such as banknote inspection, checking glass bottles for faults, jet engine manufacture and many more—they were exciting times! I went to America to look at opportunities for the company and was offered a job at Fairchild that was ten times my salary at the time, but I turned it down to concentrate on the new business and family. For anyone that might be interested, I've very recently written a book entitled My Imageination which gives a lot more detail about those days.
It was a busy and challenging time which included much commuting to America as we had a business there also. We won the Queen's Award for Technology for making the first solid-state image sensor that produced an image of a recognisable face. I joined the Dorchester Round Table and our second son Christopher was born on our eighth wedding anniversary in 1971. Throughout this time the company had its fair share of success and difficult times, and for a number of reasons, I eventually jumped ship to be CEO and take a shareholding in a new company based in Weymouth. It was a successful venture, and after a time I sold my share back to the original owners. By then my ability and experience to run companies allowed me to set myself up as a consultant.
As the boys grew up, they both became good BMX riders and began to compete in races. After organising a BMX freestyle contest as part of the local carnival, I found myself becoming the founding chairman of the United Kingdom Bicycle Freestyle Association (UKBFA). So began another sector of my life that lasted until around my 75th birthday! Another parent, retired teacher Colin Kefford, was the driving force behind the organisation while we organised competitions around the country and even took over Freestyle BMX magazine and organised a TV programme BMX Beat for a couple of years. An effort to create a BMX 'touring world championships' ran up a huge debt which I paid off in return for the rights to the magazine. Later I resigned from UKBFA and put together a show team which helped some of the top riders expand their horizons. I also got involved in a business creating skatepark equipment which sadly had to close as most of our customers were councils, many of whom lacked the structures and in some cases the integrity necessary to work with commercial enterprises.
Throughout this time, I carried on with my consultancy work, doing research to help other companies guide their future strategy, and after about a decade in the Round Table joined the Rotary Club of Dorchester where I was president for the years 1991-92. One of the busiest times was whilst I was having radiation treatment for prostate cancer, we managed to raise over £102,000 for the victims of the Sri Lankan tsunami. In July 2012 I became a District Governor and later, after 33 years, left the Dorchester club to join the Poundbury club which I had founded a couple of years previously. Barbara and I had lived in a farmhouse rented from the Duchy so were there at the very first public meetings about the building of Poundbury. Over 2,500 people live here now, and I have been chairman of one of the management companies running services throughout the estate for the last thirteen years.
Life often takes unexpected turns, and one day in early 2013 I got an email asking if I was the Peter Noble that invented the 'active pixel' and if I was still alive. I replied "yes". I didn't see much point in replying to both questions. This resulted in my being invited to give a keynote speech at a conference in the Netherlands where I received an award for the research work that had led to the active pixel and later that year at NASA. Then in 2018, I was awarded an MBE for services to photography and charity.
Technology and our future continue to fascinate me. One of my unfulfilled ambitions was to use what I had invented to help give blind people sight. We have the image sensors, but the snag has always been how to connect them to the brain—perhaps a stem cell interface. Maybe it will happen one day. It's been an interesting life so far, and if I've made a good difference, that is all I could ask for.'