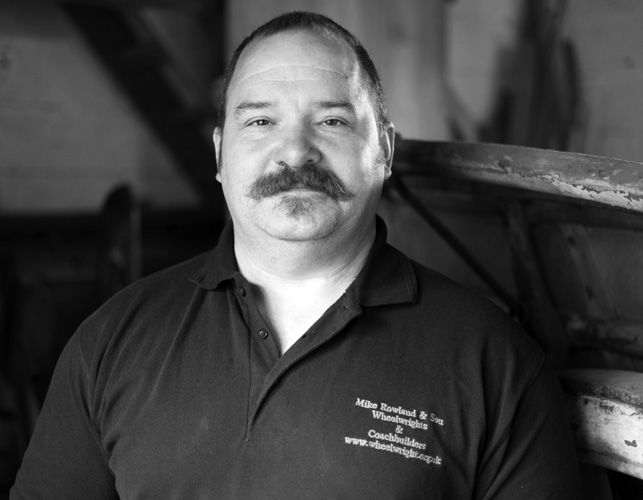 'I live in Honiton now but I was born and bred in Coly View, Colyton and moved to Honiton after I left the army. There's quite a few generations of us in Colyton. We go back as far as 1331, starting in Upottery as wheelwrights, as they made the carts and wagons that took the stone from Beer Quarry caves to Exeter cathedral. Records were found in the diocese of Exeter, they were called Roland then and a bill was found for making wheels for a Great Wagon for 7 shillings and 10d. There is also mention of a John Rowland in Yarcombe making wheels in 1360.
My dad, Mike Rowland, came from Payhembury but in 1780, at Road End Green in Colyton, my direct fifth great grandad was a wheelwright, just 150 yards from where we are now. He apprenticed in Honiton for Hansfords, a local building company. His dad was at war, so he used to go out and mend the farmers wheels; he basically built half of Honiton's carpentry after the war. Then, in 1964 he started a timber yard and wheelwright shop at Road Green Dairy. My mum, Doreen, was from the Virgin family at Cadhayne Farm, they met at a Colyford dance, dad was a bit of a rogue! My grandad, Reg Virgin, had, what was once, the oldest house in Colyton, at the yard here, but it was burnt down in 1970. They wanted to build a new house, Coly View, the other side of the yard, but they were told they had to burn the old one down to build the new one. The local fire brigade used it as a drill when it was burnt down, grandad put a haybale inside the house and set light to it. It's shocking to think that was the rules in those days; burn one down to build another.
I always wanted to join the army, so, after I left Colyton Grammar School at 15, I joined up. I went to Arborfield Garrison in Reading and joined the Royal Electrical and Mechanical Engineers. I wanted to join the Marines but someone advised me not to as it doesn't get you a decent trade. I left when I was 21 in 1991 and I started up the Forge just over the bridge, it used to be next to the Bear Inn, built in the 15th century. It wasn't being used so I fired it up, having learnt to be a blacksmith in the army, and I ran a traditional forge there. That was during the heart of the recession so just a few years later, I basically moved my metal shop from there to here—to dad's wheelwright shop. There wasn't much work and I needed less overheads. I sort of eased into wheels and carriages, at the time, dad was well known for making brewery drays, and other heavy horse stuff. But, then the 1989 Beer Orders forced breweries to sell off a number of their pubs, and overnight loads of orders were cancelled. What we make is usually a luxury or a piece of history, so when money gets tight, we are the first thing that has to be put on the backburner.
My normal week consists of five days here at the shop plus two day and two night shifts a week, working as a firefighter. I became a retained firefighter in Colyton about 25 years ago, and not long after, I met my wife Nina. She's a nail technician and has her salon in the garden; it's a thriving business. She's very artistic and often paints flowers on the wagons. We have two girls together, Daisy and Lilac. Lilac was named after a lilac bush that grows by the old house. It just stuck in my mind. Both went to school at Honiton; Daisy is a carer/enabler for adults and children with learning disabilities, enabling them to live as normal as possible. Lilac is at Exeter College.
I'm now the Royal Warrant grantee here, and I'm responsible to adhere to the rules of it within the company. So, to gain the warrant you have to work for one of the royal households for five years and then you can apply for the warrant. It goes through a vetting process and if you are granted the warrant it gives you the right to display The Royal Coat of Arms.
I've always classed my work here as being halfway through a 50-year apprenticeship. I never stop learning and dad is a font of knowledge still. We're very rare as we are the only father and son Master Wheelwrights in the whole world. There's probably only about 25 Wheelwrights in this country, about 10 of which are Master Wheelwrights. Master means working in the trade for 10yrs with excellence and is bestowed by the Lord Mayor of London. I became a Master Wheelwright first in 2014 as I had the apprentice. With over half a century of experience, dad was made a Master Wheelwright in 2016. What it means in historic terms is that we can own and run a company within a square mile of London and employ other wheelwrights.
George Richards, a seventh generation carpenter in the town, came from Axe Valley School. He wanted to do work experience with me and the school wouldn't let him as I didn't have the insurances. But George and his parents wrote a disclaimer so he could do it. I've had quite a few kids doing work experience since and I like to give them something to make—so it's usually a mallet—something useful to take home with them. George made his mallet and made a good job of it, so, I got him woodturning on his first day and could see a spark in him. I got him to make a hub for a cartwheel and it was good enough to go out on a job which demonstrated to me that he had something about him. After that he started working Saturdays here for a bit of pocket money. That ended up with Exeter College wanting to do a pre-apprenticeship appraisal which I knew nothing about—George arranged it but forgot to mention it to me! But it worked out well and I'd struggle to function without him now. My turnover now is 80% up.  He's a definite asset, he's 21 now and been here about 6 years. He was apprenticed on the Livery Companies Apprenticeship scheme from London, so he's well known in the city.
Wheelwright groups used to be tight knit. I'd never set foot in another Wheelwright's shop. George opened it up so a wheelwright came to us, to assess him, to pass him out. It used to be quite insular but social network opens it up a bit now, but still not a lot. We're probably the biggest, repairing or making about 200 wheels a year. We all do it our own way, you can't re-invent the wheel but there are different ways of working. We do any kind of wooden wheel—military, canons, guns, we're quite specialist with guns. Anything horse-drawn, farm carts, trade vehicles, right through to fine horse-drawn carriages.
We did the barrels and buckets for the Gladiator film. Covent Garden was a big one. They re-introduced the barrows to Covent Garden which had long since disappeared and the social network coverage of them is just huge. We are currently making wheels for the Chitty Chitty Bang Bang car. A lot of our work is in London, but I go all over the country picking up and dropping off work.
George is now a Journeyman which means he's free to develop his trade, journey around other businesses to learn more.
Dad's slowing down a bit at 81 years, but I don't think he'll ever stop. He'll stay involved for as long as he can.
My little piece of my own time is on my bike, I have a Triumph Sprint GT. Obviously, it helps that I was a bike mechanic in the army so I can look after it myself. It's my general transport to work but I do a few ride outs. I recently did the Blood Bikes ride out as a charity one.
Family time is important and we try and take a couple of city breaks a year, we've done Amsterdam to see Ann Frank's house recently. Off to Croatia this year. We enjoy soaking up the history of other countries when I'm not re-building history at home.'