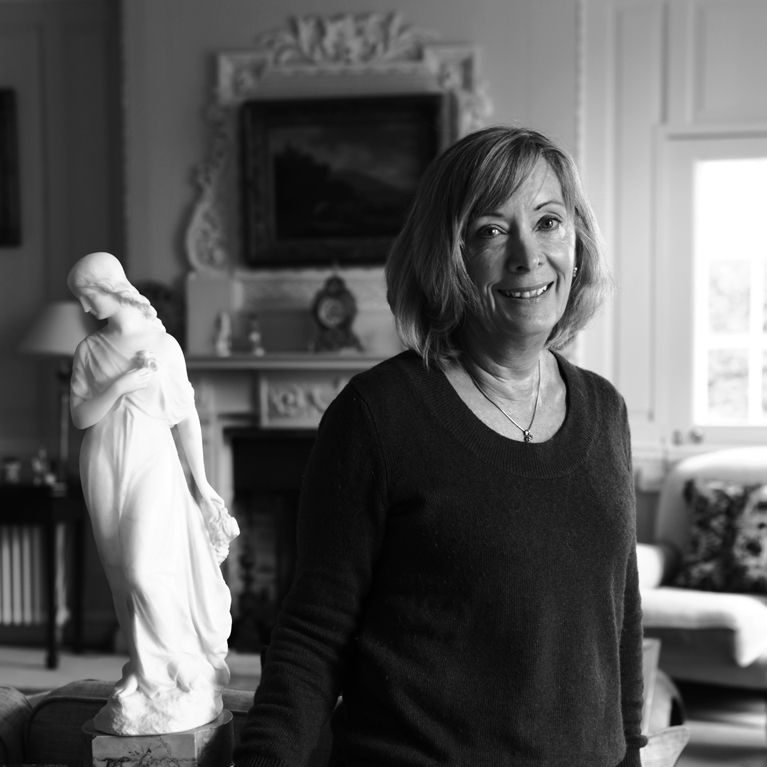 'I was born in Sri Lanka—then called Ceylon—and spent my early childhood on a remote tea plantation. The bungalow where we lived was surrounded by fields of immaculately kept tea, shaded by jacaranda trees. It had been built in the late 19th century in the grand colonial style with a veranda over-looking a canna-fringed lawn, the Horton Plains rising above and a panoramic view over distant mountains and the valley below.
It was an exotic, isolated but privileged existence. We had a nanny, a cook and several other servants in the house. My twin brother and I didn't go to school, our mother taught us to read and write, we could ride our tricycles down the bungalow's vast central corridor and we had a mongoose for a pet. I vividly remember the fragrant smell of fresh tea as I walked into the tea factory, and watching my father tea tasting, walking down a row of identical cups, taking a mouthful and then spitting it out. When the road, leading from the bungalow to the factory was tarmacked, my father hired an elephant to pull the roller. The elephant worked every morning under direction from his mahout and spent the afternoons relaxing in the river. There's a photo of me riding on him, taken on his last day—my brother was too frightened to join me.
In 1963, when I was seven, we were on leave, staying with my grandmother in London when my father decided that the time had come to leave Ceylon for good. He returned alone to close things down, leaving my mother, my brothers and I in a rented house. After so much freedom school came as a terrible shock. Arithmetic was baffling—I had no comprehension of what a halfpenny or a shilling was, or why twenty of them should make a pound. I remember hiding under my grandmother's dining table begging to be allowed to stay there all day rather than go to school.
'It's the law,' my mother insisted.
'But how will they know I'm here,' I replied.
When my father returned the following year, we moved back to London, and then to another rented house. Eventually he found a job in London and bought a house near the Surrey Sussex border. He missed his former life and rather than melting into home county convention, he kept the colonial flame burning. He nurtured exotic plants in the garden, and the house was filled with Ceylonese mementoes: paintings of picturesque views, Kandian silver boxes, chests made from tropical woods with elaborate brass mounts. We often ate Sri Lankan curries, which are quite different, and in my opinion infinitely more delicious than Indian varieties. Gertie, our old nanny used to come and stay, and gave my mother detailed instructions on how to make them.
Moving around as we did meant frequent changes of school. I went to 10 schools in the space of ten years. Soon after we settled in Surrey, my brothers were sent away to school, while I was educated locally, ending up at Horsham High School for the sixth form. Twins nearly always have a special bond, and I remember the acute pain of separation from my brother for the first time.  In his absence, I filled much of my time drawing and painting and reading. My grandmother encouraged me, taking me to the theatre, giving me books and introducing me to the National Gallery and the Tate. She always insisted that we never stay longer than an hour so we didn't overload our senses.
The love of art and books has stayed with me all my life. I went to Nottingham University to read History of Art and English, and after I graduated, my first job was as a junior secretary in the Impressionist Department at Sotheby's. I had never been to an auction before, but working in an office surrounded by Renoirs, Picassos and Monets, was wonderful, although I was hopeless at shorthand.
I married soon after joining Sotheby's,  and after a break for the birth of my daughters Lucy and Annabel, I started to work part time at Bonhams, eventually becoming head of Old Master Paintings. Three months after the birth of our son James, in 1987, my husband Paul accepted a job with Shearson Lehman brothers and we moved to Sydney, intending to stay for two years.  I was full of enthusiasm but found it far more difficult than I'd expected to settle, mainly because I wanted to work. One day I visited the National Gallery in Sydney, where there was a loan exhibition from the Hermitage, St Petersburg: the first time its works of art had been seen in the west.  I decided to try and write about the exhibition, and contacted Apollo Magazine, an academic journal I had read at university, offering to review it. They accepted, and on the strength of this, when we returned to the UK some months later (Shearsons closed after the crash) I started writing for House & Garden and the Antique Collector Magazine.
Writing was a stimulating career easily combined with family life. I took a job as a freelance editor with Reed Books,  editing the Miller's collectors' guides. While there I was also commissioned to ghost two books for David Linley, who was a delight  to work with. For his first book, Extraordinary Furniture, we went to Buckingham Palace, to examine an unusual clock that we wanted to feature. The clock was in a back corridor, and I was on the floor, looking at a compartment in its base, when an equerry came out of an office and seeing me crouching on the floor, turned to Lord Linley and said 'David, I know you believe in protocol but this is ridiculous.'
Sometimes life changes because of a succession of coincidences. One day, by chance, an agent called Christopher Little, who was a friend of a friend, phoned me asking if I had any ideas for books. I had just read Dava Sobel's book Longitude, which had been a huge best-seller, and was working on a Miller's guide to ceramics. The invention of porcelain in Europe, wrapped up as it is with alchemy, avarice and espionage, struck me as a compelling story that wasn't widely known, and could be told in a similar way. Christopher was encouraging and on a visit to a prospective publisher I asked him who else he represented. 'Last night I sold a children's book about a wizard to an American publisher,' he told me. I hadn't heard of J K Rowling at the time.
When my book The Arcanum, The Extraordinary True Story was published in 1998, it didn't quite match Harry Potter, but it took off in a way I could never have expected. The book was serialised on Radio 4, became a Sunday Times # I bestseller and sold in a dozen or so different countries. I found myself invited to America for a two week book tour that ended with me talking about my book to a packed auditorium in Sotheby's New York.
Finding an equally gripping subject for my next book was a daunting task but again luck played a part. My husband worked in the financial world and research into financial history led me to discover the Scottish financier John Law and to write The Moneymaker, the story of how he introduced paper money to France and instigated the Mississippi Bubble, the first stock market bubble. The book was unexpectedly topical because of financial market turmoil at the time, and each time financial crises replay it has a new lease of life.
We left London and moved to Dorset in 2005. By then I had written three historical novels and another biography, and decided to take time out to do an MA in History at Birkbeck.  I was also working as a volunteer in the RNLI Heritage Department, in Poole, transcribing letters written by Sir William Hillary the charity's founder. The letters were full of tales of intrepid rescues as well as the difficulties of founding the charity. With a little digging I also discovered Hillary's darker side, all of which inspired me to write his biography, The Lifeboat Baronet.
Around the same time I also began working on the BBC Antiques Roadshow. As a member of the reception team, I look at the objects people have brought and decide who should value them. It is a fascinating role as you never know what you will see and I have visited some wonderful locations. Through Antiques Roadshow I became friendly with Paul Atterbury, one of the miscellaneous experts who lives locally. He had written a book on World War I treasures, and finding ourselves both promoting our books at literary festivals gave us the idea of starting a literary festival in Dorchester. Neither of us had any idea what we were taking on but we have learned on the job, and thanks to much help from our respective partners, a team of volunteers, and support from the local business community, it is going from strength to strength. Last year we had around 3500 visitors, and this year, our fourth festival, already has a great line up of speakers and we hope will be bigger and better than ever.'