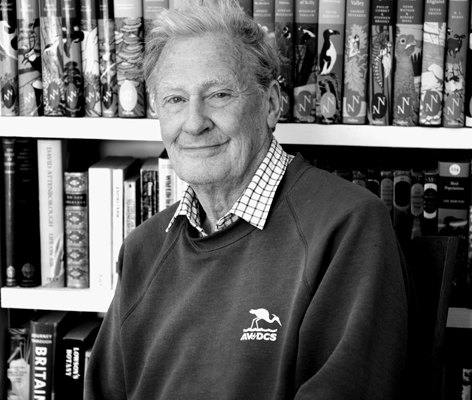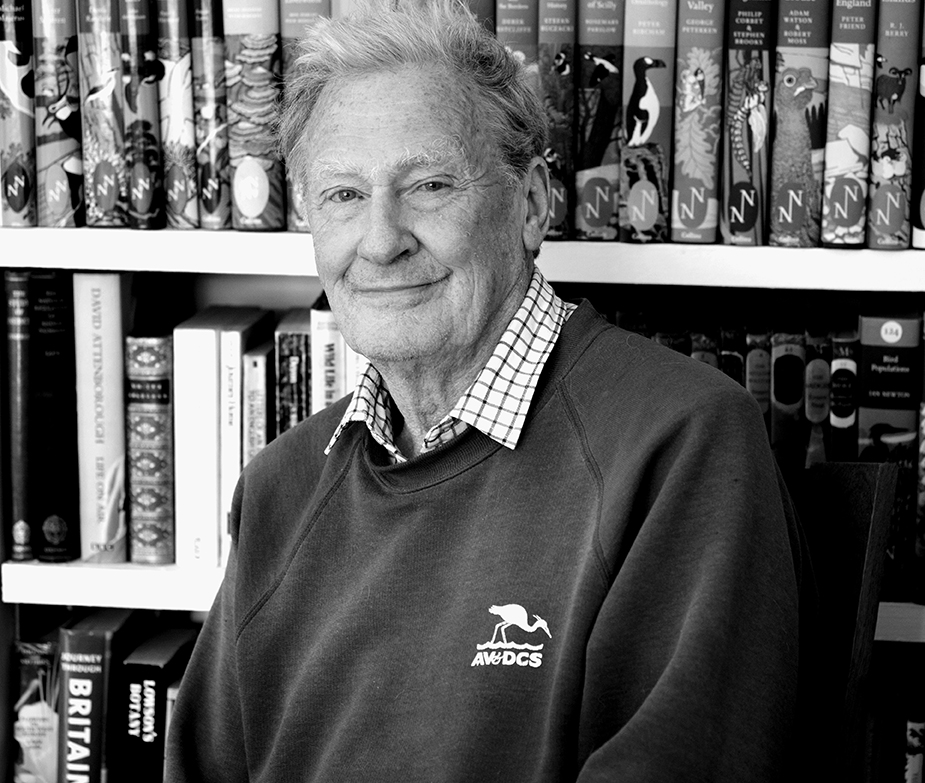 Julia Mear met Donald Campbell in Colyton
'I was born in London and a lot of my growing up there involved birdwatching on Hampstead Heath, watching cricket at Lords, football at Spurs and Arsenal. We were a big family, five children and I was the youngest. During the war, a rocket landed across the road from us and buried us all in our beds. Of course, at eight years old I thought this was very exciting. I was at prep school in Buckinghamshire, I always played lots of sport and did rather less work. I later boarded at public school in Hampshire, in a lovely part of Winchester, by the river Itchen; one of my favourite rivers. Lovely clear water with lots of fish. I went on to read medicine at Oxford. My father wanted all five of us to read medicine but one by one we all pulled out of this idea. I had special permission to swap to Biochemistry but then I swapped again to my real passion—Zoology. I was a natural biologist, I'd always loved my birds, plus I broadened out to ecology and evolution. So, I spent five summers at Oxford all in all. My father had been the last of a long line of doctors but he accepted my change and we continued to watch birds together.
This led me into teaching. I was approached by my headmaster, which was good for morale to be searched out. My first teaching post was in Salisbury. I had a lovely, very small, flat looking out onto the cathedral, where I paid just £1 a week. It was available for bachelor teachers and no others appeared so I kept it. I taught Biology in Salisbury for seven years plus I coached cricket, squash, cross country and set up a subversive football team. Although a rugby school it soon became more popular than the rugby.
Then I had a rather strange interlude of three years where I had no full-time work. I did a lot of birdwatching. I did surveying work for the BTO (British Trust for Ornithology) atlas in the Welsh hills and Wiltshire. I also worked at the Natural History Museum in London working on bird skulls mainly—some which had been classified 100 years before and no-one had looked at them since.
During this time, I had by chance acquired a cottage in Snowdonia. This changed my life rather a lot as I re-centred in Wales. I couldn't speak Welsh so taught as near as I could in Worcestershire. Soon after moving there I married a farmer's daughter in Wiltshire, whose brother I'd taught in Salisbury. King Edward VI in Stourbridge later became a 6th form college which suited me down to the ground as I was just teaching A-level then and still plenty of sport. I was there for 21 years. I had two children with my first wife and I maintain close contact with them. Nancy lives on the west coast of Scotland and Duncan is in the Peak District both these areas are well worth visiting. Not long after my first wife had left the home and returned to Wiltshire I was in contact with Nicky, an old family friend, and we began to get together in a more serious form. Our two families had known each other in the last century, through our grandparents. We've been to each other's first weddings as family friends and then our own. We married in 1979. Nicky already had two girls, Kate and Sarah, who were nine and eleven at the time. We lived in Stourbridge but went back to Snowdonia most weekends and during the holidays.
I started suffering from Trigeminal neuralgia, an extremely painful condition affecting my face and amongst other reasons I decided to take early retirement. It affected my speech, especially on the telephone, and I was taking pretty strong pain killers until, after seven years of living with the pain, I had an operation in Plymouth. It was totally successful and I've never had a twinge since. By this time, we had moved to Devon; around 1993. Nicky's father was born in Devon, I didn't really know this area but we both loved the West Country. The theory was we'd search an area between Exeter, Dorchester and Taunton and ended up in Combpyne which happened to be central to all three places. We acquired a lovely manor house there with three acres of garden. Living in this location led to various things and I started to get involved in the undercliffs and Nicky got involved in researching the history of the Rousdon Estate. She wrote a book 'To Buy a Whole Parish—Rousdon and the Peek Family' which was published in 2015 and I started writing a book on the undercliffs. I was also invited to produce 'The Encyclopedia of British Birds'. Originally it was supposed to be 30,000 words and on the day I completed it they said they wanted 150,000 words, which I managed to do in just three months, with the help of Nicky's daughter. That was 1999 and my 'Exploring the Undercliffs' book would have been 2006 which was the 50th anniversary of the Axmouth to Lyme Regis nature reserve, so it also became a souvenir as it were.
By this time I'd become chair of Axe Vale and District Conservation Society, of which I am now president, but this had also led to other things. Very early on I got involved with the Wetlands Bird survey which led me to join the East Devon AONB Partnership of which I later became chairman. Already by 1999 we were thinking of some sort of visitor centre in Seaton which has now come to fruition as Seaton Jurassic Visitor Centre. Originally it was an idea of the Seaton Development Trust and by 2007 it became a separate organisation called Seaton Visitor Centre Trust which I became a trustee of. Then came a time when Tesco or Sainsbury was going to move in and this came with an amount of money which helped move the project forward. Now run by Devon Wildlife Trust, it seems to be going pretty well and visitor numbers are often helped by wet weather. There is so much diversity of geology and wildlife in a very small area—we live in such a unique location. There are a series of talks on local geology and natural history and at times I do some of the talks and guides. I manage to spend about 3-4 hours a week in the Jurassic garden to help maintain this.
I'm also a Jurassic Coast Ambassador, part of a group that tries to raise money for the coast. The ambassadors lead walks and talks, in my case particularly on the undercliffs, but also around Beer and Lyme Regis. I continue to lead bird-watching tours and off-piste walks, often to the more inaccessible and hazardous parts. We work together to develop work parties to maintain the few remaining areas of flower rich chalk grasslands, where for instance, there are nine species of orchids and 30,000 Autumn Gentian. Beer Head is just about the westernmost exposure of chalk in the country. I often go out to the undercliffs with just my two dogs Otter and Fuggles and once, when I'd just finished my picnic on Goat Island, Fuggles had suddenly disappeared. I spent hours looking for him and eventually I phoned the Coastguard. Fourteen of them came to rescue Fuggles who had fallen onto a precipice below and couldn't get out. He'd been there for seven hours and we thought he'd have major injuries but, after the coastguards abseiled down, he came up on his rescuers shoulders and started playing as if nothing had happened. So many coastguards had come out as they were in the process of reorganisation but it was a good exercise for them and all went happily to the pub afterwards.
I'm hoping a new book of mine will come out soon about the wildlife, geology and history within five miles of Axmouth bridge. Depending on persuading Devon Wildlife Trust and East Devon Countryside Services to work together in supporting it, with further help from the Conservation Society and Seaton Visitor Centre. I am always working on putting something together like this to share my findings. It can mean other things get forgotten though, simple things like taxing the car!
There are those that think that retirement is a chance to sit down and do very little whereas for me it is an opportunity to do all the things I've wanted to do with my life. But I never thought I'd do them in Devon.'