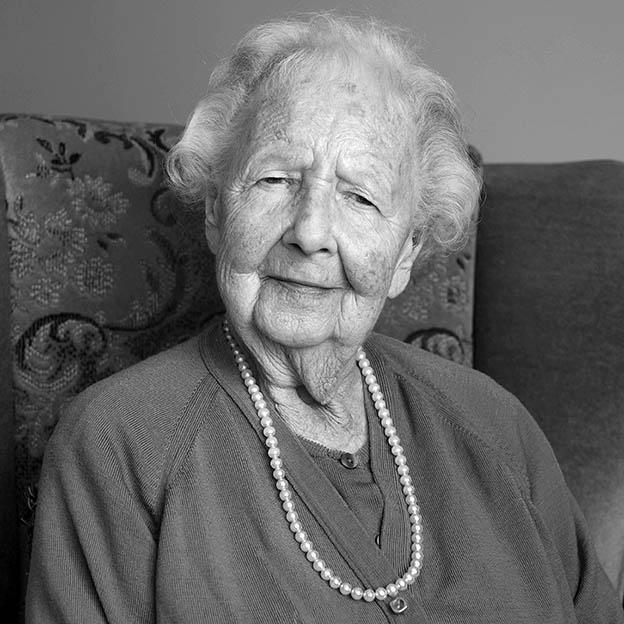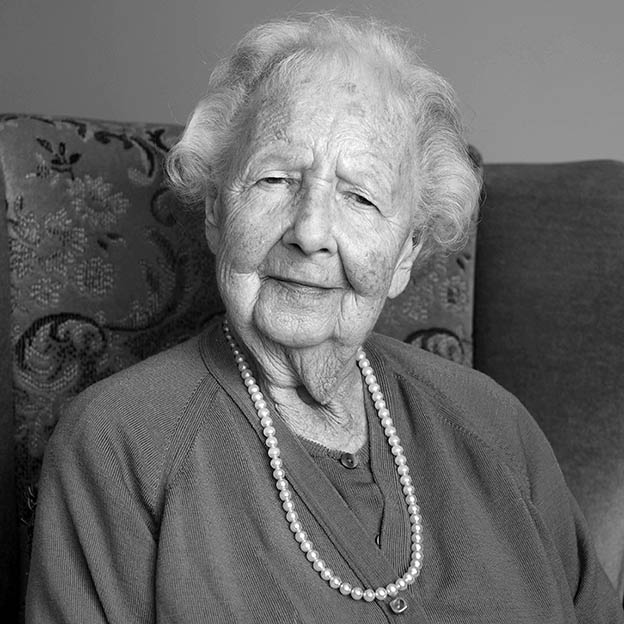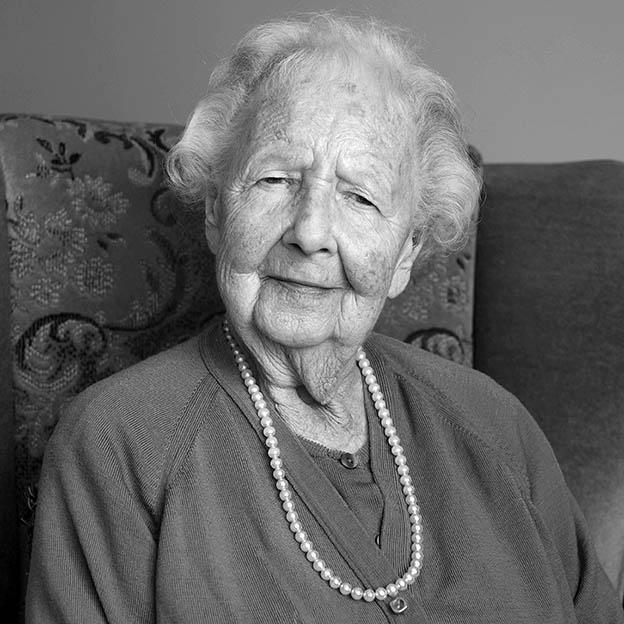 Julia Mear met 100 year-old Joan Meeson in Stockland, East Devon
'I was born 100 years ago on 2nd September 1915, during World War I in Enfield, Middlesex. We lived in Ponders End and I went to Southbury Road School, just two miles away. My parents, Horace and Suzanna Clark had a little coach business; they used to take people off to Brighton or Southend; anywhere by the seaside really, at the weekends. During the war I remember my parents being so poor, my brother, Boy (whose real name was Horace) and I had to share an egg for our main meal. I had the white and Boy, being younger, had the yolk as it had more nourishment. I have another brother Tom who came along 11 years later. Boy sadly died during the Second World War in action—he left a widow and two children.
I didn't like school much—only the cookery class—we had an old fashioned teacher who said things like 'hither are the spoons fetch them thither'; old London dialect, not many people use it now. I was in the netball team as well. I was 14 when I left school and went straight to work for my parents. They had about seven or eight coaches. We had to pull the covers over when it rained. The saloons came later. During the Second World War our coaches were confiscated for the war effort. They used them for the Italian prisoners; to take them from the prisons to work on the farms.
At this time I was 24 and so went to London to work for the Ministry of Supplies. We used to go about in a crowd and Edgar Beadman introduced me to one of his four brothers, Arthur, and we fell in love. All the Beadman boys were pilots in the RAF and Arthur was stationed in Torquay. We were being bombed a lot in London and Arthur suggested I come down to Torquay for a holiday and he could arrange to see me in the evenings. So me and two other girls went down. One night he came round to tell me that all married men are going to stay in England to train but all single men were being sent to Canada. So I said let's get married! I phoned my parents to tell them but they couldn't make it to the wedding as the logistics of getting there were too difficult for them. We married in Tolmer Church in Torquay (the church has gone now) with just two witnesses. We were only married for nine months, when Arthur was sent on a bombing mission in a Wellington Bomber at Dusseldorf, where he was shot down. The under carriage of the plane was so badly damaged it wouldn't release itself and it crash landed. My hair went white overnight from the shock—took all the colour out! My in-laws, Ma and Pa Beadman, were very supportive and Pa Beadman found me some work at Baas Hill House, Broxbourne, Hertfordshire, where I worked as a typist and secretary for two majors. That department was then transferred to Regis House in London, on the Thames, so I went as well. They were designing the Mk5 Sten gun which was eventually used in Afghanistan.
They wanted me to stay on at Regis House, but my parents wanted me more because they were getting their coaches back. They sent me off to typing school and then I went to work at home—sometimes without pay! My youngest brother, Tom had joined the RAF right at the end of the war and was sent to India—he took over the business much later—over the years it changed from being Alexander Coaches to Alexander Travel.
I was on my own for 15 years after Arthur died. I already knew George Meeson; his parents owned the off licence. I used to go to there with my father sometimes and George happened to serve us. He came round to borrow some instructions for a little two seater car, as he wanted to attach some sort of trailer to it, so he could use it for deliveries. Eventually, he told me he only came down to borrow something so he could see me! His real name was Horace George but he didn't like Horace so chose to use his second name. We started courting and got married at St John's on Clay Hill and then had a lovely reception back at Firs Hall, Winchmore Hill. I wore a grey/mauve dress ordered from London. I was 39.
My mother was always a very well-dressed, smart lady and I have never forgotten her saying: A little bit of powder, a little bit of paint, make men and women what they really 'aint. Meaning, if you are poor, never look it!
We still lived in Enfield; George left the family business and worked for the Abbey National Building Society in Bond Street, London. He was manager there for 40 years until he retired. It took me three years to have our daughter, Julia, I was 42. We used to go to the Isle of Wight each year but this stopped when my mother was so ill after having a stroke. I looked after her while father went to work. Mum died when she was 75. Dad spent a lot of time outside then, mostly on his allotment, he had about five acres. I still kept in touch and visited Ma and Pa Beadman and they were like grandparents to Julia as well.
Julia didn't like school much either. From about the age when Julia was 11, we spent family holidays in Devon at Mr & Mrs William's farmhouse in Sidmouth. Julia met their son David there and some years later they got married, in 1976. We would often visit Julia but George was starting to feel the journey, so three years later we moved down to a nice bungalow in Tipton St John. We were together there for 17 years. We loved it—we could see Julia more often and her growing family. She had Michelle and then Samantha. Not long after that Julia and David bought Royal Oak Farm in Stockland.
George died when he was 86 so I moved in with Julia and her family. They converted the dairy into my annex. That was when I started cooking—at 81 years old. I cooked all the scones and cakes for the tea rooms and shop. I was cooking all day long. It's what kept me going and gave me a purpose to get out of bed. David grew it, I cooked it and Julia sold it. There were no other staff in those days and Julia had a son, Simon, by now as well, so we all just got on with it.
There are more staff now. One year, I entered my lemon drizzle cake into the Devon County Show and it won—out of 49 other cakes! I didn't want to put my name on it as I was too embarrassed so we put one of the staff's names on it—I was pleased it won though. I have my secrets which I cannot tell but I will tell you one thing—lemon cakes need lots of lemon! We used to have orders from people in London and Birmingham ordering my cakes or mince pies. A hotel wanted me to do their apple tarts but I couldn't do it—I didn't have the time and I was getting too old.
I worked until I was 96; I loved it and felt useful. I have taught Rachel, one of the staff, all my recipes now so they can pass down through the generations. I'm enjoying retirement and celebrated my 100th birthday on 2nd September. I wasn't really looking forward to it as I didn't want the fuss but I had a wonderful time and I thoroughly enjoyed it. Julia closed the tea rooms for the day, which is unheard of. Family and friends arrived from all over—even Australia! My brother Tom came down from Hertfordshire, and he will be 90 in January.
I am now Great Grandma to three little ones—it's what we live for now.'