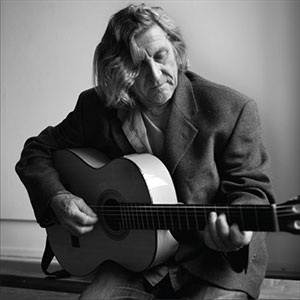 Robin Mills went to Bridport to meet musician Mitch Norman. This is his story.
My family came from Swindon, Wiltshire, to Bridport when I was a boy. My parents bought a snack bar in South Street, which was the only place in town with a juke box and pinball machine. The records on the juke box were changed every week according to the hit parade, so that was how I developed my interest in popular music. My brother had an old jazz guitar, and he left it lying around, so of course I picked it up and had a go at playing. I suppose I didn't have that many friends so I had lots of spare time, and that was how I learned to play.
I got into the folk scene, and was interested in singer-songwriters like Donovan, Paul Simon, and Neil Young, buying their albums, and trying to play like them. As a teenager I had to save up enough money to buy an LP, and I can remember buying Bob Dylan's The Times They Are a-Changing which I think came out in '64. I was learning new chords, and how to finger-pick, and I can remember my first gig at a folk club in West Bay, singing and playing solo. I was shaking like a leaf, but there was a guy on before me, playing skiffle, and he said I had a good sound and did ok, so that was encouraging. The folk scene was quite vibrant then, and musicians would often get up in clubs and play informally. These days you've got the open-mic scene, which is much the same. So I played quite a few clubs, with my guitar and a blues harp around my neck.
In the early '70's my mates and I were mods. Being Dorset lads we couldn't afford to wear the suits but we did our best to look cool. Neither could we afford cars, but we got around on our Lambrettas. We were a bit after the early mod scene, the mod/rocker warfare in Brighton. We saw the film Quadrophenia, and that seemed a lot like us, but it was based a bit before our time.
As a mod I was into Tamla Motown and funk, but then many years later I was given a regular gig at the Olive Tree restaurant.  I started singing and playing in my usual way, which they found a bit too noisy, so I changed my playing more to a jazz style, without singing, and this has completely changed the way I perform now. I've had to learn jazz techniques, which can be quite difficult, but that's good because you don't ever learn everything in life, there's always something new. That's what I play now when I'm busking on market days—where the street is my stage. I'm entirely self-taught, and I've evolved my own style, which is a bit jazz-funk (from my days as a mod) with a beat which I produce by bashing the guitar with my hand as I play, so it can sound almost like there's some percussion in there. A few years ago I used to help run a club called The Fringe, at the Bull Hotel, and formed a band called Tripping Upstairs, with Finn Gunn, Kate Garrett, and Abbie Lathe. Sadly Finn and Kate are both dead now. But we did really well, and helped by Peter Wilson we got on to the folk festival scene and became quite well-known, my 'fifteen minutes'. Another time I was playing with a band called Roots Quartet—there were three of us, in the same way that the Thompson Twins consisted of three people—and we blagged a spot at the Brooklyn Folk Club in New York. I also got to meet Richie Havens one time, a musician I admired a lot for his playing style, which was strumming wildly with a percussive style. He used to make a lot of mistakes, mix up verses and so on, but it really didn't matter to him because it was real, and I liked that. I met him after a gig, and we had a bit of a conversation while he signed some albums for me. He was touring right up until he died, and I admired that too.
I've also been a DJ, since the '80's, calling myself Dr Funk. I started in Benson's nightclub in Yeovil, the midnight to 1.00am slot. I don't think I was terribly good at it because everyone seemed to either sit down or go home when I came on. Probably they didn't like my music, which was mostly jazz-funk and soul, and I think it's a tribal thing, so that you either belong to a group that's into it, or you don't. So I had to give that up, but then I started a soul club in Bridport called The Cavity, run by a guy called Bentley. I'd bring all my old 12" singles I hadn't played for years and it was great, people loved it—we used to say the sweat was running down the walls—and I think it coincided with a revival in disco music at the time. I've been a DJ ever since, and where once I was one of few in the town doing it, there's loads of them now, with so much music happening in Bridport. In my gigs nowadays I start off  with my music, then towards the end I'll play more up-to-date stuff that the kids want, although I have to say not much of it is my kind of music, all that s-toom s-toom s-toom stuff. I've got thousands of records, but if I want to find one I haven't played recently it takes me all day.
I went to an art exhibition at Parnham House once, and I looked at the pictures and thought, well, I could do that. So I bought a kit, with acrylic paints, and had a go. The first picture wasn't very good; then I did one I called Blond with Champagne, and I was pleased with that. It's sort of Beryl Cook-esque, and I eventually went on from there with an exhibition at the Arts Centre, and another one in Sherborne. But the painting is like a lot of things in my life, something I should have done more of, but I'm always too busy. My book was written years ago, actually not long after the time it describes, when I seemed to have more time. I just wanted to write a book, I thought I might be a famous author. I was working at a cheese factory, and I used to tell the other guys I was going to write a book, and they'd go, "ok, are you mate, right-oh". That meant I had to really, so I did, but then it got put away in a garage for years and never saw the light of day. And then I got together with the Bridport Press, including two other Bridport writers, Margery Hookings and Sean Geraghty, who looked at the work and encouraged me to publish it. Until then I'd been a bit embarrassed about it, thinking it wasn't any good. It's called Well, Fare Thee Well, and it's all about teenage angst, the sometimes funny, sometimes sad life of a group of mods, their girlfriends and their scooters, living in a small country town. It's quite close to what my own life was like at the time.
I have to work in the day to earn enough to pay the bills, so for many years I've been doing gardening work. Although I've no formal training, I've worked really hard at that, and other jobs, all my working life. The music, which used to be my hobby, is now a part-time income, and I've been able to pay my way and buy my own flat here in Bridport.
I'm also doing some music therapy these days, at the care home where my friend works. I go and play music to the residents there, who suffer from various degrees of disability, but they really love it and seem to get a lot of benefit from it. I seem to play the sort of music they really want to hear, and although they're non-verbal they do try and sing along.
And I've got a new band now, called BarnStreet, which is the street in Crewkerne where we rehearse. We feature a flautist, hand drums, and a bass player, and we're trying to recreate a laid-back West Coast vibe, with mostly '60s or '70s tunes. If we could get a few gigs, and if there was peace in the world, that would be my ambitions fulfilled for now.