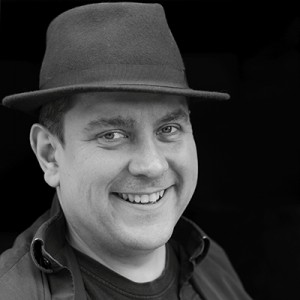 Robin Mills went to meet piano player Ben Waters at Owermoigne, Dorset. This is his story.
"I've always lived in Dorset; born in Weymouth, brought up in Southill, then Upwey, and that's where my Mum and Dad still live. It's fantastic there; I love it, and have good memories of the countryside and friends. My Dad did an apprenticeship at Vickers, then started making torpedoes for the Admiralty, and later was selling torpedoes for Honeywell, so he had lots to do with torpedoes—he is very clever. Mum worked as a secretary at Weymouth and District Hospital and always made sure me and my brother were ship-shape. They were really fun parents, and there were always good things happening.
I was at Wey Valley School, aged about 14 when I got into music. Ours isn't an especially musical family, although my Dad played trombone in Dorchester Town Band, and I remember my great Granddad Ernie playing piano—he'd play in pubs and stuff—but it was my aunt and uncle, Eva and Ray Harvey, who were great friends with Ian Stewart "Stu", the pianist and founder member of the Rolling Stones, who helped start my interest. It was their 25th wedding anniversary and Ian Stewart played at their party, and I just thought "Wow, this is really good", although I had no ideas of playing myself at the time. And then my Mum and Dad made me watch (thinking this is going to be really boring) a programme about Fats Domino, filmed in a club called Storyville in New Orleans. The music was so lively, so full of energy and fun, and from that minute I was just hooked. I got a little keyboard, and using a video I'd just watch the player's hands and work out what they were doing, and try and learn like that. For a short period I had piano lessons from a lovely lady called Sheila Bellamy who lived in Upwey, who did her best to straighten me out, and taught me invaluable things like fingering techniques so that I didn't run out of fingers all the time. I couldn't read the music, so I'd wait for her to play it, then, having watched what she'd done I could play it myself. That was easy for me because by then I'd been learning to play like that for ages, but it really annoyed her and she'd make sure I couldn't see next time she played. But I still couldn't read the music, and still can't. I met Dr John once, and asked him if he could read music, and he said "Not enough to do any harm". Although the lessons were really helpful to me, I just have to love something to be able to learn it. For instance if I had to learn to play some Debussy I'd really struggle with that, but put on some Ray Charles and I would find that easier, and that's because I've spent 25 years or so learning that style of playing.
Back at school, I became obsessed with the piano. I was playing for 8 or 9 hours a day. It wasn't practice—it was never like that—I just had to get to a piano and play. I'd watch something on the TV, like a South Bank Show about boogie piano players like Big Joe Duskin and Axel Zwingenberger, and I'd be sitting all through French and PE thinking, how did that go. And then in break time I'd go to the music block and play it, and again at lunch time. I'd become so obsessed with it that the music teacher at the time banned me from going in there. He said "It's the wrong kind of music", and they locked the doors, but I'd rigged the fire exit so I could get in that way, and with the soundproof rooms I could just get on and play unnoticed. Eventually I think they realised they couldn't stop me, and soon friends would come and join in, so from being a bit geeky it became quite sociable.
My parents were always utterly supportive. It helped that I was playing the music they liked, like Fats Domino, and I think when I was about 16 or 17 I got offered some gigs at the Dolphin in Weymouth. If you sit in a pub with a drink you probably won't talk to anyone else in there, but if you play the piano you'll talk to everyone, and I love that. So did my Mum and Dad, who came too because Dad had to drive me, and Mum just loves to talk to everyone and join in anyway. And as a result all our lives changed a bit.
Then I started playing at the Fox at Corscombe on Saturday nights, after which I'd go to Eva and Ray's house. They had an amazing collection of Stu's records, obscure stuff that you couldn't get in Weymouth record shops, and footage of Stu playing with his band Rocket 88 at Montreux Jazz Festival and other gigs. It had been filmed so that you could see his hands all the time, so this became the beginning of a completely new phase of learning for me, and I spent 2 or 3 years learning Stu's techniques because I just loved the way he played. When you compare him to other piano players, he had his own unique style; nobody plays guitar like John Lee Hooker, and nobody plays piano like Stu.
I got together with a band called Custers Last Blues Band, and we played in Weymouth on Thursday nights. Again, I had to learn fast because they'd say "we'll play this in E", so after I'd made a bit of a fool of myself I'd go home and learn everything in E; and then the next night they'd say "we'll play this in F sharp".  Hamish Maxwell was the lead singer; he knew Stu well and was in fact his best man. Hamish loved his style, so we used to do more piano-based music, all the time increasing the range and repertoire of music I could play.
I recorded my first CD when I was 18. A guy called Dave Hatfield had a record shop in Crewkerne, and he talked me into it. I hadn't even thought about it at that stage. We did it in a studio in Powerstock, just me on an old upright piano and Dave on double bass. We just played about 45 minutes of material, all through just once. I didn't know about overdubs then, so I didn't know you could re-do bits, and when I went to see him again a few weeks later, there's 1000 CD's sitting there. I had no preconceived ideas about how a CD should end up, as I would now; I just did it, and when I listened to it there were all sorts of things wrong. But the thing was, people really seemed to like it with all the mistakes, they liked its honesty, and after my aunt Eva sent it to Radio One, all of a sudden Andy Kershaw and John Peel were playing it. So then I had to do a session at the BBC, and next thing all sorts of people were getting me to play at their parties. The next CD was more polished, with overdubs and editing and perhaps musically more accomplished, but not what I'm really like live. When I recorded more recently with Jools Holland, to get a "real" sound he insisted the whole band played facing one another and were recorded as one, as they would have done in the 50's, much to the frustration of the engineers. It's so easy these days, people can add in bass patterns, amazing drumming, even a brass section to the recording at the touch of a button, and you can't tell it's done with a machine. But I prefer the old fashioned way.
My wife Ruth has been incredibly supportive, especially early on when I wasn't earning much and effectively was a kept man. It really wouldn't have happened without her. I know a lot of musicians whose wives give them a hard time about being away or getting up late, so I really am very lucky with Ruth being so understanding. We have two children, Tom who's 12 and Molly who's 11. They're both doing really well at school, full of energy and life, and into all sorts of things, including music. I've never pushed them in to music, but from a few days old they've been going to gigs and festivals, so they've heard and seen all sorts of wonderful musicians. At the age of 8 Tom got his first saxophone—he just announced that's what he wanted to play. Although he could only play one note to start with, he'd play it in exactly the right place when we played together. He is now playing amazingly and even features on Ronnie Wood's I Feel Like Playing album which is amazing. Molly's into singing in a big way, she has sung to thousands of people. They both really enjoy it and have their own band and do their own gigs. It's great that they've both seen so many performers, so that they realise the worth of originality in music. They're overtaking me and I am very proud of them."