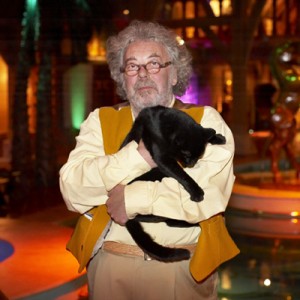 In a soho garden
Felix Dennis doesn't believe he's going to live to a ripe old age. It's something he's been acutely aware of for a very long time. He is now 63 years old, has had at least three very close brushes with death already, and abused his body to such a degree that there is sometimes debate on whether he has lost, not one decade, but two. As we sit drinking a pre-lunch rosé in the kitchen of his flat in Soho, he chain smokes and prowls the room like a caged beast, snatching gulps of fresh air from the tiny veranda he likes to call his London garden. "It's titchy!" he exclaims, as he gazes across the horizon. "It must be the smallest garden in the world". One imagines his voice booms across the Soho rooftops, disturbing the occupants of tiny bedrooms, where many past tabloid headlines were born.
His fear of death is, however, nothing new. In fact it may have been the driving force that saw him rise from growing up in a house with no electricity, no central heating and an outside toilet, to becoming one of Britain's most successful entrepreneurs. "I think I've gone through my life as an utterly fearful worm, believing that every day is going to be the last day of my life," he says. "There is no question that I have lived my life, ever since I can remember, in a perpetual state of fear and anxiety, and that is what drives me. But it does something else you know. Because it's with you continually, all day every day, nothing frightens you. It means that I will do things that other people, far more sensible, will not do." He remembers how, in his younger days, he would earn or save money with dangerous antics – running across canals on sewage pipes to earn ten shillings, or climbing a drainpipe to avoid paying rent. It's a habit that followed him on through his business life. He cites a recent example of spending $48M "of money that I had already paid tax on!" to make a magazine a success in America. "When I could have just stopped!" he says.
Regardless of how long his life has been, or even will be, his list of achievements is quite remarkable. Born in 1947 in Kingston-upon-Thames he never knew his father. With a degree of pride he tells me that his mother worked hard to give himself and his brother a decent life. She was one of the first women to become a chartered accountant, allowing the family to move to a house with electricity. He remembers showing his brother how a light switch worked. Today he has moved his mother into a house near his home and cut back on his travel so he can see more of her – she is 91 and has recently suffered a serious stroke.
To the complete dismay, and somewhat annoyance, of his head teacher he passed the 11 plus and went on to grammar school. His teacher told him there had to have been some kind of mix-up in the results, because he was an 'idle boy' that couldn't possibly have passed on his own merits. His teacher wasn't to be the last person to make the mistake of underestimating him.
After spending many years playing in R&B bands and living a hipper than hippy lifestyle he joined the team producing the underground magazine, Oz, and found that his drive to make money could go to good use. While all his colleagues sported Afghan coats and psychedelic shirts, Felix got himself a three-piece suit and went out looking for income for the magazine. "They didn't know anything about money!" he exclaims. He retained the long hair but his natural negotiation skills and business acumen helped keep the magazine afloat; at least until the now famous 'Oz trial' that got him banged up in Wormwood Scrubs. An issue of Oz, produced mostly by contributions from school kids, had resulted in one of the longest conspiracy trials in history. He recorded a single with John Lennon to raise money for a legal defence fund at the time, and the three co-editors were eventually acquitted on appeal.
Whilst many believe it was the experience of the British justice system that forged Felix Dennis's drive for success, he believes it was already inside him. "Maybe I believed I was indestructible." he says. "Even though I lived in fear and anxiety all my life – fear of what? I have no idea. Fear of extinction? Fear of failure? I have always turned my back on fear of failure. But nevertheless this undercurrent has always been there, where I'm constantly attempting to prove to myself that I will not be disabled by fear – which is nuts!" When it comes to making money he believes that drive has been very good for him. Although with the wisdom that only comes with age he admits, "It's not a good life – it's not a good way to live."
However when it comes to writing poetry, Felix Dennis's drive has produced extraordinary results. Some might say it has eclipsed anything he has achieved in his business life. In his younger days he used reciting poetry as a method of getting girls into bed, but after a life-threatening illness, he began writing his own verse and published his first book of poems, A Glass Half Full, in 2002. He has since published five more books, all to enormous critical acclaim. He spends up to three hours a day studying and writing and knows that success can only be achieved by solid effort. He chuckles at those that can't believe he really writes so much, saying, "There are quite a lot of people that do not believe that I can do all the things that I do in my life – and still write this much poetry. Maybe they think I've got some gnomes hidden away in the broom cupboard who are writing it all for me."
With a new book of poetry, Tales from the Woods, just out, he is about to embark on a 21 date tour of Britain and Ireland, starting in Exeter. Although it's a gruelling tour of 2-hour performances, crammed into 32 days, he is excited at the prospect. "I want to give people two hours of solid entertainment" he says. As he fixes me with eyes partly hidden by heavy tortoiseshell bifocals, I can see his natural penchant for drama will ensure a great show. More than forty years playing R&B has trained him for the stage and anyone listening to recordings from the Mustique Blues Festival, where he still plays a set each year, will know that Felix Dennis knows how to use a microphone, and work an audience.
As we wrap up to get on with our respective days, I am drawn to ask one more question. Has he any regrets? There is a long pause, giving me time to wonder if the question is just a little too close to the bone. But he is open and honest and delivers an answer that hangs heavily in the air. "I should have opened my heart to one person" he says. "I should have taken that risk. That was a cowardly and pathetic thing not to do. Too late now – it really is too late… I think I should have had children, I love children, I've got so many god children. That was foolish and idiotic… I think I should have started writing poetry when I was twenty-five or thirty years old… Also, it would have been OK to have four or five years on crack cocaine, but having two lost decades is utterly stupid and totally ridiculous. And it doesn't matter how many hundreds and hundreds of beautiful whores and concubines you've been to bed with, because in the end they all just merge into one. It's just a complete waste of effort and time – ludicrous and dangerous, for them as well as for you." He stops, attempts a smile and says. "But hey, on a scale of one to ten… nine point five!" His booming laughter fills the room. "I don't really think that", he says. "But let's say it, let's keep our chin up."
As I head back through the throng of London commuters, with his booming laughter still ringing in my ears, I can't help thinking that although he reckons he won't live to a ripe old age, Felix Dennis will probably still cram more into whatever years he has left, than a whole bunch of the rest of us put together.