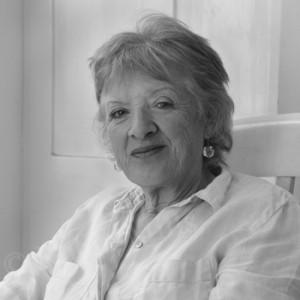 "I can remember wartime as a very small child, seeing my mother in a tin hat going off on her bike to do ARP work. My father worked in the War Ministry reinstating the gas lighting in places that had been bombed, like Coventry. At night I watched Very lights and tracer bullets on the nearby firing range; the front garden was dug up to grow vegetables. I used to be in Sunday School Nativity plays, progressing from being a white angel to a pink one, which meant you could be part of the Shining Throng, although I never got to be the gold angel, Gabriel. I think the dramatic setting of those plays, the darkened church with the tableau magically illuminated, and the inevitable hilarious moments, was probably the beginning of my love of theatre.
We lived in a small village in Bedfordshire, in John Bunyan country, and my father would take us, my brother and sister and me, looking for orchids on the chalk downs of the Chilterns, the kind of experience which I think is at the heart of my love of the countryside. The only way I excelled myself at school was in drama, and once had to perform a piece in front of the whole school; my horrible maths teacher, who invariably made at least one girl cry every day in class, said sarcastically 'I had no idea we had such talent in our midst'. I still panic with numbers.
Although I wanted to pursue an acting career, my father sent me to a technical college to do combined sciences, because he thought I should become a vet. I was completely out of my depth and finally rebelled. My mother convinced my father that I'd resent him for ever if I didn't get the chance to try for an acting career, and I was allowed to audition for RADA, but failed to get in and was advised to 'get more life experience'. I worked on a smallholding for a year, tending pigs and chickens, exercising a point-to-pointer and milking a cow.
I auditioned again at the Central School of Speech and Drama, and was accepted. There, I was told I needed a professional name, so I chose my mother's family name, Lansbury; her grandfather was the Christian Socialist politician and pacifist George Lansbury. Another granddaughter is Angela Lansbury. Many of my contemporaries at Drama School are still working actors, the most well known being Julie Christie. My first job was with the Royal Court Theatre, in a play starring Rex Harrison; Donald Sutherland had a small part in it as a reporter. I had my 21st birthday when we went on tour to the Edinburgh Festival which was brilliant. Afterwards, I took over a part in The Kitchen, by Arnold Wesker. Amongst the cast were Jeremy Brett, James Bolam, Edward Fox and Glenda Jackson. Then I joined the 1962 Keswick Summer Season weekly rep, with the Blue Box Theatre, which was a truly portable theatre, complete with tip-up seats, a box office, foyer, stage and dressing rooms. We lived in caravans and there was a mobile dining room and bathroom, but you had to light a fire to heat the water when you wanted a bath.
Having met my husband to be, I came back to London and started working in TV including a 'Monitor' documentary about D.H. Lawrence. When my boys were toddlers, I appeared with them in Z Cars. I have been in several detective series: a P.D. James, Morse, two Ruth Rendells, Bergerac, The Chief, and Sherlock Holmes. I have only been in two films. Blink and you'll miss me as the magistrate in A Fish Called Wanda, but you can't miss me in Ever After as I am there throughout in a quaint, mediaeval hat. The film starred Drew Barrymore and Angelica Houston.
In '65 I was in the opening season of the Yvonne Arnaud Theatre in Guildford, and played Katya in A Month in the Country, with Ingrid Bergman and Sir Michael Redgrave, which later transferred to the West End. From there I joined the National Theatre Company at the Old Vic led by Sir Laurence Olivier. Many young actors in my group are now stars; Anthony Hopkins, Michael Gambon, Derek Jacobi amongst others. I had only a tiny part in A Dance of Death, with Laurence Olivier and Geraldine McEwan, but the rehearsals were really electrifying, watching the play develop through highly experienced players.
After I left the National I was cast as Charlotte Lucas in a BBC production of Pride and Prejudice. Then I became seriously ill and had a 3 month run appearing in an operating theatre. My wonderful parents looked after my two boys and helped me to recover. Fortunately, more TV followed and I came to Dorset for the first time, on location at Melbury House, Evershot in another BBC Classic Daniel Deronda. As Catherine Arrowpoint, I had to be trained by the Beaminster Bowmen to compete in an archery contest.
I was unhappy being away from my children so often, so I changed career, trained as a teacher, and taught in a Primary school for three years. My concerns for what was happening to the countryside were growing, with wildlife and their habitats disappearing. I reintroduced nature walks, but with health and safety issues they became impossible.
We had come to Seatown on holiday every year since the filming so I came to Dorset for a fresh start after my marriage failed. I started as a supply teacher, but had more offers of TV work, including parts in I Claudius and the Duchess of Duke Street. Eventually the acting had to give way to a permanent teaching commitment. I was asked to teach drama to the older pupils, some of whom found it a bit strange, 'all that ponceing around on the stage, Miss', but they were very forgiving and did try to understand the purpose of Drama lessons.
Ann Jellicoe's first community play opened at Woodroffe School where my boys were, and I thought it completely marvellous. I met Ann and we worked together on the Axe Vale play, a joyful piece called The Tide. Ann asked me to join her on a permanent basis producing The Poor Man's Friend at Bridport, and that enabled me to leave teaching and gave me a re-entry into the acting profession.
In 1985, after 2 years with an excellent Theatre in Education company in Nottingham, an actress I knew from Somerset wanted to start a theatre company. We co-founded and ran the Somerset and Dorset Theatre Company for 7 years. We were a professional company inviting established actors to join us, our aim being to take theatre to places other companies didn't visit and performed in theatres, Arts Centres, village halls, hotels, stately homes, schools, a prison, playgroups, and on a steam train.
To me, the two most important things in life are children and the environment, because without a sustainable environment, our children have no future. I've been a speaker for Save the Children and support Greenpeace and Friends of the Earth. In '82 I joined with others to save some ancient trees on Lambert's Castle, and later, we formed the West Dorset Safe Energy Campaign and held two exhibitions demonstrating alternative sources of energy such as wind and wave power. We fought the proposal to build a nuclear power station at Langton Herring. Hard to believe now, but there would have been a view from the top of Abbotsbury Hill, past St Catherine's chapel, to a nuclear power station beside the Fleet had it succeeded. We held a huge picnic there and released balloons to show how far any fallout would drift – the winning balloon reached Southern Germany. People forget or ignore the fact that nuclear waste has a half life of 48,000 years. I've always campaigned against nuclear weapons, joined the early Aldermaston marches, and in 1981, helped to form Bridport and West Dorset CND, after showing the banned film The War Game to a packed Bridport Arts Centre. We took coach loads of local supporters to national demonstrations and at Greenham Common we were some of the first campaigners to enter the air base, dressed as waiters and waitresses offering Peace Pies to the guards.
I still try to 'do my bit' for the community and have been a Parish Councillor since 1993. I was a founder member of the Chideock Society and in 2000, with my partner, Anthony Broad, compiled A Wander Through Chideock, an illustrated history of the village. Eight years ago I helped start and run The Bopper Bus, a leisure bus for children in and around the Marshwood Vale, which is still going strong.
Recently, I have had some very scary health problems which have clipped my wings and made me take stock of my life. I am extremely fortunate to have enjoyed both my chosen careers, to live in the most beautiful place I know, to have a wonderful partner, two talented musician sons, 6 beautiful grandchildren, 4 gorgeous great grandchildren, loyal friends and a dog who makes me laugh every day. Ha! Ha! Ha!"