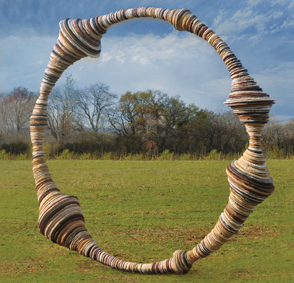 A former exhibitor in the Marshwood Arts Awards, Marzia Colonna sees art as 'an invaluable document of our time on the planet'. She says that 'the need to create is an integral part of our make-up' and believes that art is 'the most exciting' if not 'the only proof of man's endless creativity.'
In a rare and special exhibition, Marzia Colonna and Fiamma Colonna Montagu, mother and daughter, will be exhibiting together at Sladers Yard, Bridport, from 9 September. Each is an artist with her own unique voice. Each is author of large-scale projects and commissions. Each has work in important collections in the USA and Europe.
The exhibition at Sladers Yard, Many Moons, is a celebration of the years, finding their personal paths, putting forward voices and ideas that are different but intriguingly compatible, with the pleasure of seeing each other's work develop and often live side by side.
Marzia's collages centre on the things she loves, the land and sea that surrounds her Dorset home, the places she visits, interiors of her studio, flowers from her garden, her sculpture. All are represented in cut or ripped paper she has painted beforehand with mostly abstract marks and patterns. To her sculptor's sense of form and texture, she adds a powerful sense of colour, bringing together bright and earth colours in deeply satisfying and original combinations.
Author Tracy Chevalier describes Marzia's work as 'images that manage to be both definitive and subtle, a tonal mix of layers of colour and texture that capture the internal mood of a landscape or a still life in a way that words fail to describe. But that is what art is, right ? It does what words cannot.' Marzia Colonna's collages capture the exceptional landscape of West Dorset with the eye of someone who knows and understands it, in different weather and times of year, with a strongly developed sense of space and light. This exhibition also includes strong and joyous images inspired by Cuba and Mexico. 'When I work with collage I feel I am sculpting with paper and painting at the same time,' Marzia says. 'I try to replicate what I have experienced, not just visually in form and colour, but also in the impact created in my mind, the sensations experienced.'
Fiamma Colonna Montagu is an artist specialising in large-scale ceramic sculpture and site-specific commissions. Recent exhibitions include Robert Bowman, Mayfair 2022; West Downs Gallery, Winchester 2022; Rebecca Willer, London; New Art Centre, Roche Court and currently Sladers Yard gallery in Dorset.
Her vessels and small maquettes, often the first stage for large-scale work, will be available alongside major pieces at Sladers Yard in the Dorset landscape that inspires her.
Since 2000 she has been making large-scale sculptures commissioned by art collectors, notably a series of circles or Portals up to 3m in diameter and a series of Totems. These beautiful works do not fail to engage us both in the landscape and in the interiors where they are placed. The largest of the Portals was commissioned for a private garden in Portugal. Her Open Sanctuary circles of 23 Totems, designed as meditation spaces and developed with fellow artist Sam Bazeley, were commissioned for an interior space in Florida and an outdoor space in Hampshire.
In 2014 she produced the acclaimed 'Blood Swept Fields' poppy installation in commemoration of the WWI centenary at HRH Royal Palaces at the Tower of London, overseeing the making of 888,246 ceramic poppies for the largest single art installation staged internationally. Major commissions in 2022 include a series of vessels for Claridge's which were placed in each of almost 200 new rooms.
Fiamma's ceramics are made using porcelain and stoneware high-fired with cobalt and iron oxides to create subtle natural colours and finishes on strong elemental forms. Now living with her family in West Dorset, Fiamma Colonna Montagu grew up in London. She studied at Bryanston, a co-educational liberal arts school in Dorset, followed by Oxford University.
Many Moons – Marzia Colonna MRBS collages. Fiamma Colonna Montagu ceramics sculpture is at Sladers Yard from Saturday 9 September until 11 November 2023.