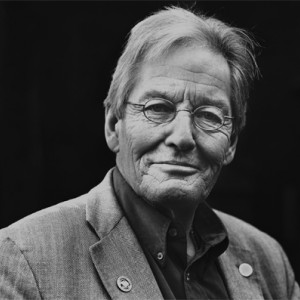 Robin Mills went to Dorchester to meet Town Crier Alistair Chisholm. This is his story.
"I was born in Surbiton, Surrey, the archetypal suburb, famed location for the TV series The Good Life. My father came from Aberdeen, and worked for most of his life at the Bank of Scotland in the City. This of course was in the "old days" of banking, and he would be spinning in his grave given what's happened recently. Mother was from South Africa, and was in London to take up a singing scholarship when they met.
My father didn't earn a fortune, but because he felt he'd missed out somewhat in his own education, somehow found the money to send my brother and me to King's College School, Wimbledon, although it nearly crippled him financially. I enjoyed my time there, but even then I was uneasy with the feeling that it was a privileged position to be in. I spent most of my time rowing, and left with pretty mediocre academic qualifications.
When I was 13, my father died, which was of course a devastating thing to happen to a family. Two years later my sister left home to get married, my brother went abroad to work, and I was at home with my mother. Soon after I left school, I joined Voluntary Service Overseas and went to Sarawak, Borneo, teaching in a secondary school at the very tender age of 19. I was there 18 months or so, but managed to study, so that when I came home I got a place at Queens University, Belfast, reading geography. I was also doing English, and I can remember listening to Seamus Heaney teaching poetry, spending a whole lecture on maybe one line, and being amazed and fascinated by him. I wish I'd recorded it. The Troubles were in full swing by the time I left Belfast.
I spent 4 years or so teaching in West Bromwich after University, and then I went on a trip to South Africa with my mother, visiting her many relatives. It was there I met my first wife Kate, who then came to England with me, and we set up home in West London. Then I saw a job advertised in London for a tour manager. I thought it would involve 'managing tours', and might suit my interest in geography, but in reality found myself at the front of a busload of 50 Americans heading for Hampton Court Palace, some of whom knew a great deal more about its history than I did. However, as the tours went from one major centre of English history to the next, I very soon picked up the historical connections between them all, so that as my interest and knowledge grew I was able to make the tours rather more enlightening. To complete the tours in London, I needed a Blue Badge registration, which incidentally I had to work harder to get than anything else I'd done, a bit like the London cabby's knowledge. Having achieved that, I began to enjoy the work more now and I really got to know London properly.
The down side to the work was perhaps situations like taking a group round somewhere as fabulous as Westminster Abbey, truly a focal point of English history, feeling a bit like toothpaste being squeezed out of a tube. You were squashed in with all the other parties, trying to make yourself heard above the Japanese, the Swedish, the German guides all trying to make themselves heard, driving your group along like a lot of unwilling sheep. It was during this time my family was growing; we had two boys, and we felt the suburbs of London weren't the best place to bring them up. I knew the New Forest, and I knew Devon and Cornwall, but I didn't know the bit in between. Having come to Dorset, like so many people I was completely and utterly hooked on the place. That would be about 1985, and we bought a small cottage in Buckland Newton, where our daughter Nicola was born.
We were soon very involved in village life; as a newcomer one soon gets asked, and I think it's great. Dorset villages are probably no different to anywhere else, but community involvement is at the heart. I was part-time teaching, and then when we moved to just outside Dorchester, I started to get really interested in the history of the town. You'd hear a lot about Hardy, Judge Jefferies, the Tolpuddle Martyrs, the Roman history, Maiden Castle, etc, and I began to realise just how absolutely thick with heritage the place really was. And yet nobody really seemed to be taking it seriously. So I decided to have a go at tours again, bought a minibus and set up the Thomas Hardy Explorer tours. I'd recite bits of Hardy's writing as well as showing the main sites like the birthplace and Max Gate. I was also realising just how much Dorchester had to offer in present-day resources; for example the direct rail links with both London and Bristol via two stations, a fact which, if one is looking for sustainable assets, is quite a starting point. And then there's Prince Charles' choice of Dorchester as the place to develop his vision of urban development at Poundbury. So I was including these facts in the tours I was organising, so that they contained a unique mix of historical and present-day interest.
In 1996, the Dorchester Town Crier Bob Walker died, and I thought I might have a go as his replacement. So I had an audition with the Town Council, got the job, and was given £200 to get 'kitted up': no qualifications or training necessary. It's a role which comes from centuries ago when few people could read, and it was the only way information from the authorities, local news, and all matters of importance could be broadcast. These days, a Town Crier needs to be able to do the job with suitable pomp and decorum if the occasion demands it, but it's ok to be light-hearted sometimes; you need quite a bit of showmanship, but above all you need to be passionate about the place you represent. I also think it's important to be independent of the local authority. I'm not paid to be Town Crier, so I'm free to criticise authority if I want. I try to help chivvy things along, such as Dorchester's absolutely fabulous skate-park, which has finally come about after 12 years of wrangle.
In 2000 my wife Kate and I split up, and I became very depressed. It was a condition I'd struggled with before, and my Presbyterian upbringing made me think I should be able to snap out of it on my own. I gave up everything, including being Town Crier, and to all intents and purposes disappeared. But it was another Kate, Kate Hebditch, who helped rescue me: she visited me in Puddletown Forest where I was living in my van, and now we've been together for 5 years. This, of course, meant that when Kate became Mayor of Dorchester, I became the Mayoress, which was very amusing. I owe a huge debt to the many people who helped me get back on my feet, and I now take medication which enables me to be the person I want to be. I have no problem with that, and my experience has taught me that with this awful but very common condition there are many ways you can get help.
With my tours, and as Town Crier, maybe I'm a link with the past; if we're ignorant of the past we go blindly into the future. I started out volunteering with VSO, and in a way I've never stopped volunteering. I hope some of the projects I've given my time to have helped restore Dorchester as the county town. I've been involved with promoting Dorchester in everything I've done. Dorchester now has a Business Improvement District (the only town in Dorset at present), and I'm now part of a community interest company called 'Promote Dorchester' to help market both the town and the great number and variety of events run by all sectors of the community. A community that works together can be incredibly powerful, and I'm proud to play my part in that 'togetherness'."