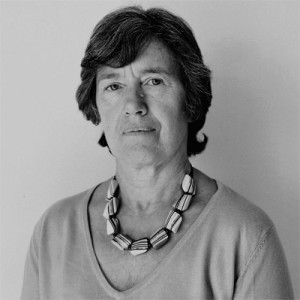 Julia Mear met Rosie Giles at her home by the sea in Seaton, Devon. This is Rosie's story:
"I was Farmer Giles' daughter, born in Kingsbridge, Devon in 1949. When I was seven we moved to a farm in Clyst St Mary – father was told he had three months to live – he had asthma and we lived near a granite quarry in Kingsbridge. We sold up and moved – my father lived for another 30 years. We lived on a mixed farm, mum used to take in B&Bs to make ends meet – it was just after the war and times were hard – there were four children to feed then.
I attended St Margaret's School in Exeter, I was not bright – I suffered from dyslexia. My Headteacher, Miss Morford encouraged me to work hard at my O'levels and go to college. I had to take my English O'level twice and had extra English lessons to help me. I went off to Worcester College without taking an A'level. I studied Primary Education specialising in Rural Science and Maths. In 1970 I became a teacher; my first job was in the largest infant school in England. Chantry Infant School, Luton, had 750 children – 90 new reception children every term. I taught a reception class of 34 children, very few could speak English. The first word I tried to teach my class was 'toilet'. I lived in a block of high rise flats in Luton and whilst there I had a tough experience – my neighbour shot himself and then threatened to kill me, so I was put under police protection. I wasn't sleeping, couldn't do my job properly and was given tablets by my doctor. Because of this experience I changed my life – I was in a terrible state and on one occasion I made a promise to God: 'I promise Lord if you can help me through this I will serve you for the rest of my life'. From here on I became a committed Christian and never took another tablet again.
After three years at Chantry, I went to another school in rural Bedfordshire – Westoning Primary School near Flitwick. Only 180 children, it was a complete contrast, there were lots of farming children – I remember playground duty one day thinking 'it's like playing at being school'. I was there until 1977, then I came down to teach at Charmouth, Dorset from 1978-1984. I was head of Infants – it was the old Charmouth School then – there was one class in the school and four temporary classrooms with about 90 children. I lived in Axminster and got involved in church work at the Baptist Church in Kilmington.
In November 1983 I applied for the Headship at Marshwood School, they'd wanted a man, but I got the job and started in April 1984. There were 48 children in a very old run down building – the windows leaked, and when the wind blew we had to move the children two metres away from the wall, it was so cold. After two years of being there a boy pulled a radiator off the wall and we found asbestos – the school was condemned. Half the school was sealed off and we had to use temporary classrooms. Mobile phones hadn't been invented then, I had no telephone for three weeks, so we were cut off from the outside world – this wouldn't be allowed today. The school is sited in a very exposed area and the temporary classrooms rocked in the wind. One day was so stormy and the children were quite scared, so I filled up all the cracks in the windows with washing up liquid and we had a day of bubbles – the children loved it. The building work took nine months but at the end of it we had three lovely classrooms with new central heating and windows.
One day a child said "Miss Giles, there's a pig in the playground!" so myself and Mrs Passmore were seen chasing it up the road with a broom in hand. We've had straying pigs and ducks – once back in 1990 somebody dropped three little puppies in a box at our school – we found a local farmer to take them on. There was a time when life was getting tough, the children were getting bored and fed up – I changed my methods, giving out lots of well dones and stickers. The following year the children took off incredibly – that's when I learnt to praise rather than criticise. Just to praise children, even those struggling are good at something and it's noticing those little somethings that builds up their self-esteem. We learnt to laugh with each other rather than at each other. I am known for my inability to sing – the children would put their hands over their ears and ask me to stop. There was a very strong Christian ethos, our school motto was 'Love Lord your God with all your heart, soul and mind, and your neighbour as you would yourself'.
In 1994 I went along to a Christian Head's conference where they asked if anyone was willing to run conferences in Africa. I went to Uganda that summer during the school holidays. I thought in naivety that heads all around the world had a similar lifestyle to mine – how wrong I was. Often schools had no desks, chairs, equipment and leaking roofs with often 90 children using five books between them. One school had a roof made out of banana leaves. When I returned to Marshwood I talked to the children about it and we raised £1500 for them to have a new roof.
Our numbers began to increase and we ran out of teaching space in 2000. We needed a new classroom but there was nowhere to build one. I approached the PCC (Parochial Church Council) and asked if we could use the church and it was agreed. We removed the pews, replaced them with chairs, a new floor with carpet, put in heating and it was done. The children have lessons in there every day and then on Sundays it is converted back into a church with padded chairs rather than hard old pews. We were the first school in the country to move into a church. Sometimes we have to give up the classroom for a funeral but the church try and organise them from 2.30pm onwards to avoid too much disruption. We've had Christmas parties there with music blasting out – it has been a fantastic improvement on the school and village life – it is used for lots of functions now. I loved being the head teacher there – the staff, children and parents were always fantastic and so supportive. In 2002 I was put forward for a teaching award and received the Teaching Leadership Trust Award for School Leadership in Primary Schools for South England. For the last two years I have been a judge on these teaching awards – it has been fantastic to see encouraged and enthused teachers. I also moved from Axminster to Seaton in 2002 – this is my forever home now.
Numbers at Marshwood continued to increase again and again, so in 2007 I suggested we use the roof space of the school building to create another classroom. Again, it was approved and we now have a lovely fourth classroom which was opened last year just before I left. We also looked into conservation of energy ideas and now have a wind turbine – the first in Dorset. It cost £17,000, of which we paid £1,000, thanks to all the grants we were able to receive, together with the help and support of the governors and PFA.
I continued my travels to other parts of Africa, but Uganda had warmed my heart. I decided to finish at Marshwood School last year when I was 60 and have been in Uganda since October 2009, I returned in March this year. Primary education is now free there but many families can't afford to let their children go because they are needed to work at home. I started writing a child protection policy which included child sacrifice, child abuse and girl defilement. In one district 500 girls were rape defiled by their teacher in one year. The children are desperate to go to school as they know an education can help them.
My time at Marshwood School was very special to me. There were 68 children there when I left and all were precious to me. There are children in the school now whose great grandparents were taught there and about 20% of the children there now, were children whose parents I taught either at Charmouth or Marshwood. I always remember the story of the boy and the starfish on the seafront: 'A boy was picking up starfish on the beach and throwing them back into the sea, someone came along and said why are you bothering to do that it won't make a difference. The boy said I can't change the world but I can make a difference to one or two'."