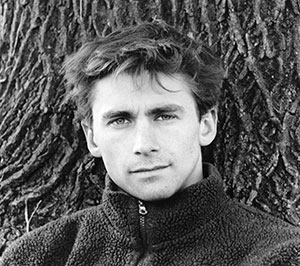 Brendon Murless is 23 and grew up in Powerstock, Dorset, with his four brothers and sisters. Brendon told his story to Julia Mear:
'Family life was always quite hectic as there were seven of us. We all got along well and we continue to be close. From as early as I can remember family holidays meant piling in to a camper van and travelling around Europe. We all mucked in. This encouraged all of us in our later years to go travelling. My father is keen on butterflies – he used to set us challenges to identify the foreign species, which kept us entertained for hours.
My father, Michael, is a commercial photographer and my mother, Frances, nee Rodber, is a seamstress.
Mum's father, John Rodber, was a restorer of antique toys and carved and painted his own puppets. Him and my nan, Joy Rodber, used to do the puppet shows on the beach at West Bay and Weymouth. They also appeared on television a few times – probably more than forty years ago now. They lived in West Allington where grandad set up a toy museum shortly before he died. Most of the toys were auctioned off after his death, but nan still has the puppets.
Joy was an antique dealer and she was quite a businesswoman for that time – she had her own shop. She helps with directing and making costumes for the Bridport panto. Nan is still very active and driving around in her soft top car all glammed up.
I always wanted to pursue an artistic career. From childhood I had my own little projects to work on. Everyone in the family was artistic, so I just bounced off what the others were drawing or making. I used whatever I could get my hands on: clay, wire, wood. I carved fish and candlestick holders; I drew pictures of wildlife and flowers. My parents and grandparents have an interesting array of ornaments as a result.
I wasn't sure what I wanted to do, but just knew I liked the art side of things, so I tried a bit of everything. I stayed on at Weymouth College and did a Higher National Diploma in 3D Design. This involved more model-making in the commercial sense. The course made me realise I could use a massive range of materials to make any type of sculpture.
Whilst doing the course, I worked two days a week for my brothers' landscape gardening business, Little Fones. I was sculpting the land in gardens, which made me realise I could use plants and natural materials – the soil – to make sculptures. I am now taking this further and creating colourful and imaginative living sculptures. I've just started work on a very large project, creating a sculpture of a figure. The face and arms are made with a bit of cement and sand to prevent them washing away, and the main part is made with plants and soil, so they can grow and hold it together. This sculpture is used as a promotion for my work, and can be seen in the village of Uploders, Dorset. I've also been making lots more natural garden sculptures at home – goblins, figures and fairies.
I went to Spain to help my sister build a house. They were using cob and any natural materials from the land. When I came back I contacted David Joyce after seeing his cob building advertisement in the Marshwood Vale Magazine.
I'm now working with David and I've learnt the art of cob repairs on old buildings and how to preserve them; lime rendering, plastering and pointing, all of which I knew nothing about beforehand. It's definitely a worthwhile job, renovating ancient buildings and making them sound again for another two hundred years. I've recently been back to Spain to render the next stage of my sister's house – a straw bale building which looks fantastic.
Now I live in a flat in West Allington, once my grandad's toy museum. I strive to be self-sufficient, recycling and using the land to its best potential. We have our own little vegetable plot and chickens, and everyone in our block of flats chips in to create and use the shared garden.'