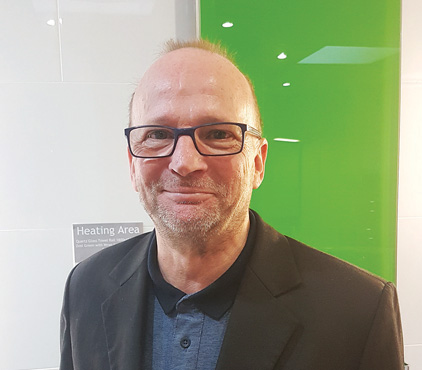 "Follow the bubbles" to find Ocean Bathrooms in Bridport where Robert and Sharon Mühl are celebrating 25 years of trading in Bridport. No small feat for a business that was started with £2000 and a friend's help. Last year, Robert was proud to welcome his two sons as Directors into Ocean Bathrooms, helping him open up another showroom in Islington, London recently. This showroom is going from strength to strength as Robert's family become more involved.
Born in Bridport to a Hungarian father and East German mother, Robert was taught that true, steady, hard work and perseverance would prevail. Taking this approach, he spent weekends and school holidays working in Curry's in Bridport selling televisions and washing machines, learning how to communicate and talk to customers. After leaving Colfox School he then honed his skills working for a company selling bathrooms and heating products to builders in West Dorset. Robert then spent the next few years repping for Grays Plumbing and Heating Merchants in Bournemouth specialising in the bathroom and heating arena. Until one day he took a punt in the on setting recession and set up his own company in St Andrew's Trading Estate. Bolstered by his father who often helped him with deliveries and with Sharon's support, he worked 7 days a week until the business slowly but surely started to grow.
His dedication paid off, so much so that years later he was able to move the business to  St Michael's Lane, converting the former snooker hall to a modern bathroom showroom full of cutting-edge, innovative designs and working products. He is still full of enthusiasm for the bathroom industry saying "I have seen some amazing changes over 25years from avocado green, shell suites to cutting-edge wet floor shower rooms and beautifully designed freestanding baths, it's changing all the time and I look forward to seeing more exciting products coming through to the showroom in the future"
When the bubble machine is switched off, Robert can be found relaxing with a sword fencing lesson or chairing a meeting of the Bridport Business Chamber, looking to ensure the future of businesses in Bridport and also taking Ocean Bathrooms into the next 25 years.