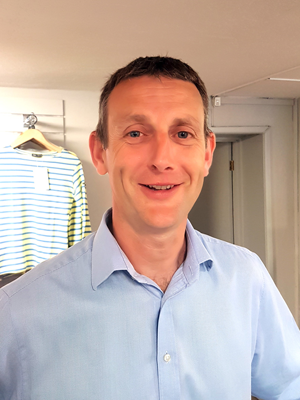 As a seven-year-old, Ben Davis spent his Saturdays lacing shoes, earning some pocket money from his parents who owned Douglas Reads shoe shop on South Street in Bridport.
Ben took on the shop when his father became ill, over 10 years ago. He felt it would be a shame if the family business disappeared, as it was originally bought by his grandfather from Douglas Read himself. Foregoing his business running a swimming, lifeguard and first aid training school, Ben strode back into the family firm. Stepping into his father's shoes, he discovered all those Saturdays working in the storeroom, picking up how his parents ran the business, had prepared him well.
At Ben's right hand is his manager Lucy. She helps with the buying and is often the face you'll see, along with a handful of other assistants, available to advise customers on the shop floor. Ben is proud of running an independent shop in a bustling market town like Bridport. Honesty plays a large part in how his team operate, preferring to tell their customers if an item doesn't fit, so they can find the right item that does. It's a philosophy that has earnt the shop a reputation of trust from their loyal customers. Footwear orientated with an injection of clothing and accessories, the shop specialises in items for the comfort lifestyle.
Constantly evolving and thinking of ways to improve, Ben finds it difficult to turn off from the business, as he lives above the shop with his family and beloved black Labrador. He moved back to Bridport a few years ago, happily dispensing with his commute from Milton-on-Stour.
Spending his weekends taking the dog for long walks, he also enjoys shooting and is teaching himself fly fishing. This summer, with a new tent at the ready, he's off to Cornwall to pursue a love of bodyboarding.