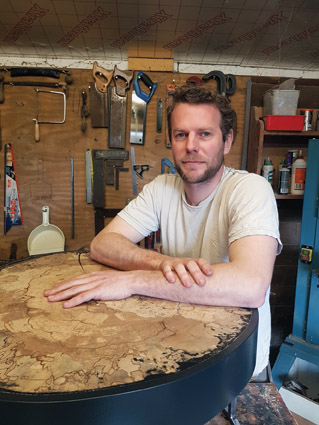 Alex Brooks has been making bespoke wooden garden furniture for years with his brother Ed. Ed is a landscape designer based in London, but also has Ed Brooks Furniture which sells specialist garden furniture, with pieces personally designed for his clients. There is only one person with whom he entrusts his creative drawings, transforming them into reality, and that's his brother Alex.
In addition to the garden furniture carpentry, Alex is branching out, designing his own interior furniture from the wood he loves so much. Alongside conventional bespoke furniture, Alex strives to capture the beauty of fallen wood, showcasing the end grain detail in his pieces, which are also works of art. Alex uses the sections of a tree that other carpenters often avoid as they are temperamental to work with. But the results are more than worth it.
Each piece is unlike any other, crafted from trees such as sweet chestnut, oak and beech, from his parents' woodland and surrounding farmland, outside the village of Wootton Fitzpaine, where Alex's workshop is. Working alongside his father, who helps source the wood, their workplace overlooks pasture fields, making it an idyllic spot. Even in winter when the bitter cold sets in Alex can retreat into the shed where a wood burner sits snuggled in the corner, content in the knowledge that fuel is never an issue.
Alex now lives in Seaton with his wife and young daughter, enjoying the short commute to his rural workshop, down the road from where he grew up and his parents live. Relying on his father to collect any fallen tree that has come down in a storm, Alex appreciates his support and guidance over the years. The work for Ed Brooks Furniture continues, alongside the newer Alex Brooks Furniture enterprise; complimentary businesses that flourish under one family tree.