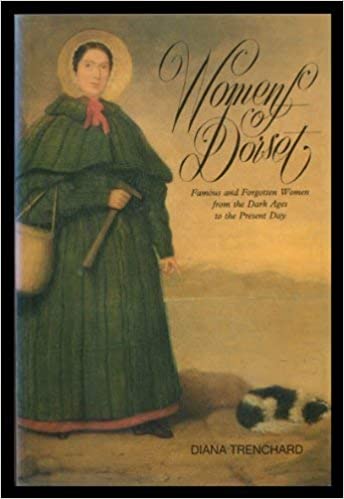 In the winter we lost Diana Trenchard, well known in local and family history, and the author of the book Women of Dorset.
Diana was born in Shrewsbury in 1939 and studied Physiology at Bristol University and was captain of the woman's fencing team. In the 1960s she joined a medical research team at Fulham Hospital. She was appointed to Midhurst Medical Research Institute in the 1970s as the only woman of five senior scientists. She did not refer to herself as "Dr".
On moving to Dorset she became very involved with its history, the area and its people. She lived in Beaminster and for a time ran a bookshop in Crewkerne. When she commenced Women of Dorset her research mind was apparent as she left no stone unturned, and acknowledged in particular the Dorset County Museum and the Dorset County Record Office, as well as many individuals.
Diana joined two friends in Bridport researching family and local history and they formed the "West Dorset Research Centre" in Bridport. The then editor of the Somerset and Dorset Family History Society magazine, Colin Dean, referred to them as "The Three Degrees", a well known group of female singers, of the time. The local three were involved in many historical exhibitions in Bridport Town Hall. I was a little involved with these ventures and was pleased to welcome Diana as a popular speaker on several occasions at Bridport History Society.
Diana also joined volunteers at Beaminster Museum and later became a member of the Trustees of Beaminster Museum.
We shall all miss her in local history and family history circles. I thought you might be interested in two stories from Diana's book Women of Dorset. I thank Celia Martin, another of the "Three Degrees", for help with details of Diana's life.
The first story selected is of Lady Charlotte Guest, born in 1812, the only daughter of the ninth Earl of Lindsay. Two of her brothers had a private tutor and from him she learned French, Italian and four other languages and he encouraged her music on piano and harp. She also had outdoor activities, including riding, hunting and shooting.
She visited London, aged 21, and met Benjamin Disraeli, but declined his offer of marriage. Disraeli introduced her to Josiah John Guest a man of 48, a business man "in trade" and so then looked down on by the upper classes, but she married him. His grandfather had established an iron works in Dowlais, near Merthyr Tydfil, South Wales, which prospered, so that John Guest was a rich man and had become M.P. for Merthyr Tidfil.
In 1838, aged 28, Charlotte was presented at Court and by the end of the year John Guest was created a Baronet, and Sir John could take his place in Society. At this time they were living in Wales, near the iron works and Lady Charlotte commenced learning the Welsh language, so that she could talk to their employees. She became so proficient that she went on to translate ancient stories, known as The Mabinogion, into English, published between 1838 and 1846.
In 1845 the Guests visited Canford, an estate of 13,000 acres reaching the sea at Canford Cliffs, between Poole and Bournemouth, which they purchased for £335,000. They had five boys and five girls and her eldest son, Ivor, was only 17 when his father died and about to go up to Cambridge University. Lady Charlotte found a tutor for Ivor, to prepare him for Cambridge, a 27 year-old Fellow of Trinity College, named Charles Schreiber. Shortly after, Schreiber became seriously ill and Charlotte nursed him but found that she was in love with him, which was reciprocated. Her family were opposed to the romance but they married in 1855, when Lady Charlotte was 43 and Schreiber was 29.
Charles Schreiber died in Lisbon, Portugal, in 1884, during a trip expected to improve his health. Lady Charlotte died in Canford in 1895, aged 83 and was buried in the parish church, after a long and busy life.
In contrast, Diana also tells the stories of several poor women of Dorset. I have chosen one, Martha Brown, which the reader may have come across, as I believe it was featured on the BBC in recent years. However, it typifies the stories of poor women of the time, many of whom ended up as criminals.
Martha Brown and her husband John lived in Birdsmoorgate in West Dorset in 1856. It was generally acknowledged that John Brown regularly visited the local alehouse in the evenings and then visited a local woman, Mary Davis, and on returning home would often abuse his wife.
On 6 July 1856 John Brown, a carter, was found dead, with severe head injuries and covered with blood. His wife, Martha, said his injuries were caused by being kicked by his horse, but then said he had fallen down stairs. Martha, 20 years older than John, having been widowed, was charged with his murder. Her defence made a very poor case and the death sentence was pronounced.
Martha Brown was visited frequently by both her own vicar and the prison chaplain and on the day before her execution she made her confession. Elizabeth Martha Brown stated that her husband 'John Anthony Brown came home on Sunday 6th July at 2 o'clock, in liquor, and was sick. He had no hat and I asked him what he had done with it. He abused me and said "What is that to you? Damn you!" He asked for some cold tea. I said I had none, but would make some. He answered "Drink it yourself, and be damned". I then said "What makes you so cross? Have you been to Mary Davis's?" He then kicked out the bottom of the chair on which I had been sitting, and we continued quarrelling until 3 o'clock, when he struck me a severe blow on the side of the head. He then reached from the mantelpiece a heavy whip with a plaited head and struck me across the shoulders three times and I screamed each time. I said "If you strike me again I will cry Murder." He said "If you do I will knock your brains through the window, and I hope I shall find you dead in the morning." He then kicked me on my left side, which was very painful. He stooped down to unlace his boots and I seized a hatchet, which I had been using to break up the coal for the fire and struck him several times on the head. He fell to the fireplace and did not speak or move. "I had never struck him before despite his treatment, but when he struck me so hard this time, I was almost out of my mind and hardly knew what I was doing.'
After this confession, one has much sympathy for Martha, but murder was murder and the Law said she must hang. The hanging was witnessed by Thomas Hardy, as a young boy and it made a great impression on him. He learned that most people thought that Mary Davis should have been hung instead and she had to be prevented from going to the hanging for fear of a lynch mob.
So ended the story of Martha Brown and her husband and also this selection from Women of Dorset (Famous and Forgotten Women from the Dark Ages to the Present Day).
The next meeting of Bridport History Society will be Thursday (note change of day) 12th May at 2 for 2.30 pm. in the United Church Main Hall, East Street, Bridport, when Dr Tim Connor will talk about "Mapperton – a local Dorset Parish". Copies of his book will be available.
Cecil Amor, Hon President, Bridport History Society