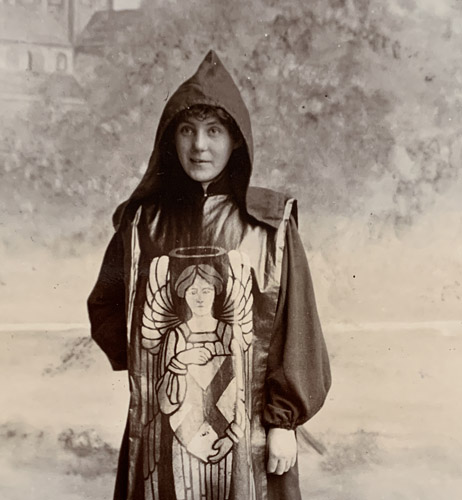 Pageants were a phenomenon that brought people together long before cinema and TV. Margery Hookings has been looking at a new collections of films and memorabilia that hopes to bring the whole pageant phenomenon to a wider audience.
Imagine a massive theatrical event in the romantic ruins of Sherborne Castle, with 900 cast and organisers, an audience of thousands, lavish costumes, orchestra, band, choruses and 50 horses.
This was the colourful scene in 1905 when the Sherborne Pageant was staged in front of an awe-struck crowd, way before the advent of cinema, television and computers.
Today, it's hard, when entertainment is beamed into your home at the flick of a switch, to understand what this incredible event would have been like.
But if you close your eyes you can picture the spectacle. You can almost hear the roar of crowd as the Sherborne Pageant enacts centuries of local history in a colourful and compelling way, the like of which has never been seen before.
A large part of the local community was actively involved. No-one was paid. The national newspapers were fascinated, special trains were run from London and 70 extra police were drafted into Sherborne to control the crowds.
Back in 1904, the Daily Express described Sherborne as 'a dull enough place to live in', bypassed by tourists heading for the coast of Cornwall and Devon. But that all changed with the Sherborne Pageant, which has become the Mother of All Pageants.
The event made a profit—used to create today's Pageant Gardens—and set an example which was taken up by communities across Britain and abroad and continued over generations.
Back in 2001, Windrose Rural Media Trust (under its former name of Trilith), made a documentary about the story called Mother of All Pageants, which is now available on DVD. It was presented by local historian Gerald Pitman, who was well known around Sherborne. The documentary featured the 1905 film of the Sherborne Pageant. True to the original ideal, many local people took part, a few of whom were actually there in 1905.
Fast forward to the present and Windrose is revisiting not just the Sherborne event but pageants across the land. It's a fascinating story which gives an insight into a craze that brought communities together in the most creative way, recreating events from a town's past for the benefit of modern audiences.
Paul Readman has been Professor of Modern British History at King's College, London, since 2002. He began studying historical pageants about 15 years ago. His interest led to working with colleagues on a large project, The Redress of the Past, funded by the Arts and Humanities Research Council.
By chance, in 2015 he met Windrose's director, Trevor Bailey after giving a talk in Sherborne about the extraordinary Sherborne Pageant.
'Trevor was in the audience,' Professor Readman says. 'He came up to me afterwards and told me about how Windrose worked with archive film.'
Windrose, a registered charity, was set up in 1984 and uses the media to carry out educational, archival and creative work in rural communities. Over the years, it has built up a fascinating archive of life in Dorset, Wiltshire and Somerset, as well as making new film about the counties' present inhabitants.
Impressed, the Pageant research team signed up Windrose as an official partner for the public engagement side of what had started out as an academic project.
Windrose is now working with Professor Readman and his team to create a new film to bring the whole pageant phenomenon to a wider audience.
'Working with Windrose has drawn our attention to the kind of rich filmic heritage around pageants and we have become more aware of it now,' Professor Readman says.
The new pageant film will take the viewer to locations from Carlisle to Guildford and to pageants dating from the 1900s to the present day.
Says Trevor Bailey: 'Archives around the country have discovered films in their collections that show exactly what these extraordinary community performances were like and how they developed.
'A lot of this old film will be incorporated. From the 1905 Sherborne Mother of All Pageants onwards, cine film and pageants were natural artistic partners.
'Such tremendous team efforts demanded to be recorded in moving image. After all, they became part of their communities' history in their own right. The people who took part remembered the experience as an important episode in their lives—a time when they achieved something out of the ordinary.'
Music was a vital element in all pageants and it will be in the new film. Folk musician Amanda Boyd, who has worked with Windrose extensively over the years, is recreating original pageant music, which was often specially written, so that the film can bring to life something that was otherwise lost in old paper scores.
'Unless delays caused by the coronavirus restrictions prevent it, Trestle Theatre will also be appearing in the film in an adaptation of part of one of the old St Albans pageants, another way of bringing the past into the present.'
Filming has slowed down because of the coronavirus pandemic but the team already has some very interesting footage in the bag, including an interview with Juliet Renny, the widow of the late David Clarke, who was one of the leading pageant-masters of the post-war period. He staged a large number of pageants around the country, including Corfe Castle, with which his wife was closely involved.
But it was at Sherborne where pageant fever began. The key to it all was the extraordinary personality of its originator, Louis Napoleon Parker, who was music master at Sherborne School and something of a theatre impresario.
He stepped in after Canon Mayo, from nearby Longburton, informed the church council in 1904 that the 1,200th anniversary of the founding of the town by Bishop St Aldhelm in 705 was approaching and it would be fitting to have a local ecclesiastical celebration.
Says Professor Readman: 'Parker wanted to tell the story of Sherborne. He called it a folk play originally and thought it was a good way of telling the story of the history of the community. But it was not a revival of medieval pageantry—Parker established the form that pageants took from 1905 onwards.'
Parker clearly struck a chord with the local community. The Sherborne Pageant became a huge participatory event and drew attention to the town.
'Special trains were put on and lots of people came to it. It promoted tourism to a degree.'
Twelve months later most of Britain knew the name of Sherborne, and many towns and cities were scrambling to stage their own historical play as 'pageant fever' swept the land, with Warwick putting on a large pageant in 1906, and many other places following suit before the First World War—from London to Liverpool to Hawick in the Scottish Borders.
'A sort of consumer industry sprang up around it, which included postcards, paper napkins, medals and ceramics.' Professor Readman says, adding that his team's research had discovered the top of a 'very large iceberg'.
'It wasn't just a village thing or confined to towns in the south. In the 1920s and 1930s, there were also huge pageants in industrial towns like Manchester. And one of the things we discovered is that pageants are still very much in existence.'
Axbridge in Somerset is a case in point. In 1967, a pageant was staged to celebrate the A371 bypass road, the construction of which gave the town back its community heart, reclaiming it from the heavy traffic that clogged the streets of the narrow, medieval town.
'They put on another one three years later and then every ten years,' Professor Readman said. 'There was due to be one in 2020 but Covid put paid to that and it has been delayed until 2022.'
To discover more about The Redress of the Past, a major Arts and Humanities Research Council-funded project examining historical pageants in 20th century Britain, visit www.historicalpageants.ac.uk
For information about the Windrose Rural Media Trust go to www.windroseruralmedia.org. The site includes archive film and audio from Dorset, Somerset and Wiltshire.