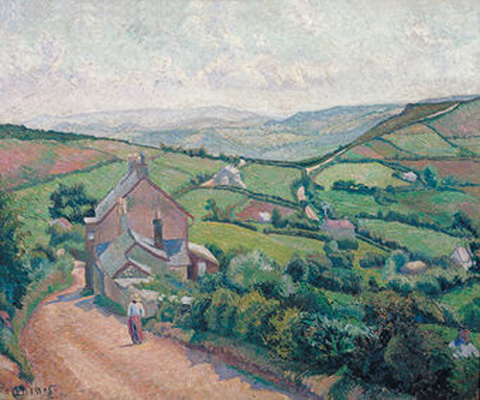 How the Marshwood Vale inspired the work of two great artists.
The hamlet of Hewood sits almost organically in its surrounding landscape, tucked neatly into the folds of the valley. Trees caress its sides, softening the edges of buildings and blurring the boundary between man and nature—a suggestion of the communal respect for this land that has been passed down through generations. The stretching horizon—so often blotted with pearly cloud—frames this scenery in a subdued, delicate light and outlines the undulating profile of distant hills. There is a pastoral timelessness in this place, striking both a sense of calm and flaring imagination; space to think and time to do. It was therefore little wonder that here, buried within these layers of green, two great artists and friends, Lucien Pissarro and Harry Banks, found their source of divine, creative inspiration.
Though he would eventually come to live in this small corner of the world, Pissarro was brought up far from the muddy lanes and thatched villages of west Dorset, instead growing up in a leafy suburb of Paris, the eldest child of the eminent impressionist painter Camille Pissarro (i). Between time spent in and out of his father's studio, Lucien became familiar with the artistic world through exposure to great talents, such as Claude Monet and Pierre Auguste Renoir—who both frequented the Pissarro family home(ii). It was almost inevitable that Lucien too cultivated a personal penchant for painting, initially developing a style similar to Camille and his contemporaries; employing thin, yet visible brushstrokes to depict the ephemeral beauty of dappled, changing light.
Following several trips to England, and a stint working for an art-publishing firm in Paris, Lucien moved to Chiswick, North London where he worked primarily in book illustration and was a founding member of the influential Camden Town Group of Artists(iii). During his years involved in both the London and Paris art scenes, Pissarro found himself emerged within a milieu of many other avant-garde artists, including Vincent Van Gogh and Paul Signac: who were both busy carving what would later be recognised as the new boundaries of modern, expressionist art. In fact, a rather rough, sketchy portrait drawn by Pissarro in 1887 is thought to be the only depiction of Vincent and his brother Theo—alluding to just how unrivalled Lucien's access was to other revolutionary creatives of this era(iv). Vincent also showed fondness to Pissarro through his own artwork, tenderly dedicating the painting, 'Basket of Apples' (1887) to "à l'ami, Lucien Pissarro(v)"—'to the friend, Lucien Pissaro'.
However, as someone who loved to paint outdoors, Pissarro grew restless of printing in the city and frequently visited properties in Essex, Sussex, Devon and Dorset to take inspiration from more natural subjects. His passion for rural scenery is apparent in the sheer bulk of his work produced during such stays, which feature bright, airy landscapes and endearing tree-lined lanes—almost symbolically representing his own impulses at the time, drawing him into the thicket of country life. Of all of these places though, it was the enchantments of Dorset's golden coastline, magical hillforts and steep, wooded valleys which pulled the strongest, and eventually lured Pissarro and his family permanently in 1914(vi).
After renting a crumbling cottage in Fishpond—from where Pissarro painted several wonderful pieces, including 'The Heather Patch' and 'High View, Fishpond'—the family finally settled in a handsome property in the secluded hamlet of Hewood. Hewood is one of those rare places that still today feels relatively untouched by modern times; with the whole hamlet under a group listing, it is a gem seldom known to the rest of the world. At the heart of Hewood is a small green, where you'll often find cattle and goats grazing, seemingly unaware of the centuries that have passed since the surrounding cluster of cottages was built. Pissarro's own affection towards the enduring charm of Hewood is translated in the plodding pace of rural life which he exquisitely captured within his work. Though still in their subject, the vibrancy of Pissarro's oils evoke a heady nostalgia for the bursting hedgerows and fleshy, ripe grass of summer's warm days. The sheer length of time Pissarro spent in Hewood is too a reflection of his enjoyment there, as he proceeded to paint the local landscape for 30 years, right up until his death in 1944; his daughter, Orovida allegedly rolling him out in his chair across the countryside in the frailty of his last few years.
During his time in Hewood, Pissarro was visited by various friends, including the talented etcher Harry Banks—whom he met during his involvement in London's printing scene. Banks enjoyed an esteemed career himself, exhibiting at the Royal Academy in Paris and America and also being selected to design the invitation for Edward VII's lavish coronation dinner in 1902(vii). Like Pissarro, Banks also found himself falling for the local landscape, moving into the neighbouring hamlet of Synderford, saddled on the banks of the bubbling River Synderford. With his exchange of the tidy streets of Chelsea for Dorset's meandering lanes, the focus of Banks's work shifted too, as he composed looser, subdued watercolours and atmospheric etchings to depict his new bucolic surroundings. Among its many patchwork hillsides and sunken paths, Banks—like Pissarro—also sought to record those who inhabited this land, setting up his easel in mucky farmyards and crackling wheat fields to observe the slow workings of rural life.
I often find myself wandering along the same lanes, which plunge down into the depths of the Marshwood Vale, thinking of these two artists—and every time I can't help but feel a tingling creativity inside of me. Though not as artistically blessed, my twitching fingers instead turn to write, in my best efforts to incarnate a similar awe of the unfolding landscape as those two men who curiously trailed these paths before me.
[i] https://en.wikipedia.org/wiki/Lucien_Pissarro – Wikipedia: 'Lucien Pissarro'
[ii] https://en.wikipedia.org/wiki/Lucien_Pissarro – Wikipedia: 'Lucien Pissarro'
[iii] https://www.christies.com/lotfinder/Lot/the-eragny-press-1640158-details.aspx#:~:text=In%201894%20Pissarro%20and%20his,the%20Fishes%20(number%20i) – Christies: The Eragny Press'
[iv] https://www.theartnewspaper.com/blog/vincent-in-conversation-with-theo-identified-as-his-companion-in-ashmolean-drawing – The Art Newspaper: 'Theo Van Gogh is identified in mystery drawing now on show in London'
[v] https://www.tate.org.uk/art/research-publications/camden-town-group/lucien-pissarro-r1105344#fn_1_1 –Tate: 'The Camden Group of Artists in context'
[vi] http://www.thorncombe-village-trust.co.uk/page34.html – Thorncombe Village Trust: Pissarro at Hewood
[vii] http://www.thorncombe-village-trust.co.uk/page68.html – Thorncombe Village Trust: Harry Banks