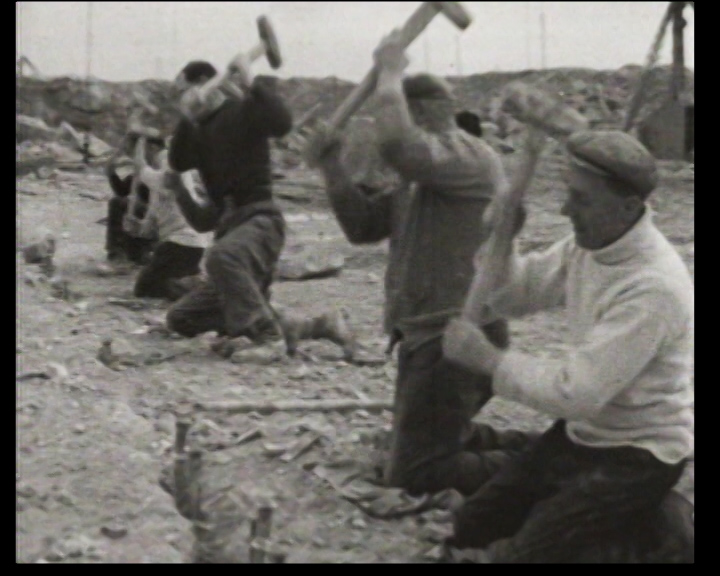 As Windrose Rural Media Trust's digitisation project, A Century of Sights and Sounds, continues to add old film and audio to the archive, Margery Hookings speaks to members of the team about their work.
In the good old days before Covid-19, when Windrose could put on films from its archive for a live audience, the charity's director Trevor Bailey always made a plea at the end of the show.
'If you have any reels of old cine film hidden in your attic, please get in touch with us.' It was a pay-off line that very often paid off. 'You have no idea what you're going to get,' he says. 'When a new reel comes along it feels a bit like Christmas.'
One of the gems was a 1945 film of Wimborne Market, which was one of the biggest livestock markets in the South West, ceasing trading in about 1972. Today, it is now one of the largest open and covered stall markets in the South of England, complete with multi-storey car park.
'The reels were in black bin bags,' Trevor recalls. 'The chap said, "if you don't want them, I'm going to chuck them out".'
Similarly, he remembers a woman approaching him after a show at Eype. She had been keeping a can of films for many years which revealed a fascinating portrait of village life in Symondsbury in the 1930s.
Windrose's James Harrison is now working on a major project to digitise the archive. Cataloguing is being carried out by staff of Dorset History Centre, where the charity's archive for all three counties is now stored.
He explains: 'We had to find a way of taking the material from the tape and preserving it in some format that is future proof. We hit on an idea where we are using a system called Preservica, transferring those files onto computer hard drives and then, from there, those files are ending up in the cloud. That means the footage is more accessible and there is more of a guarantee of us preserving it for the future.'
Windrose is also adding to the archive by making new films and audio capturing how people live their lives in Dorset today. As James points out, I'm part of the archive, chatting with Margaret Grundell at her ice cream kiosk on the Esplanade at West Bay in 2012 as part of the Forever Archive project.
James says: 'Maybe in fifty, a hundred or two hundred years' time, people are going to be still fascinated by how we lived our lives in this period that we're in at the moment.'
He is clearly fascinated by his work and says he could—and does—spend hours looking at them. 'No one makes a film to gather dust, films are meant to be seen. Looking at these old films too and seeing how these communities have changed is a positive. Nostalgia is lovely but we shouldn't look at the past through rose-tinted spectacles. You realise it was bloody hard work.'
The charity is something of a hybrid, preserving and creating film and audio and then repurposing it for other projects, such as stimulating the memories of people living with dementia or commissioning a new score to play along with a silent film, as was the case with the late 1930s melodrama, Dope Under Thorncombe, made by the Trevett family in and around West Bay.
These films and audio can be found on the Close Encounters page of the website
• My thanks to singing teacher Penny Dunscombe for transcribing the Portland Shanties film. If you would like more information about Windrose's film and audio archive and its varied projects, visit windroseruralmedia.org where some of the longer films can be purchased as DVDs from the website. Local films can also be found on Windrose's YouTube channel www.youtube.com/user/windroseRMT/videos
Portland Shanties
The Isle of Portland is full of great quarries which produce Portland Stone, the stone that St Paul's Cathedral is made of, and many other buildings. The film shows a gang of men working at a great area of stone and starting to split it at one of the natural faults. They do this by driving in wedges. It's very important that all of the wedges should go in together; so the shanty man—or gang leader—keeps the men in time; sometimes he just chants to them:
Ye-heh!
Thump 'im boys.
Knock 'im out.
Grain 'im out.
Will she come?
Must come.
There she goes.
That's it.
Hit him now.
Thump 'im boys.
Smash 'im.
Ye-heh
Thump 'im boys.
Knock 'im out.
Hit 'im out.
Knock 'im tight.
Ye-heh, boys.
Thump.
Crash.
Bang.
…
Knock it.
Hit it.
You're here, boys.
Out you go.
There she goes.
Ye-heh!
Bump.
Crash.
Knock.
… Ream.
Hit.
Out with.
Thump 'im boys. etc.
And sometimes, he'll lead the men in a song:
Roll the old chariot along
And we'll roll the old chariot along
And we'll roll the old chariot along
And we'll all hang on behind.
If the devil's in the road, we roll over him.
If the devil's in the road, we roll over him.
If the devil's in the road, we roll over him.
And we'll all hang on behind.
[When the gang leader is ready for his team to stop, he shouts "Hey!" and all stop simultaneously.]
Now, here's a great lump of Portland stone, to be shifted by jacks. All the jacks must push on the stone together, so the shanty man strikes up.
[As the shanty man sings—inaudible, but the word 'round' occurs frequently—the men rotate the jack handles as the stone moves slowly forward. When it has moved as far as is needed, the shanty man shouts "Up jack!"]