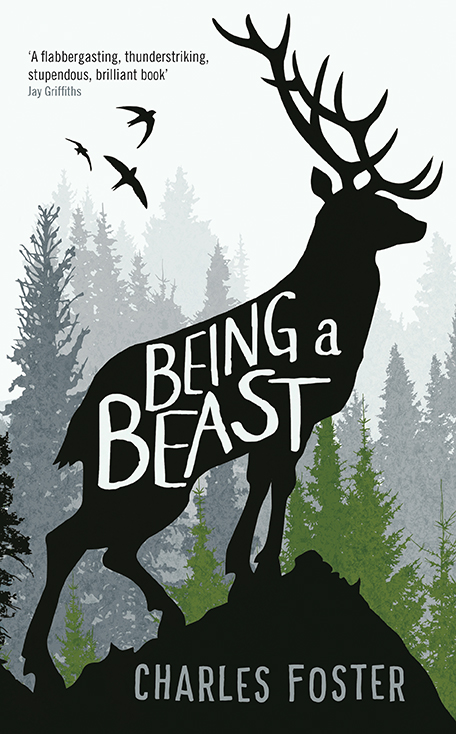 To research his new book Being a Beast, Charles Foster tried to perceive the wild as it is perceived by animals. James Crowden, who talks to him at this year's Bridport Literary Festival, looks forward to a better understanding of life on four legs.
Dorset is no stranger to Beasts both real and imaginary. Do you remember the Beast of Broadwindsor? or was it Beaminster Tunnel? These stories are fuel enough for our imaginations, though sightings often have to be taken with a pinch of salt. What it shows is that our capacity to believe in beasts is enormous and that beasts are usually black and sinister which adds to the mythical dimension, and says more about our powers of perception and credulity than basic biological facts and the process of evolution. Medieval bestiaries are also a common source of myth and misinformation. So to return in modern times to five common beasts with an altered but very alert and curious state of mind is intriguing.
Charles Foster who is appearing at the Electric Palace in Bridport as part of the Bridport Literary festival is no beast, though he is, I fully admit, a bit eccentric. I have known Charles a good number of years and first met him in a pub in Somerset whilst discussing the merits of local cider and the virtues of camels. Charles lectures in medical ethics at Oxford University and is a fine upstanding fellow of Green Templeton College. Part barrister, part vet, part Oxford don, he has gone, not just native, but very wild, mostly in the Westcountry, living like a beast. Sometimes with his family and six children who are as he says 'his greatest tutors'.
Charles's latest book, Being a Beast is brilliant, witty and earthy but has alas nothing to do with black panthers or Conan Doyle's vivid imagination. It has more to do with badgers, otters, foxes, red deer and swifts, as well as animal perception and neuroscience. Charles Foster has a deep and infectious desire, rather like Darwin, to understand the environment in which we live and to this purpose he has spent many years exploring the intimate world of sound, smell, taste and touch from which humans are normally excluded by trying to live as close to the ground or water or sky as he can. He lived, rootled and ate by night and slept by day. True Oxford don material you might say or Rogue Male?
But to Charles's credit this is no publicity stunt, though films are in the offing. Foster gives us a new, radical type of nature writing—seeking to perceive the wild as it is perceived by animals, rather than merely describing the writer's own incurable human reconstruction of the wild. This is no PhD but a remarkable diary of events where he tries very hard indeed to get under the skin of the beast and ends up thinking like a badger, thinking like an otter, thinking like a red deer, thinking like an urban fox, thinking like a swift. So he has lived in a hole in a Welsh wood to study badgers; tried to catch fish with his teeth in Exmoor rivers to study otters; lived like an urban fox, eating low grade pizza out of bin bags in London's East End; been hunted by bloodhounds across the Quantocks to find out what it feels like to be a red deer and has obsessively followed migrating swifts from outside his study window in Oxford all the way to Africa. A high flyer you might say.
Foster uses his sense of smell, taste and hearing much more than we normally do. He even had an interesting interchange with a policemen when he was caught sleeping under a city bush in broad daylight and said that he was 'trying to be a fox…' The constabulary were not amused and thought he was 'barking'.
Foster reckons that we are all 'disastrously and boringly locked into vision—and hence abstraction—as a result of our bipedal ancestry,' which means the evolutionary process where we started to walk upright on two legs instead of four. A technique used to see over the long grass of the savannah and hunt for game, a million or so years ago which increased our reliance on vision and has denied us many other ways of interpreting the world. Reliance on television, which is, by the way, banned in his own Oxford home, only adds to this demise. As all soldiers know you learn to use your ears at night on patrol and slowly hone in your night vision. Sniff the air and remain alert.
Charles Foster has just been awarded a curious but very prestigious honour at a ceremony held at Harvard University—joint first prize in Biology for his book 'Being a Beast' at the 2016 Ig Nobel prize: a kind of humorous yet deadly serious version of the real Nobel prizes. The prizes have been awarded since 1991, with the stated aim to "honour achievements that first make people laugh, and then make them think". Charles shares this with the Alpine Goatman Tom Thwaites.