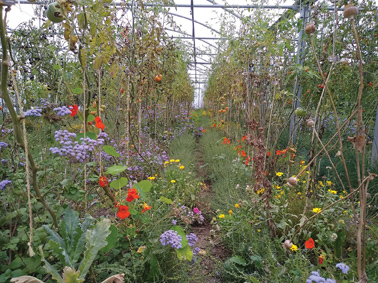 It hasn't been an easy Spring so far, but the change in weather in mid April has helped out a lot. We have had huge losses on our early plantings, as they sat in cold, wet soil being eaten by the slugs, however this has improved and we are having the joys of harvesting some of the overwinter polytunnel crops like sugarsnaps and some of the early sowings like pak choi, radish, spring onions and spring garlic too.
May is a big month as a vegetable grower, with continued sowings and a lot of planting to get on with, so we are hoping for good weather so that we can crack on with cultivating in the field and planting in uncultivated beds in the market garden. We are aiming to not cultivate at all in the market garden this year—using thick silage plastic to cover beds and kill off weeds and old crops. The new field that we took on last year is a different sort of scale and will rely more on tractor cultivations (albeit shallow) partly due to the weed pressure in the field with things like couch grass and docks that can be controlled with cultivation. We will be undersowing most of the crops with a diverse mix of green manures including white clover, yellow trefoil, buckwheat, linseed, phacelia, millet, oats and a few annual flowers too. This should help to alleviate any damage to the soil that is inevitably caused by cultivation, as the green manure crops build associations with soil life and build healthier soils. We aim to not invert the soil by ploughing in the field, as this can be much more damaging and on our heavy clay soil can easily lead to smearing and drainage issues. However, we will just have to see whether we can keep in control of the weeds and kill off old crops by just shallow cultivating and not ploughing.
May is not only a busy month of planting outside, but also a time of transition in the polytunnels as we take out winter crops and plant with summer crops like tomatoes, cucumbers, peppers, aubergines and french beans. To make the most of the bed space in polytunnels we tend to clear the odd outer rows of the beds and middle rows too, replacing salad that has become less productive with quick growing early crops like radish, pak choi, chinese cabbage, kohl rabi, beetroot, chard and spinach, lettuce and fennel. Most of this is planted though March, but crop though April and May, and then the summer fruiting crops mentioned above can be planted around these so that they can establish whilst the the quick growing crops mature and can be harvested to make more space for the summer crops to grow into once the weather warms up. These intercroppings make the most out of the space, so that crops can get their roots established in the soil, but whilst they are slowly growing and there is space in the beds for other quick crops it makes sense to double crop the space. When space emerges after harvesting some of these quick crops we will plant flowers to grow in between the tomatoes and cucumbers. This will help to keep a more diverse range of living roots in the soil, encouraging a diversity of soil life, whilst also encouraging pollinators and other beneficial predatory insects that will help to maintain a more balanced environment inside the polytunnels. We use things like Limnanthes douglasii (poached egg plant), cornflowers, dill, coriander, calendula, tagetes amongst others. Some of these are also edible and look great in salads—but make sure that you check which ones are edible before eating them (calendula, cornflowers, nasturtiums, dill, coriander, tagetes are all safe)
There is still a chance of late frosts through May, so don't be caught out by the warmer weather—keep the fleece to hand to cover any tender crops if temperatures look like they might drop to around 0 degrees.
WHAT TO SOW THIS MONTH: kale, forced chicory, carrots, beetroot, chard, successions of lettuce and other salad leaves (not mustards and rocket —these will bolt too quickly now and get flea beetle), autumn cabbage, successions of basil, dill and coriander, early chicory – palla rossa and treviso types, cucumbers (for second succession), french and runner beans, courgettes, squash and sweetcorn if not already sown.
WHAT TO PLANT THIS MONTH:
OUTSIDE: salads, spring onions, beetroot, chard, shallots and onions from seed, courgettes, squash, corn, kale, last direct sown radish early in the month, french and runner beans
INSIDE: If not already done—tomatoes, peppers, aubergines, cucumbers, chillies, indoor french beans, basil
OTHER IMPORTANT TASKS THIS MONTH: Keep on top of the seed sowing, but don't sow too much of anything—think about sowing successionally. Keep on top of hoeing and weeding—ideally hoe when the weeds are just starting to come up on a dry, sunny, breezy day.
For more information about our veg bag delivery scheme go to www.trillfarmgarden.co.uk/boxscheme.html. We also run veg growing courses and offer discounts to those local to us, for more information check www.trillfarmgarden.co.uk/courses