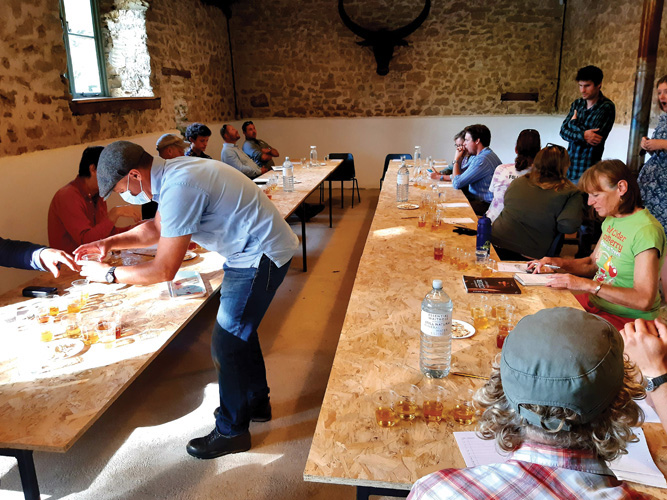 Over the last hundred or so years Dorset has not been considered one of the cider counties like Devon, Somerset and Hereford, but there is a legend that it was the first county to start cider making before the Norman conquest when French monks brought the apples and technique to Loders, close to Bridport. The Dorset soil isn't all suitable for fruit growing, so orchards tended to be small local enterprises; despite that, it became a cider county for centuries and is becoming so again with at least twenty cider makers. There are no national cider brands in Dorset as in Somerset and Herefordshire, but Taunton Cider planted large orchards near Bridport run by Rupert Best.
In 2007 one of the mainstays, Nick Poole, started on a mission to find as many lost Dorset apples that he could, and teamed up with expert Liz Copas, former Long Ashton Research Station scientist, and pomology advisor to the National Cider Makers Association. Before the war, P.T.H Pickford was the Cider Orcharding Advisor at Long Ashton and wrote an article on the Dorset cider industry in 1938, so Nick and Liz researched Pickford's article on the orchards' whereabouts at the time, as well as reading some Thomas Hardy books showing there were many orchards in the Blackmore Vale. They also perused Dorchester's History Centre maps indicating almost every village that had orchards around it. Sadly, most of these were lost in the 60s due to grants for building on 'surplus' land, therefore destroying many old apple trees, leaving only road names like tombstones such as Old Orchard Way and Apple Tree Close.
The travels turned up a few Dorset apples in the first year, mostly sharp or bittersharp, such as Warrior and Ironside, pointing to the old Dorset taste buds preferring more acidic thin cider. Some varieties found south and west in the county were Golden Ball, Golden Bittersweet and Cadbury, all yellow, but with distinctive and less bitter flavours. Plus a bittersweet called Loders—possibly one of the first apples? All the apples found were sent for DNA testing and most of them were pure Dorset varieties, meaning there are at least thirty eight unique Dorset cider apples. A fantastic number when you consider that most large cider makers usually use about four varieties! Nick and Liz also took parts from any worthy trees for propagating, the 'fruits' of which are distributed throughout the county to small orchards and enthusiasts.
Nick and Liz chose twenty-two apples which they considered the best for single variety ciders. Nick spent some months collecting the apples and making them into small batches of cider, which were ready to taste by spring 2020.
I was delighted to be asked to join the cider elite at the tasting. Of course, the first date had to be cancelled due to Covid restrictions, but another was arranged at the end of September. Around twenty people, ranging from Liz to local cider makers to writers, to purveyors of cider, and myself, gathered in a barn in Rupert Best's orchards which also contain many old Dorset trees. We sat at big tables, on which were pens and comment sheets, plus six glasses of cider, with a sign saying 'Do not drink'! I took my book by Alan Stone In search of Cider which covers local cider makers in the southwest and had pieces on the makers who came to the tasting, as well as many of the varieties Nick and Liz found. When we were allowed to drink the ciders we were asked to score them out of ten, and I was surprised how good these single varieties tasted, many lost for years in forgotten orchards. We were told the apple names and the village or area where they had been found: such as Hains Late sweet from Marnhull, Gollyknapp from Puncknowle, Golden Ball from Netherbury, Maiden's Blush appropriately from Maiden Newton, and Marlpit Late which Nick grows at West Milton. Many varieties have lovely evocative names like Fillbarrel, Cap of Liberty, Pig Snout and Slack-ma-Girdle.
We were very impressed by the ciders, many of which are light and fruity and not too high in tannins, which is the sort of taste and flavour that drinkers prefer these days. The general consensus from our scores was that Winter Stubbard from around Nettlecombe and Tom Legg from Marnhull were the most flavoursome. Winter Stubbard is a late fruiter as the name implies and is a very old apple found on West Country farms. Tom Legg is a mid-season sweet apple with the attached comment 'could be a useful variety'.
After a ploughman's, a few of us tried other ciders from the end of the barn and found them to be nearly as good, apart perhaps from Rough and Ready! The local cider makers were keen to grow some Dorset trees; as they are young they should see the trees produce enough crop for some cider, and could mix them with other apples. Most ciders are made of a mixture of apples, although some such as Kingston Black and Dabinett are often single variety drinks.
It was a fascinating afternoon and good to see the enthusiastic locals wanting to rejuvenate Dorset cider apples. That and the update of her booklet on lost Dorset cider apples that Liz is writing leads Nick and all concerned to hope that Dorset will become a great cider county again.