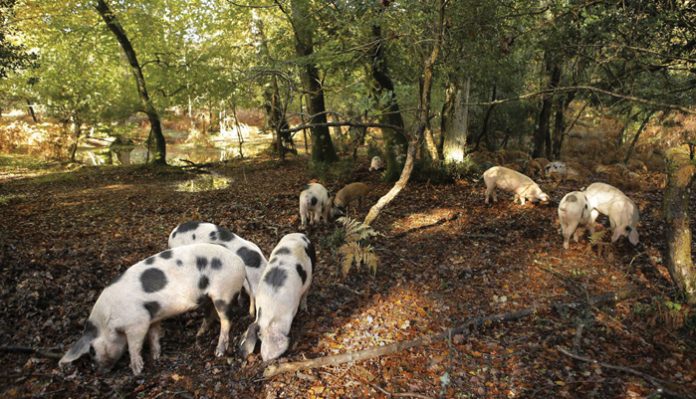 CAPREOLUS Fine Foods, the award-winning artisan charcuterie business founded and run by David and Karen Richards at Rampisham, has launched a remarkable new product which has been created from the 1,000 year old tradition of Pannage (the commoners' right of Mast) in the New Forest.
Working with New Forest Commoner and farmer Jonny Burrell, David is producing New Forest Pannage Ham, and has applied to the agriculture and environment ministry, DEFRA, for the new GI (Geographical Indication) accreditation, which replaces the EU's PDO (Protected Designation of Origin).
The new product is genuinely unique—although essentially it is an air-dried ham, it has a delicate but delicate but deeply flavoured taste which is earthy and slightly smoky. David Richards believes it is a worthy English rival to Spain's Jamon Iberico.
Pannage is the right of New Forest Commoners to let their pigs out on to the forest in the autumn-winter season to eat acorns and beech mast. It is a beneficial right for the commoners in terms of "free" food for their stock and a safety measure to protect the New Forest's wild ponies and commoners' cattle from being poisoned by eating acorns.
David has written the specifications for the GI application. There is no single pig breed used for the production of New Forest Pannage Ham but most are traditional English rare breeds, including British Lop, Gloucester Old Spot, Tamworth, Oxford Sandy & Black, British Saddleback, Large White, Middle White, Large Black, Berkshire and British Landrace. Pannage used to be common throughout the UK but now only continues in the New Forest. Eating acorns leads to a firmer, darker and more 'gamey' flesh than that from pigs raised under modern farming conditions.
The New Forest—Nova Foresta—was founded by William the Conqueror in 1079 as a royal hunting forest. Hunting—mainly deer and wild boar—was doubtless enjoyed by the Anglo Saxons, the Romans and others, but it was the Normans who were most obsessed with it. Under the Norman kings, large areas of the countryside, particularly in the southern half of England, were designated as "Royal Forests" (also Kingswood) with forest laws applied to protect the venison and the vert (the greenery that sustained the deer). The major surviving forests are the New Forest, the Forest of Dean, Sherwood Forest and Epping Forest; in the West Country, there were royal forests on Cranborne Chase, around Gillingham, Mendip, Selwood, and both Exmoor and Dartmoor.
The new Capreolus product will have a relatively short annual season, dictated by the duration of the pannage season, which in turn is linked to the volume of acorns—last year the season was extended because of a heavy harvest. As David says, 'When it's gone, it's gone.' For a unique taste of old English oak and traditional English pigs, look out for New Forest Pannage Ham at your local deli or farm shop or on restaurant menus.