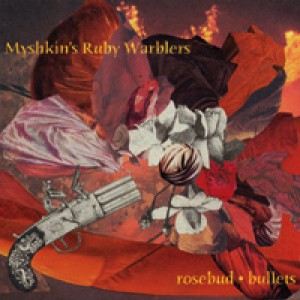 HAUNTING melodies and a voice that sounds like it should be floating across the Seine on a warm Parisian summer's evening, are just two good reasons for checking out the Rosebud Bullets CD by Myshkin's Ruby Warblers.
Although over a year old, the album by the New Orleans based chanteuse showcases a rare and unique talent. Raised in Indiana, Myshkin stole her name from Dostoyevsky and moved to New Orleans, where she has made quite a name for herself as a singer and song-writer. She has been described by Time Out magazine as 'fiercely talented and elegantly skewed' and her music lauded as 'a marriage of punk's irreverence with the refinement and emotion of the jazz torch singers of old…an exhilarating musical ride." By the New Orleans Times-Picayunne.
Although not immediately accessible, Rosebud Bullets takes its inspiration from jazz, punk, rock and folk, crossing genres with transparent ease. Myshkin's voice gently glides through the outer reaches of the subconscious, steadily picking off threads of emotion like a well-trained raiding party, before whisking the listener away to a plateau with a sheer drop on every side. Highlights of the CD include Ruby Warbler, where Myshkin drags fingernails across her soul to let deep cuts from her past drip into lyrics like; "And I had a motto/I'd try anything twice/and if it was still hurting and wrong/I'd keep trying till I got it hurting right". The galloping King of Kankakee similarly touches on the battle to understand the thread-bare ladders and sheer drops that determine the path of life for those that roll the dice. "You were the king of Kankakee/You play the horses just like me/Pick a long shot for a winner/slap your dollar on the counter/Throw your heart onto the track/To be all trampled into splinters." The powerfully angry Rosie spits a racing Celtic fire into a dirge about a discarded woman. She holds the listener by the throat to make sure they get the point. Myshkin sings her heart out – literally, with a voice that is as diverse and expansive as her song writing – and Rosebud Bullets, obviously born out of great pain – is a masterpiece.