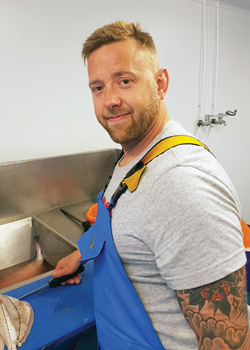 Scraping himself out of bed at 4.15am each morning, Tim Edwards is away from his house in Bothenhampton and at work, just outside Weymouth, by 5am. He owns West Country Catch, with his wife Lou. They supply the best fresh fish to restaurants and wholesalers in and around Dorset, Devon and Somerset. They source their fish from Weymouth, Portland and Lyme Regis boats, as well as from Brixham, Plymouth and Newlyn day boats. Tim works 'on the knives' preparing and filleting the fish for their clients, to order. Lou organises everyone and manages the office, also greeting the customers buying direct from them on-site.
By 6am, Tim has sent the delivery team out on their routes and the fish arrives from the markets and off the boats by around 7.30am. Ninety percent of their fish and shellfish comes from the South West and could appear on your plate at restaurants such as Hix Oyster House in Lyme Regis or at pubs like The Three Horseshoes in Burton Bradstock. Tim and his team ensure they get it right for their customers, working hard to establish their business which has been running for six years.
Tim usually works till 3pm each day, but during busy summer months he can be filleting for 14 hours. Easy it isn't, but Tim is used to working hard. And with Lou at his side they are proud to be working together, building a future for themselves and their two children. Both have a background in the food industry, Tim as a chef and Lou front of house. They have learnt the ropes a few times over.
Lou jokes that Tim could be mistaken for a pirate with his muscly tattooed arms, West Country accent and hard stare as he rushes around during the dark early hours of the morning. However, his physique is a reminder of one of the other great loves of his life; rugby. Tim used to play for Bridport and still follows the game religiously. He ensures he is in the pub for every England game, enjoying the camaraderie with other current and veteran players. At home, Lou handles the cooking, creating restaurant quality food for the family. However, with a new enormous Braai BBQ in the garden, there is a rumour circulating about Tim dusting off his chef skills once more… it will have to wait though, until after the rugby season is over.