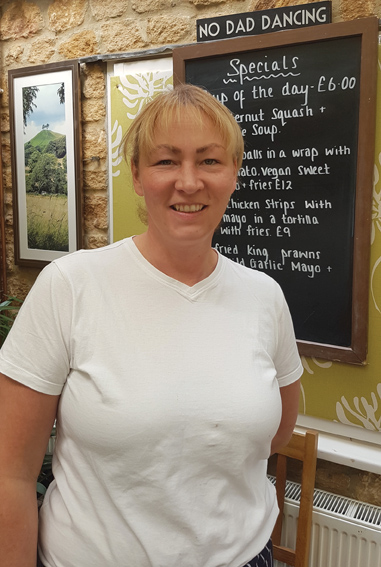 Fancy a pint by a tuneful stream on a stretch of grass opposite a thatched pub, oozing rural charm? This might be just the spot for you. Landlady Marie Childs runs The Fox Inn in Corscombe with her husband Shane. This is their seventh year running and living at the pub, in the village where Shane grew up. Marie works in the kitchen alongside Aleisa the head chef. Shane man's Front of House with bar manager Sophie. A local's drinking haven, the pub also is renowned for its food and finds itself of many people's dining destination wish lists. With an inglenook fire to snuggle up next to or a light conservatory to dine in, this is a traditional Dorset pub, with wafts of ingrained wood smoke and something delicious from the kitchen, drawing in those who step through the door.
Marie's childhood was spent growing up in a pub. She has worked in all manners of hospitality and even car sales, but the lure of the pub drew her back to run her own. Her passion for food nudged her towards the kitchen, while she was looking for a sous chef decided she would fill the role herself. A few NVQs in catering later and she was qualified to help Aleisa on a day to day basis. They have a weekly changing specials menu and a seasonal dining menu that changes quarterly, as well as the staples like fish and chips, burgers and steaks. Marie's favourite day is when they plan the menu talking recipes and food. She has an extensive cookery book collection which she often refers to and peruses for pleasure in the little spare time she has.
Also taking up some of Marie's attention are her two dogs and horses. She rides each morning, something she's done since she was 9 years old. It sets her up for her day of split shifts in the kitchen. As well as cooking for the pub Marie also prepares meals for Shane and her two sons. One is grown up and "part-moved out" and the other is thirteen and still at home. But each Monday there is always an extended family meal where everyone gathers at the table, usually with hot buffet style food that Marie has made. She prefers food which can be grazed on, amongst chatter and catching up, just the way it should be.