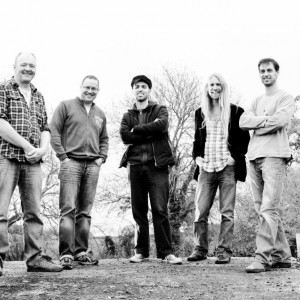 Although very much a local band in the West Dorset music scene, The Sidekicks have taken their unique brand of party music throughout the country thanks to word of mouth praise for their gigs over the last ten years. In fact the band was born thanks to the busking efforts of founder members Laurie Higgins and Sean Geraghty who wanted to subsidise a trip to France more than ten years ago. On returning they decided to keep the process going and began appearing as a duo. Their first gig was the second live event at the then recently opened No 10 in Bridport's East St, on 11th September 2001.  It's fair to say their British debut was slightly overshadowed by other global events.
That Christmas Eve the duo were offered a one off gig if they could put a full band together. They did, and with no rehearsal the (nameless) band came up with a list of possible tunes on the spot, played a storming ad-libbed 2 hours and several gig offers followed. The band gigged for the next three years before deciding a rehearsal might be a good idea.
Often sets would feature songs discussed verbally and launched into on a nod and a wink. This approach offered a freshness to a variety of styles as the band mixed rock, reggae, funk and soul into an ever expanding repertoire.
Because band membership was originally fairly loose Sidekicks gigs offered opportunities to an avalanche of local musicians who were thrown in at the deep end. Familiar faces still feature in the line up as the band evolved into an established act.
The 'keepers' turned out to be the master-guitarist Dan Anderson, originally a blues-man with his band 'Motel 6'. Thomas Hughes, who's individualistic talent and customised Hammond organ first astounded locals with the psychedelic legends 'Gothic Chicken', who only just resisted the temptation to drive his car into a swimming pool to mark his debut.
The Sidekicks personnel has to date featured one lead singer (with one absence), six Bassists, eight guitarists, six pianists, six special guests and 25 drummers!
Founder member and vocalist Sean Geraghty remembers some of the close shaves: "Due to a drummer implosion, Andy Hancock got the call to fill the hotseat two hours before a crucial gig in October 2006. He has quietly (for a drummer) stayed on board for five years and has recently lost his junior member status by actually appearing in recordings and photographs."
Over time the band has learned the art of survival, while struggling with the horrors of trying to sell themselves. Regular rehearsals have actually taken place, a web-site has been maintained which this year will be fully updated with new recordings.
Despite having no management or direct representation, the band continues to appear regularly, with bookings currently extending to November 2012.
They have lugged their equipment through muddy fields, up flights of stairs, in and out of barns and marquees, endured electric shocks, power-cuts, crashed their cars (2 in one night) been floated around the Isle of White on a vintage steam ship a few times, somehow headlined a graduation ball or two and provided the soundtrack to many marriages, birthday celebrations and public events.
Knocking over a cake at a wedding was Sean's personal moment of horror. "We were invited back to play at their anniversary party a couple of years ago. She said they'd laughed about it, which almost lifted seven years of guilt and self-loathing.
"We have been truly heartened by the positive feedback and the friends we've made through simply doing our thing. We keep our fingers crossed that we can continue to work together in the same good humour and spirit.
"The ranks of deputies continued to swell with a guest drummer in the summer, (number 26) acquitting himself admirably with the tried and tested tradition of no rehearsal.
"We have developed a certain expertise in the one-off events as a result of our experiences. We have become friends, and have all helped each other out at various times extending way beyond musical matters. Most importantly we still enjoy playing together, the band is a part of our everyday lives, it would be intolerable to work together this long and under the subtle pressure that gigging brings without finding a way to get on. The friendship seems to follow on from that, even when things get stretched we seem to handle it through co-operation, good humour and civility."
The band have just recorded a great rake of songs to put on the website, www.thesidekicks.co.uk, and  recently bought a pro PA system to take on the bigger venues.
In typical fashion Sean is philosophical about the past, present and future of both the band and the music saying: "It's best to enjoy music live and loud, feel the whole thing come together, dance or listen or whatever. As long as people get something positive from us at that point in time then we know we've done our part, and that makes all the difference. If that moment is your wedding day or your birthday party and clients have moved heaven and earth to bring their loved ones together, we know what's expected from us, and we take it seriously—even if it looks like we're just having loads of fun."
As a trio the band play The George, Chideock, February 18th. Quicksilver Mail, Yeovil, April 13th and The Royal Oak, Drimpton, May 5th.
The full lineup appears at The Maypole Inn Thurloxton, nr Taunton, May 18th and the Ropemakers Bridport, May 27th.
To contact the band visit
www.thesidekicks.co.uk