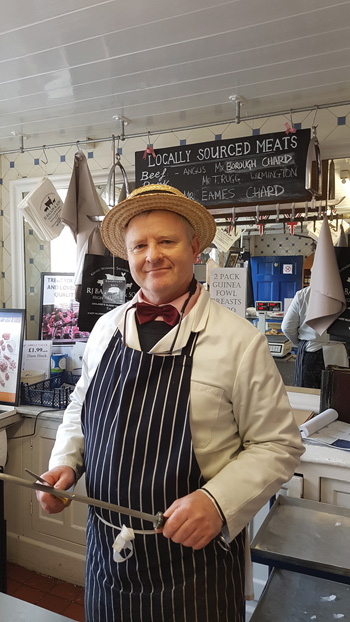 From waking in his bed as a child and hearing the thump thump on the butcher's block in the shop below to wielding the meat cleaver himself, Richard Balson knew from a young age he would follow his father and grandfather before him and become a butcher. Famously this family butcher, R J Balson and Son in Bridport, has appeared on all manner of media due to their accolade of being Britain's Oldest Family Business—503 years of trading and counting. But this wasn't what concerned Richard as he raced through the shop and out to school as a young man. Then, it was sports and carpentry which garnered his interest.
Open at 7am ready for the early customers, of which there are a surprising amount, Richard runs the shop with his French brother-in-law and ex-chef Rudi Boulay. A great supporter of local suppliers, Richard is proud that his local meat can be sourced from field to fork. Richard also specialises in making his own sausages, 20 varieties, many award-winning, and still makes his own faggots. Supplying local restaurants, pubs and hotels, Richard and his team, made up of family members, are a main stop for locals on their shopping round. Friendly, cheeky and all smiles, the shop is often full of chatter as customers share stories and banter with Richard and Rudi. They are proud of their traditional butchers' premises and the family thrive through hard work and the loyal custom of Bridport's residents.
When not at the shop, Richard spends time at home with his wife Allison, up the road in Symondsbury. Together they helped build the house they live in, making a building pair to be reckoned with. Richard's continued love of carpentry and can-do attitude meant he demolished the previous building with his bare hands and a Land Rover. And Allison's love of power tools continues to come in handy. Organiser of the Symondsbury Fete, Richard loves car boot sales as well as antique and second-hand shops. He is also a keen participant at Beaminster Walking Football; is a member of his local skittles team; part of the Symondsbury Mummers and plays the occasional game of golf. But what really makes Richard most happy is getting out into the garden with his grandchildren, seeing what the vegetable patch has produced for them all, and sitting around a table together to enjoy the results.