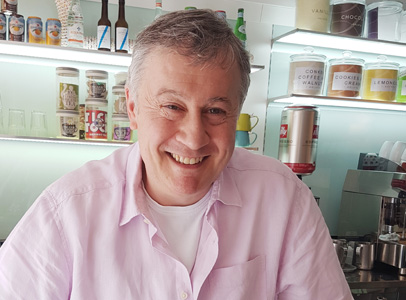 As his name suggests, Giuseppe Bosi, owner, with his wife Suzanne, of Gelateria Beppino in Bridport, has roots in Italy. But, he is, in fact, a Londoner, born and bred in Lambeth. Raised in the Italian restaurant trade with his brother, once they left school both boys joined the family firm; a restaurant in Soho, London. There, he stumbled into Suzanne, who was selling theatre tickets on the same street. Working in the busy basement restaurant Giuseppe learnt all aspects of the food business, finally leaving the family's embrace after twenty-five years, to run a large Italian delicatessen in Putney. Years later, having given all they could to the commute and long working hours, the couple decided to sell their house and move with their teenage daughter, to the town that stuck in their memory, ever since they'd been on holiday there.
Renting a house in Waytown, Giuseppe worked at Elwell Fruit Farm, spending two seasons there. But really, he was biding his time, waiting for the right property to come available for his own enterprise. And finally, it did. Falling in love with the building on South Street in Bridport, Giuseppe and Suzanne completely refurbished the property, converting it from a restaurant to their inviting gelateria, with private living quarters at the back.
Giuseppe makes the gelato, a lighter and creamier tasting Italian version of ice cream, sourcing ingredients with an attention to detail he is proud of. Giuseppe uses local raw milk to make his gelato, which he pasteurizes on site. Local gooseberries are whipped into cheek-popping sorbet, fragrant honey is delivered by beekeepers, still in their suits, straight to the cafe. They go further afield, to Amalfi for their lemons, Piemonte for hazelnuts and Sicily for pistachios. Suzanne makes all the cakes and pastries before the café opens. However, if it's hazelnut gelato making day Suzanne might be spotted sneaking to the freezer, just for one little spoonful, or maybe just one more after that—it's her favourite.