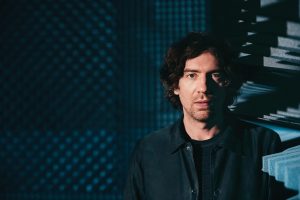 After a seven-year gap since their last studio album, Snow Patrol are about to tour with their new release, Wildness. The band, whose early hits include Run and Chasing Cars are fired up with enthusiasm for a mammoth tour.
Gary Lightbody talked to Fergus Byrne about why the new album is a breakthrough in so many ways.
When Gary Lightbody first formed the band that would later become Snow Patrol, his father wondered why he didn't get a proper job. He wasn't the first and probably won't be the last parent to voice that question. However, he is one of the few that got the opportunity to see their child's 'little University band' achieve real success, and in time, to understand what it was that his son was trying to do.
In a poignant video for the song Soon from their latest album, Wildness—a song about Gary's father's Alzheimer's—we see film of him leaving his home in Bangor in Northern Ireland to get the ferry to Scotland. His father's voice in the background says: 'There's son off to Scotland to make his fortune'. Later, before the first bars of the song's haunting melody begins, there is a blurry shot of the ferry as it makes its way out to sea. His father muses 'Here we have the next stage of Snow Patrol's flight to Scotland'. The underlying pain in his father's voice and the helpless uncertainty in his words are laced with the suppressed emotion of a parent losing their child. It's made all the more poignant by the fact that his father would later lose the ability to conjure up and share those memories.
But Gary remembers the day they made the video for the song as 'up there, at least in the top five days that I've ever spent with my Dad', even though it is a heart-wrenching collage of old family VHS, interspersed with film of Gary and his father watching it together as they also look at old family photographs.
He admits that they were 'estranged' through much of his teenage years, simply because their two worlds were so different. 'I had got into rock n' roll, and it wasn't his world, and he didn't understand it' says Gary. 'It was a struggle for him to get his head around what the hell I was doing.' Especially, he laughs, as for the first ten years there were no hits. But, like many estranged relationships, they managed to rebuild an understanding. Achieving some success, playing in bigger venues and playing at home in Ireland—where his father came to see them—helped heal the father/son fracture.
On the day that they shot the video for the song, they shared what Gary describes as 'a connection that I never truly had since I was a boy—that feeling of oneness. He became the Lion again—rather than what's happening now.' In the lyric, Gary sings about the possibility that one day he will understand that feeling of forgetting. 'Soon you'll not remember anything, but then someday neither will I.' He admits that while writing that lyric he was aware that one day he might fall victim to the same disease himself, but that was more of a side thought. It was more about kinship and understanding. 'It was more to connect the two of us' he says, to feel 'empathy, not just sympathy.'
After forming a band on their first day at The University of Dundee, Gary and his fellow musicians undertook the same torrid journey that thousands of other bands followed. Band members' left, new ones joined, and some were fired, while throughout their early recordings, the name changed twice. They were signed by a record company and dropped, then later signed by another. Gary remembers one occasion when they arrived for a gig to find there was literally only one person in the audience. For Snow Patrol, like so many others, it took many years before they achieved the industry's legendary 'overnight success'. Songs such as Run and Chasing Cars showed a song-writing depth and musical power that began to draw a loyal fan base, eventually seeing the band produce a string of number one albums.
But despite the success and the excitement of touring and playing in front of thousands of appreciative fans, Gary was battling his own demons. He has often admitted he suffered from depression from a young age, and although he says he has never been suicidal or tempted to self-harm, he has put voice to the fact that at times he wondered if it would be better not to be alive. Although that thought is a distance from contemplating suicide, it's a short road.
However, it is a long way from where he is today. 'How I feel right now is light years away from how I felt at certain points making the record, or at certain points of my life since my teenage years' he says. 'I've struggled with it. I know a lot of people do. In teenage years a lot of things are shifting, not just physically but mentally too. We sometimes carry some things that maybe don't need to be carried. I did a lot of that. I'm not a hoarder for physical things, but I'm a hoarder in my mental life. I will just keep the things that seem to wound me around for ages, like harmful souvenirs. And in the last few years, I have just done my level best to try to remove each one of those things as they come up. With sobriety, I was able to do that pretty successfully. Obviously, it's an on-going process; you can't just rub your hands together and say that's me done now.'
Since the release of Wildness, Gary has talked openly about his struggles with depression and alcoholism. He doesn't want to be a spokesperson for mental health issues or the many abuses and diversions that exacerbate such problems, but with the release of Wildness, he wants to show that there is a way forward. 'I see it everywhere, in friends, in family' he says. 'Everybody struggles with their mental health in some way.' He feels he has gained enormously from having changed his lifestyle and taken the opportunity to talk with people about the problems that, as a boy growing up in Ireland, you simply didn't talk about. 'Almost the avoidance of it is the problem' he says. 'That's what I'd felt for years, and that's why I didn't talk about it until I was forty. I wish I'd done it sooner. It's liberating.'
That liberation and positivity comes through in the overall feel of Wildness. Gary explained that, though it took a long time to make, it was a labour of love. It's all about moving forward and the fact that it is possible to pull away from the demons that drive some people to darker places. 'It's not a record of sadness, not a record of wallowing, not a record of depression' he says. 'It is a record about trying to find a way out of that. It is a joyful record, a hopeful record. It is born maybe of sadness, but it doesn't linger there, it doesn't dwell there. It isn't a record that is immersed in that sort of lowness. There's so many high parts to it, so many uplifting things in it.'
It is also a record that showcases the power of Snow Patrol's music, something that is always so apparent in their live shows. On January 27th the band will play at the Bournemouth International Centre. It's part of what people tend to describe as a 'gruelling' tour of travel and performance with little downtime. However, Gary doesn't see the extended road trip as gruelling as people make out. 'It can be pretty tough going if you are under the weather' he says. 'But if you're not under the weather it's a joy. It's better to be playing most nights. It's much better. You build up a head of steam; you build up momentum, you're more comfortable on stage, you get a flow going. There's dynamite in that. I'm really looking forward to it.'
After the English, the Irish and European legs of the tour they are off to South America, the USA, then the festivals and then Australia and the Far East. The tour takes the band into a series of gigs at the end of next year where they hope to play some special gigs to celebrate their 25th year as a band. Maybe even play some smaller more intimate gigs. In the meantime now is a good time to take the opportunity to see them.