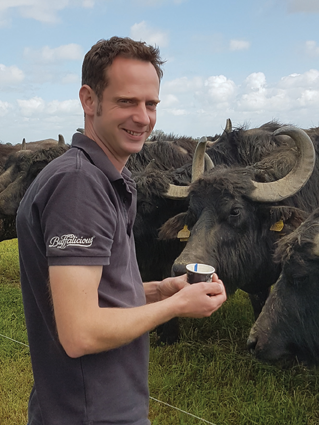 Driving along the A37 towards Chilthorne Dormer, if you glanced out the window you may see a herd of large dark brown majestic shapes huddled together, grazing and taking in the sun. Upon closer inspection, their horns will alert you to the fact this is no ordinary bovine herd, as they are the superb water buffalo that Jon Corpe nurtures on the farm.
One of three sons to Tony and Jane Corpe, Jon took over the running of the farm with the intention of growing and expanding the business. Originally, Tony was a dairy farmer, who then moved into free-range chickens. Wanting to diversify and after reading several farming articles on water buffalo he took a punt and bought 23, when out on a scouting visit. He was unable to leave the large brown-eyed beauties behind. Now there are 260 water buffalo.
Jon lives in one of the farmhouses with his wife and three sons. They sell the water buffalo meat from their onsite farm shop and local farmers markets. In addition to this Jon has transformed the business by milking the herd, offering raw milk from a dispenser in the shop and using it to make silky smooth ice cream. Jon also packages up litres of the milk each week to send to London where it's health benefits and compatibility with those who are dairy intolerant are in great demand.
The newest product Jon is working on is buffalo mozzarella. Constructing a new dairy and cheese making shed for the purpose, he demonstrates his dedication to the herd by sourcing the best teacher available, learning how to make the most delicious mozzarella. Passionate about food, Jon enjoys the produce he has helped to develop and is proud that together with the help of his parents and dedicated workforce, he is ensuring the future of the family farm.