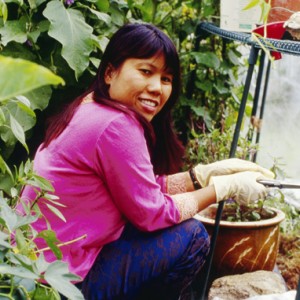 South Somerset is not a multicultural hotspot, but that didn't prevent Pheeraya Hill from moving there. Leaving Thailand in 1992, she first went to Haselbury Plucknett before settling in Merriott, where she and her husband, Jerry, now live.
When Pheeraya first arrived in the West Country, ingredients for Thai cooking were difficult to find. She could have gone native and learned to cook British, but like most immigrants, she quickly became homesick for her own food. This left her with little choice but to cook Thai regardless of the effort, and with some persistence, she managed to source most of what she needed. The basic condiments and flavourings were brought back from trips home, and the meat and fish were bought locally. Vegetables and herbs were the hardest to come by, forcing her to either do without or to grow her own.
She opted to grow her own, though fortunately for her, the growing part came easy. Her parents grew vegetables around their house in Thailand, so she learned at an early age the art of home gardening. She then applied these same skills to South Somerset, developing through trial and error a Thai vegetable garden with a Westcountry twist.
Though some of the growing is done outdoors, most of it is done inside the various structures scattered around her garden. The structures create the warm, pampered environment needed by many Thai plants, and they include a conservatory and rundown greenhouse that came with the house and two polytunnels that she has added over the years.
With the help of these structures, she performs her gardening magic, encouraging tropical, heat-loving plants to grow during the temperate Somerset summers. Each year she creates her own gardening wonderland filled with exotics such as marat, a bitter-tasting relative of the courgette; long green aubergines; small, juicy cucumbers; and her personal favourite, lemon grass. Seeds are brought back from annual trips to Thailand, though more and more varieties are becoming available from seed companies in Britain. Her gardening style reflects her adaptable nature, and the exact mix of plants changes from year to year, depending on seed availability and whim.
In the 18 years that she has been in England, Thai vegetables have become more available in shops and supermarkets, even in the West County. Consequently, she now supplements her home-grown produce with shop-bought versions found in places such as Yeovil, Bournemouth and Weymouth. She still prefers to grow her own – gardening is, after all, her passion – but the shops are invaluable as backups, especially in the winter when most Thai vegetables won't grow.
As committed as she is to cooking genuine Thai dishes, Pheeraya is an innovator who over the years has been combining traditional British vegetables with Thai condiments to create a unique style of fusion food. Using what she can buy locally, she teases authentic-tasting dishes from even the most unpromising produce: carrots are substituted for green papaya to make a som tom salad; leafy spring greens are used in place of the broccoli-like kai laan in stir fries; and potatoes are cooked in soupy, coconut-based yellow and green curries. Once she adds the prerequisite flavourings like chillies, fish sauce and shrimp paste, it is virtually impossible to tell the difference from Thai cooking that employs native vegetables.
Though she cooks Thai food at home everyday, Pheeraya is always exploring other outlets for her culinary creativity. Almost with missionary zeal, she has been spreading the word about Thai cooking throughout the West Country, starting with a cookery demonstration at River Cottage HQ about five years ago. Since then she has performed at the Eden Project in Cornwall as well as at numerous food events, and has also taught the occasional cookery course at Yeovil College.
Perhaps her most notable achievements, however, are the Thai cookery classes she runs in Somerset and Dorset. She has no permanent venue, developing, instead, her own brand of guerrilla cooking: she rents a kitchen in a village or town, generates publicity locally (word of mouth works well for her) and takes bookings either over the phone or through her website (www.thaicooking4you.co.uk). The classes are small, and the teaching is clear and concise. Most importantly, her recipes work, having been refined and polished over the years. The students are expected to help with the cooking, and enough food is prepared to give everyone a generous sample at the end of the class.
Pheeraya is certainly a one-off, a Thai woman living in South Somerset who is deeply committed to her native food. What she doesn't know about Thai food isn't worth knowing, and between cooking, gardening and teaching, she brings a little bit of Thailand to her part of the world.