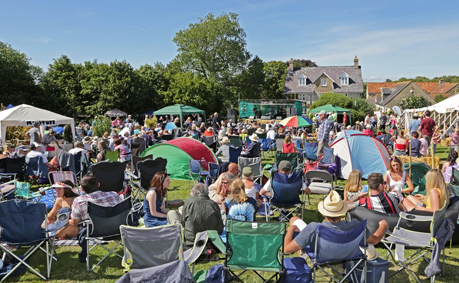 Chesil Rocks will take place between 15th and 17th June this year—celebrating it's 10th Anniversary—with all proceeds again going to the Dorset branch of Samaritans based in Weymouth. Organisers are working hard to make this the best and most enjoyable event ever, to give the Samaritans the financial security they need and enable them to focus on what they do best.
The first event will be a Comedy Night on Thursday 15th June, compered by the delightful Tom Glover, and featuring comedians Dan Evans, Burt Williamson and Tom Deacon. This event is suitable for adults only. Sponsors Dorset Wood Fired Pizza, will provide all those attending with a free pizza during the interval.
The Prelude event of classical music and opera on Friday 16th June will feature concert pianist Duncan Honeybourne, the Dorset String Quartet and opera from celebrated tenor John Hudson. All those attending will be provided with a free glass of Prosecco or soft drink on arrival, and a light supper during the interval.
The main event on Saturday 17th June will feature an array of outstanding musical acts including the Bridport Big Band, festival favourite Nick Parker and the False Alarms, a superb Bob Dylan and the Band tribute act named the Million Dollar Bash, the band Hustle, a DJ set from EDM songstress Sarah de Warren, the outstanding Jess Upton and the Guilty Pleasures and ending the day with the Great Gig in the Sky—a group of renowned local musicians—who are reforming just for this event in order to perform Pink Floyd's iconic Dark Side of the Moon in its 50th Anniversary year. Expect all of the sounds, vocals, lighting and effects to make this a memorable finale.
Chesil Rocks is extremely grateful to their sponsors, in particular to RiskStop Group Limited, 3SC Scaffolding, Dorset Wood Fired Pizza, the mystery sponsor, farmer Robert Mayo and to all the volunteers and helpers who make this event possible.
More information and tickets available from www.chesilrocks.com.